Permanent Records is an ongoing closer look at the records that matter most.

Coldplay has been wildly successful seemingly from day one. After signing with a major label soon after its members finished college, the band hit the top of the U.K. charts with its first full-length, 2000's Parachutes. That record went on to sell millions of copies, mainly because its swooning alt-folk and rock was so easy to like—universal yet intimate, dramatic without being pretentious, familiar-sounding but not a direct rehash of its influences. However, the U.K. buying public was arguably primed for Parachutes due to a very similar record that came out one year earlier: Travis' sophomore effort, 1999's The Man Who.
Produced by Nigel Godrich, The Man Who is light years beyond the Scottish band's 1997 debut, Good Feeling. Instead of raucous, '60s-indebted Britrock, the album is nothing but gentility: pensive alt-folk pop, Beatles-like balladry, and cuddly indie rock. Songs revolve around fluttering acoustic guitars and velvety electric guitars, along with generous amounts of shivering reverb and the occasional string swell or resignation-filled piano melody. However, this calm surface masks deep melancholy; The Man Who's protagonists are basket cases—emotionally bereft, resigned to loneliness, pining away after a breakup or wracked with regret and pain. Frontman Fran Healy captures this angst with an expressive, concerned voice—depending on the song, he is plaintive ("Writing To Reach You"), conveying brow-furrowing anguish ("Turn"), whispering of dire warnings ("The Fear"), or sighing ruefully at his bad luck ("Why Does It Always Rain On Me?").
It wasn't exactly cheery stuff, but The Man Who emerged during a time when the U.K. music scene was ready for something new. After Britpop's mid-'90s heyday, no one movement or genre—save perhaps for the Spice Girls' cheeky girl-gang pop froth—had a stranglehold on the territory's attention span for any prolonged period. Melodrama was in for a time, which boosted the Verve's laconic space-rock, Manic Street Preachers' sunburned psych-pop, and Robbie Williams' smirking soul to the top of the charts. Well-scrubbed boy (and girl) bands such as S Club 7, Five, Westlife, Boyzone, and Steps were wildly popular, as were goofy Europop acts such as Aqua, Eiffel 65, and Vengaboys. Even big beat-associated electronic acts such as The Chemical Brothers, Fatboy Slim, and The Prodigy enjoyed a surge in acceptance. In the face of such ridiculous flamboyance, Travis' homespun sincerity felt downright revolutionary.
It helped that British rock was at a crossroads at the time. Novelty oddities such as Space's "Female Of The Species" begat even more laddish trad-rock tunes from Embrace, Reef, Stereophonics, and the like. Oasis and Blur were still massive, even if the latter had Pavementized its sound and the former was struggling creatively beneath the weight of its fame. And with the release of 1997's OK Computer, the alienated brainiacs in Radiohead were careening toward the kind of global superstardom that would endure for years to come.
Circa The Man Who, Travis occasionally received comparisons to Radiohead—a likely byproduct of Godrich's luxurious production, which imbued the record with its moody, subdued sheen. But the band didn't get the kind of critical support Radiohead did, at least  not in the U.K. A 2013 feature in The Quietus notes The Man Who was "largely savaged upon release," a fact Healy underscores in that same piece: "And it was like, 'shit sandwich.' It was terrible. Q gave it two stars. It was a lead review. And they'd supported us!" Time hasn't been kind to the record's reception, either; a 2010 BBC review said The Man Who "was '90s 'alternative' music scrubbed, buffed and, frankly, neutered, for mainstream consumption." (America was a different story; outlets such as Entertainment Weekly and Pitchfork enthusiastically praised the record upon its 2000 U.S. release.)
G/O Media may get a commission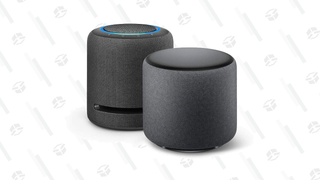 25% off - Prime Exclusive
Echo Studio + Echo Sub Bundle
The violently negative reaction probably had something to do with how different The Man Who was from Good Feeling: Produced by Steve Lillywhite, the latter record was rather heavily indebted to U.K. golden boys Oasis. Yet Good Feeling also had enough sparks of originality—the jaunty saloon piano on the culture-chiding "Tied To The '90s," the bitter swagger of "Good Feeling" and the relentless enthusiasm of "Happy"—to signal the band's future didn't involve riding the Gallagher brothers' coattails. Still, that Travis would strike back with the mature, deeply felt The Man Who was still somewhat unexpected. In just two years, the swagger and exuberance of their early work dissipated, replaced by a maudlin outlook that was sharply vulnerable and brutally self-aware. Coming at the end of a decade where musical bravado and jocular banter overruled introspection and simplicity, it's no wonder the group was an easy target for criticism.
Yet the overt and harsh reaction to The Man Who is still difficult to understand. The record isn't as monochromatic or pedestrian as its detractors say it is; listen closely on "The Last Laugh Of The Laughter" for the burnt psychedelic twang popping up in between strident acoustic guitar and falsetto vocals, or for the faint digital noise squiggles hovering over the snaky liquid soul of "The Fear." The Man Who isn't full-on Eeyore, either—the buoyant "Turn" is an optimistic pep talk about survival in the face of despair, "Slide Show" cleverly references then-contemporary hits from Manic Street Preachers, Oasis, and Beck, and the Smiths-like "She's So Strange" is an oddball character sketch about a petty criminal. (This is the record's "Digsy's Dinner.")
Although The Man Who tackled serious material, the members of Travis were far from humorless or stuffy. One of many covers the group performed live during this era was an exaggerated, melodramatic version of Britney Spears' "Hit Me Baby One More Time," while Healy's reaction to one of his band's most defining moments—playing "Why Does It Always Rain On Me?" at Glastonbury 1999 during an unexpected downpour—was self-effacing more than anything. "We're like, 'Fuck!'" Healy told The Quietus. "It was an average show, I felt. We all felt. And when it rained, everyone was in their summer clothes and they're miserable. We did the rest of the gig, walked off, and we were all a bit depressed about it." That Travis never took itself too seriously mitigated The Man Who's despair; if anything, the juxtaposition of their heartfelt music with their self-deprecating personalities made them even more likable.
Post-Glastonbury, The Man Who picked up steam and reached No. 1 on the U.K. album charts, eventually selling a couple million copies. In fact, the record was still hanging around on the upper reaches of the charts when Coldplay's Parachutes arrived. (Although Coldplay ultimately became more popular than Travis globally, they gave credit where credit was due; in fact, Chris Martin once called Travis "the band that invented my band and lots of others.") But by this time, the floodgates had opened: Falsetto vocals and folky flourishes were in, while anthemic bluster and aggression were out. Acts such as Starsailor, JJ72, Doves, and Badly Drawn Boy warbled and strummed their way to success, while bands such as Idlewild, The Beta Band, Turin Brakes, South, and The Delays also received acclaim for pensive, heart-on-sleeve tunes. Even after strident guitar rock came back into fashion, U.K. bands Snow Patrol and Keane enjoyed great success by indulging their sensitive side.
The Man Who also made Travis college-rock darlings and cult favorites Stateside after the record's 2000 release. (It helped that the band opened for Oasis that spring.) During an era when '90s alternative had devolved into lunkhead rap-rock and limp alt-pop, The Man Who fit in nicely with burgeoning acts like Guster and Death Cab For Cutie. Buoyed by support on both sides of the pond, the band also kept plugging away at its craft, releasing 2001's whimsical, kaleidoscopic The Invisible Band and 2003's stormier, uneven 12 Memories. In the ensuing decade, Travis slowed down its recording pace considerably and released only three albums, including 2013's Where You Stand.
Fifteen years after its release, The Man Who remains Travis' bravest release—a record on which the band shirked popular trends and familiar sounds in favor of something much more ambitious and uncertain. Sure, the album didn't reinvent the wheel musically or thematically, but the band's reinvention and unabashed embrace of beauty and sadness made The Man Who a risky endeavor that paid off handsomely.