Here's what's up in the world of TV for Sunday, October 25th. All times are Eastern.
Top pick
The Simpsons (Fox, 8 p.m): Some of you may remember that a few years ago The A.V. Club was featured on The Simpsons, a move that is still the proudest moment in many of our careers and one all staff members are contractually obligated to mention whenever it comes up. And we've now been mentioned again, albeit in a more dubious fashion, as the press release for tonight's episode—written in the voice of Sideshow Bob—called us out for trying to kill The Simpsons as often as he does. It might not be as flattering as last time, but whenever The Simpsons mentions us (even tangentially), it's a tremendous boost to the self-esteem as we bask in reflected glory.
In all seriousness though, the Treehouse of Horror episodes are sturdy and clever installments of the show even in recent years, and number 26 will try something brand new as Sideshow Bob finally succeeds in his quest to kill Bart. Dennis Perkins (who incidentally thought last week's episode was one of the best Simpsons installments in years—take that, press release!) is uncowed by being called out and is ready to face down this terrifying trilogy. As a precaution though, he's installing a full perimeter of rakes all around his house.
Also noted
Once Upon A Time (ABC, 8 p.m.): "Merida attempts to carry out a covert mission Emma has assigned her." Now, Gwen Ihnat has all the respect for Meridia's archery skills, but she thinks between all that frizzy red hair, a tendency to accidentally turn family members into bears, and an accent that's "a bit much" (her words), Meridia's not your first choice for anything covert.
G/O Media may get a commission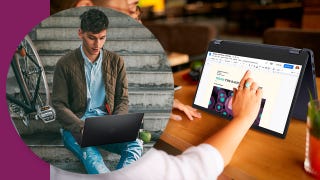 Ends August 15
Best Buy Anniversary Sale 2022
Ends August 15
Best Buy has a number of different promotions happening all for its Anniversary Sales Event. Laptops, tablets, TVs, you names it. Whether you're heading back to school or just trying to fill your home with some new tech, there is something here on sale that you've likely been waiting for.
Brooklyn Nine-Nine (Fox, 8:30 p.m.): Captain Holt's back in charge of the Nine-Nine, just in time for the tiebreaker round in the Holt vs. Jake "amazing detective slash genius" heist competition. While LaToya Ferguson thought last year's version of the game went far too over-the-top, she's optimistic the writers can rein it in enough to approach the success of the first round. And if not, just give her a memorable Terry Halloween costume and it'll all be worthwhile.
The Walking Dead (AMC, 9 p.m.): Things have gone to hell for the Alexandria residents, as indeed things always must in this show's universe. Zack Handlen is just hoping that we haven't seen the last of Enid, though her departure at the end of "JSS" may signify she's been absorbed back into the Too Many Cooks universe, where all actors who participated must inevitably be drawn back in by the will of Smarf. Hail Smarf. Smarf is life.
Homeland (Showtime, 9 p.m.): Well, it only took the Homeland writers three episodes to take Carrie into full Crazy!Carrie territory, which Joshua Alston believes sets a new record for their demonstration of lack of restraint. Now placing the over/under on how soon until the Brody hallucinations kick back in. Our money's on the finale, if only because Showtime can use it as guerilla marketing for Billions.
The Last Man On Earth (Fox, 9:30 p.m.): Now that Phil's been begrudgingly accepted back into the group, our attention turns to that mysterious final scene where we learn Todd's been sneaking out of the house at night. Where is he going and what is he doing on these nocturnal adventures? There's three theories Vikram Murthi's come up with: he's in a Florida Army rear detachment, he's pulling small-time scams in Illinois, or he's a nurse at an extended care unit.
Project Greenlight (HBO, 10 p.m.): Tonight, Jason maps out the logistics for a car-crash scene and receives a surprise visitor to the set. Knowing the way this production is going, Scott Von Doviak wouldn't be surprised if that visitor is the person whose car they had to crash without asking permission to get that scene done.
Regular coverage
The Leftovers (HBO, 9 p.m.)
The Good Wife (CBS, 9:30 p.m.)
Quantico (ABC, 10 p.m.)
The Affair (Showtime, 10 p.m.)
Classic coverage
The Simpsons (3 p.m.): Dennis Perkins was supposed to be writing about "Lisa The Simpson" this week, but the only thing he wanted to write about at length is his opposition to Proposition 3305. "Moochin' war widows!" was a phrase that figured prominently in his first draft, until we pointed out that said moochin' war widows make up 35 percent of our readership.
Tomorrow in TV Club
Molly Eichel's journey through Red Oaks continues with the ninth episode, "The Bar Mitzvah." This episode will have a high bar to cross, between the fact that the previous episode had the untoppable inclusion of a "patriotic dick sculpture" (a feat which no show can top) and that it has to exist in the shadow of one of the holiday's best depictions, Raising Hope's "The Burt Mitzvah."
How many days until Halloween?

Six more days to Halloween, Halloween, Halloween! Six more days to Halloween, Silver Shamrock!
What else is on?
Madam Secretary (CBS, 8:30 p.m.): Growing tensions with Russia push Elizabeth out of the President's inner circle. In hindsight, maybe she shouldn't have led with a bunch of Yakov Smirnoff jokes to lighten the mood during negotiations.
Blood And Oil (ABC, 9 p.m.): As if being at the bottom of the ratings barrel wasn't bad enough for Blood And Oil, The Hollywood Reporter's Dan Fienberg took this show to task on Twitter earlier this week, stating in no uncertain terms that its stupidity defies words. C'mon Dan, how could a show whose main cast is named named Billy, Lacey, Hap, Cody, Wick, and Sheriff Tip be stupid? …Don't answer that.
CSI: Cyber (CBS, 10 p.m.): "The team investigates a child-abduction case based on an online myth in which an abductor lures children through a cell phone app." Looks like Chris Hansen got back in the predator-catching game not a moment too soon.
Last Week Tonight With John Oliver (HBO, 11 p.m.): Last week, in the most forceful message to Canada since Tom Servo got a bit too into praising and then insulting our neighbors to the North, Oliver (with the help of Canada's own Mike Myers) begged and pleaded with Canadians not to vote Stephen Harper back into office. And guess what? Harper lost the election! The system works. We're not sure what system it is, but we're glad it works.
The Great British Baking Show (PBS, 7 p.m.): "The remaining bakers make loaves from unconventional flours." We imagine candidates for said flours include dirt, cocaine, coffee grounds, and yellow cake uranium.

Home Fires (PBS, 8 p.m.): Secrets and lies continue to tear the idyllic village of Great Paxford apart, and plus there's the whole war thing going on. But don't mention it! We mentioned it once but we think we got away with it.
Guy's Grocery Games (Food Network, 8 p.m.): "Stir-fries are prepared using only items from even-numbered aisles." Fingers crossed that this doesn't result in a stir-fry made from toothpaste, frozen pizza, crackers, and eggplant.
Indian Summers On Masterpiece (PBS, 9 p.m.): Ralph and Madeline have an engagement party, which Ralph can't help but turn into a venue for political discussion. And after the viceroy worked so hard to put this party on, Ralph! See, this is why the viceroy usually doesn't throw parties.
Halloween Wars (Food Network, 9 p.m.): The season five finale features none other than the Mistress of the Dark herself, Elvira, judging the haunted dinner parties. We assume she's taking the time off from the cushy government job that Diamond Joe Biden offered her a few months back.
Girl Missing (Lifetime, 9 p.m.): "A young woman believes she is an orphan until her mother appears and invites her to the family estate, which forces her to confront the demons of her past and save herself from a murderous plot to seize her family's fortune." Never change, Lifetime original movies. And given your proximity to Halloween, maybe you can bring in some actual demons!
Talking Dead (AMC, 10 p.m.): Tonight's guests are Yvette Nicole Brown of Community and The Odd Couple and Damon Lindelof of LOST and The Leftovers. We have so many questions for both of them, but about things other than The Walking Dead.
Cutthroat Kitchen (Food Network, 10 p.m.): "Manhattan clam chowder proves tricky." The tricky part is that you actually have to be in Manhattan cooking it in order for it to qualify, and have you ever tried to get a massive pot through airport security? It's a real hassle.

Comic Book Men (AMC, 12 a.m. and 12:30 a.m.): Tonight's episodes feature an appearance by William Shatner and a visit to a JAWS museum. This makes us think: how the hell has Shatner never appeared in a Sharknado film? It seems like a perfect fit.
The Silence Of The Lambs (BBC, 6:30 pm and Reelz, 8 p.m.): Perfect your terrible Hannibal Lecter impression before next weekend's Halloween party with this all-time classic. Airing twice tonight on different networks!
Captain Phillips (FX, 8 p.m.): If you haven't gone to see Tom Hanks being charismatically decent as an insurance lawyer in Bridge Of Spies yet, tune in this performance of him being charismatically decent as a captain caught in a hostage situation. Man, Tom Hanks really does charismatically decent well.
The Cabin In The Woods (Syfy, 9 p.m.): Supporting players Bradley Whitford and Richard Jenkins both took home Emmys this year, which makes us feel the time is right to renew our pitch for a prequel TV series all about their work in the lab setting up the latest annual ritual.
Sportsball!
Sunday Night Football, Eagles at Panthers (NBC, 8:20 p.m.)
MLS Soccer, MLS Soccer: Sporting KC vs. Los Angeles (Fox Sports, 7 p.m.)
In case you missed it
Casual: Allison Shoemaker said that the fourth episode of Casual contained the best thing she's seen on TV in the last two months, and it only took a combined total of 40 seconds and one word. Color us intrigued.