We can now add FBI Director James Comey to the list of unlikely victims of the Hillary Clinton email "scandal," right alongside Clinton herself, plus the political hopes and dreams of 65.8 million American voters. The New York Times reports that President Donald Trump—showcasing what we can only think of as the mother of all ingratitudes, given the effects Comey's actions had on his opponent's political credibility during last year's election—has fired the director, citing his conduct in the email case, and definitely not anything to do with Russia, or the FBI's investigation of the president's connections thereof.
Sharon Stone made a fraction of what Michael Douglas did for "Basic Instinct"
According to Trump, he fired Comey on the recommendations of Attorney General Jeff Sessions and Deputy Attorney General Rod Rosenstein, both of whom cited the director's decision to speak out publicly about the FBI's investigation of Clinton's private email servers as their reasons for calling for his resignation. At the time, Comey cited the public interest as his reasons for his protocol-breaking public disclosures, which both labeled Clinton as "careless," and expressed the opinion that she shouldn't be prosecuted for her email conduct.
Of course Trump's letter does hint at another possible motive for the dismissal, noting that Comey has assured the president, "on three separate occasions," that he's not currently investigating him. (As often seems to be the case with the current administration, that's the sort of repeated assurance you don't usually have to give when things are going well.) The FBI is currently investigating links between Russia and the 2016 election; a number of people have suggested that putting the kibosh on that probe, and its potentially embarrassing consequences for Trump, might be the real reason for Comey's dismissal. This tweet, which the president sent out yesterday, doesn't exactly diminish that case:

G/O Media may get a commission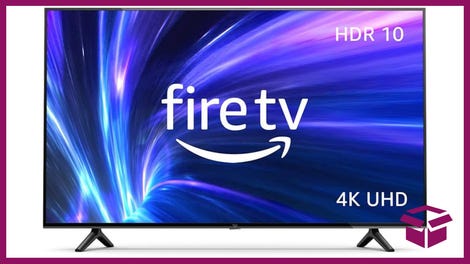 42% Off
Amazon Fire TV 50" 4K Smart TV
In any case, since we're all pretty much powerless ants here, we might as well laugh along with the jokes people are making about the situation today on Twitter, and anxiously await the next fiery, impartial firebrand Trump appoints in Comey's place.