This has not been a great week for tangerine-colored real estate tycoon and GOP presidential nominee Donald Trump. The last few days have seen one political gaffe after another, from Trump's continued public attacks against a Gold Star family to his refusal to endorse Speaker Of The House Paul Ryan in a reelection bid. Trump's baffling actions have become such a cause for concern with the Republican Party that there have even been reports of GOP heavy hitters staging an intervention for their maverick candidate, as if he were addicted to Vicodin or something. But will Trump listen to anyone except himself? Is there anybody else on the planet who's even tuned in to his particular frequency and who perceives the world the same way that he does? Well, yes, there is at least one. One small catch: She's fictional.
Jenna Maroney, the reckless, egomaniacal actress played by Jane Krakowski on NBC's late, lamented 30 Rock, has a great deal in common with Trump, both aesthetically and philosophically. Now, a magnificent Tumblr called Donald Maroney brings these two titans of self-absorption together. The premise is quite simple: Quotes from Krakowski's character are superimposed over photos of Trump. "Jenna Maroney's words. Donald Trump's face," the Tumblr's description reads. "The worst of both worlds." The combination is enough to make any publicist faint. Like Trump, Jenna has a thing or two to say about high-profile feuds with celebrities.
And they both know who matters and who doesn't.
G/O Media may get a commission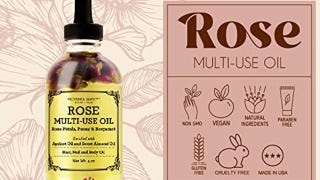 Provence Beauty Rose Multi-Use Oil
Self-confidence is clearly not an issue with either of them.
And when it comes to being well-informed on world history and world leaders, Trump and Maroney may have some gaps in their knowledge. But that doesn't prevent them from speaking out anyway.
On the subject of personal maintenance, there's one image at Donald Maroney that confirms a lot of long-held suspicions.