This past weekend, during Limp Bizkit's performance at the Rock Allegiance Festival in Camden, New Jersey, Shaggy 2 Dope of Insane Clown Posse fame stormed the stage and made a valiant attempt to dropkick lead singer Fred Durst in the back of the head. Fortunately for Durst, the rapping clown fell short of his goal in embarrassing fashion, and was then dragged offstage by security guards. All in all, it was exactly the kind of righteous shit you expect to see at a music festival featuring Limp Bizkit and Insane Clown Posse.

"What a pussy, couldn't even pull it off," Durst said dismissively before telling the swarm of security guards to "calm down" because it was just one guy. The way Durst casually reacted to the attack makes one think that being assaulted by fans is a regular occurrence at Limp Bizkit shows. Or maybe the whole thing was staged for the benefit of the audience. The dropkick itself had a bit of a backyard-wrestling feel to it, and the sound guy certainly was quick to play "Na Na Hey Hey Kiss Him Goodbye" as Shaggy 2 Dope was dragged into the wings.
Here's a view of the failed kick from behind:
According to one Redditor, the attack was likely legit considering there is mutual animosity between the two bands that goes all the way back to, of course, Woodstock '99:
Well it all started 20 years ago when ICP was trying their hardest to sell out. They performed at Woodstock and after was told "Fred wants to meet with you" they had no idea who the fuck Fred was. I guess Fred Durst was a mega superstar and egoed out on them hard like wouldn't look at them or anything while he talked. He invited them on the Family Values tour with Korn and all those bands then at the last minute told them to fuck off outside and booted them.
G/O Media may get a commission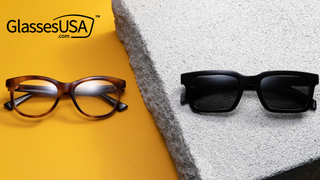 60% off frames
GlassesUSA.com Back to School Sales
Here's hoping the feud lasts another 20 years, so we can see these guys going at it in their late 60s.
[via Stereogum]