This Game Of Thrones review is written for those who have read George R.R. Martin's A Song Of Ice And Fire. It will not explicitly spoil events from those books that have not yet been adapted into the series, but it will address events from the books more broadly in the interest of exploring the process of adapting them into a series. More explicit spoilers for (potential) future events will come in a separate section at the end of the review. All discussion in the comments is valid, up to and including the events of the fifth book, but we ask that you clearly mark spoilers just in case (although we acknowledge that this is less relevant now than it was before the show "caught up.") For those who have not read the books, you can read if you would like, but proceed with caution following the spoiler warning, and check out our reviews for newbies.
---
Episode titles carry weight in Game Of Thrones. "The Winds Of Winter" shares the name with George R.R. Martin's next book, the sixth in the series that readers have been awaiting since A Dance With Dragons published in 2011. Naming this episode after the forthcoming book is more than just an homage to the source material; it's a potent reminder that the show has, in every storyline, progressed past where that last book left off.

"The Winds Of Winter" lurches forward to cap off a season that—for all the fanfare that came as the show was trudging past the books—has progressed slowly, if at all, beyond where Martin left off. After "No One," I wondered if the showrunners were hesitant to lap Dance With Dragons in any significantly revealing way—they were putting a toe across the line that Martin drew, but seemed to be saving actual progress for next season. But the finale gave us a real advance. Here, book readers got an appropriately shocking set of scenes that must have felt for us what Ned's beheading and the Red Wedding felt like for non-readers: An "I can't believe that just happened" moment when Cersei demolishes the Great Sept Of Baelor, and all those within it, with the wildfire foreshadowed in the previous episode.
G/O Media may get a commission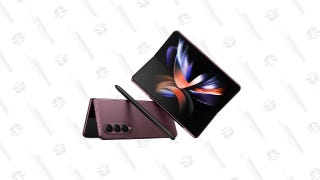 Save Up to $300
Galaxy Z Fold4
"The Winds Of Winter" is also a reference to a sweeping change coming to the Seven Kingdoms: Winter is here. While it's not made clear in the show, the seasons in Martin's world don't behave like the seasons in ours, with yearly progress from summer to winter and back again. In Westeros, winter can last years and even decades. Babies can be born and raised and die without ever experiencing summer. So when the white ravens are sent from the Citadel to every maester in the land, there's no need for an attachment in the form of a letter: White ravens mean only that winter is here. It's the kind of symbol that speaks to wide-ranging changes.
Which is good, because this season often struggled to push narratives forward in satisfying ways. Arya has been in Braavos seemingly forever, training so she can return to Westeros and do what she was always supposed to do: Knock people off her death list. Arya's new setting is the most obvious step forward of any character; she was always going use her hard-earned skills to carry out her quest of vengeance, and it's about time to see her actually start on it. (Expected as this is, the writers found a nice way to add an element of surprise to Arya's killing, with her creatively baking Walder Frey's sons into a pie he eats before she kills him. Hot Pie, your baking prowess lives on.) Arya is back in Westeros where she can make interesting things happen and where interesting things can happen to her, a definite, if not unexpected, step forward in her narrative.
Daenerys, like Arya, has been stuck on a stepping stone toward her ultimate destination in Westeros. Try as they might to make us care about the goings on of Meereen, the writers were never able to give real weight to Daenerys' season six arc, as it was so obviously a means to an end. But season finales are for movement, and Daenerys finally moves on, leaving her dedicated boy-toy in Meereen to keep the peace while she sails north to Westeros. And she's joined by some last-minute allies: Houses Martell and Tyrell. (House Martell motto: "Unbowed, Unbent, Unbroken." House Tyrell motto: "Growing Strong." It's almost as though these mottos apply to exactly how the houses are coming into play as they set out to battle for the soul of Westeros.)
It's in this final shot of the season that disparate arcs solidify into something like a vision. Dorne, sitting out the majority of the season, is brought back to relevance as Sand Snake Ellaria joins forces with Daenerys—with a little help from the Master Of Whisperers. Varys left Meereen earlier in the season for a secret mission, which is revealed to be courting Dorne to fight for the Mother Of Dragons. It's a little too convenient that he stuck around long enough for Lady Olenna to get to Dorne too. (Varys says only "fire and blood," which is the motto of House Targaryen.) Scenes like these show the showrunners too eager to skip over what makes Martin's books so engrossing: The details in travel, the minute character motivations, and the chances and luck that set plots in wildly different directions than anticipated. Adapting such Tolkien-esque writing is no easy endeavor, but the fact that Varys is still around Dorne to bring House Tyrell over to the fold, and that we next see him on the bow of a ship leading a fleet that includes Martell and Tyrell ships, demonstrates how much story the show is willing to elide for the sake of a stirring final image.
While I regret that we'll never see Varys' journey from Meereen to Dorne and back, this is an elegant, if cheap, device to tie up multiple fraying loose ends and weave them into something cohesive. Daenerys setting off for Westeros with her Dothraki horde, the Unsullied, Tyrells, Martells, and (some of) the Greyjoys unifies a lot of different pieces under one banner. I'll hope that Martin's next book puts meat on those bones, and gives us some point of view chapters on how these forces come together. In the meantime, I appreciate the challenges that must come with adapting his work.
While the show may be heading in different directions than the future books will, it's hard to image that what happens in King's Landing could be very different, so drastically does it upend the balances of power in the capital city. Cersei, never one for subtlety, demolishes the figurative symbol of power—the Sept where the High Sparrow exercises his control over King's Landing—and everyone in it. The High Sparrow, Margaery, and her brother and father—the entire Tyrell family, minus Olenna—are all killed instantly. Margaery understood the emerging power of the Faith, and had set a plan in motion to use that power to her own ends. Cersei doesn't have the foresight to play chess with the pieces she has, preferring to upend the board in a fit of rage. She may seem in control as she sips wine while watching the Sept explode in a ball of green fire, but what happens next shows just how little foresight she has. Not only does Tommen kill himself, but Lady Olenna turns her considerable resources to Daenerys. Cersei's power comes from fear, as unstable as the Mad King, who also used fear to rule, and whose actions Cersei echoes by using wildfire to kill a mass of people for her own petty reasons. ("A Lannister Always Pays His Debts" takes on a new meaning. Whereas the Lannisters traditionally use their motto to imply they seek revenge for actions taken against them, it now becomes the reverse: The Lannisers incur debts, and now they must pay for the wrongs they've done to others.)
Watching the Great Sept explode was pulse-quickening TV, as Maester Qyburn kills Maester Pycelle with excellent use of his little birds and Lancel sees what will happen moments before it does. (Whoever thought Lancel had a chance of extinguishing the candles' flames has never seen an explosion on a screen before.) The tension is heightened by the fact that several main characters are present at the site of imminent destruction. Game Of Thrones has made its name on its ability to depict dozens of characters dancing an intricate ballet and then unceremoniously smash that dance to bits. The Septsplosion isn't quite to the level of the Red Wedding, but it certainly hits the same gasp-worthy target. And while Tommen's reaction could have been stretched past the scene, or even into next season, the swiftness with which he kills himself heightens the unreality of so many deaths happening so quickly. There really is nothing else like Game Of Thrones, and this episode is a big deal for books readers who, despite being in new territory for a while now, hadn't had a real shock to the system till this episode.
But maybe even more exciting for book readers—and for the subset of viewers who consume fan theories that live on the internet—is the final, unequivocal confirmation of "L+R=J." Practically canon before this scene, "L+R=J" is the theory that Jon Snow is not Ned Stark's bastard, but his nephew, the son of Lyanna Stark and Prince Rhaegar Targaryen. Bran's only role in this episode is to finish observing the scene he began in "Oathbreaker," when he traveled back in time to watch his father do battle outside the Tower Of Joy where his sister, Lyanna, was held captive by Rhaegar. Her screams, it turns out, were caused by childbirth. She dies from delivering Jon, but not before she whispers to Ned that someone (Rhaegar? Robert?) "must not find out," and what sounds like Jon's true name.
It's with no little irony that this is juxtaposed with present-day Winterfell, where all the lords of the North—as well as the wildlings and Littlefinger with the knights of the Vale—declare Jon Snow the King In The North, with emphasis on Ned Stark's blood running through his veins. It's a clever way to both answer the burning question of "L+R=J" while simultaneously setting up future conflicts to look forward to in the next season.
The events at King's Landing, Winterfell, and Meereen all wrap up season six with big leaps forward for the characters there, making other plots in this episode seem even more pointless for their proximity to such grand events. Sam and Gilly reach the Citadel, where Sam will train to be the next maester of the Wall. And while the show has, overall, done a fairly good job of condensing plots, eliminating superfluous characters, and putting people together in the show who are separated in the books, Sam and Gilly demonstrate that the TV adaptation still has too many characters to deal with, much less make the audience care about. Sam was a good companion and foil for Jon when they were at the Wall together, but his arrival at the destination he's been moving toward is most notable for a cameo from the credit's reel. (If the house mottos of minor characters like Sam take on more literal meaning at this point in the story, perhaps House Tarly's—"first in battle"—will take on future significance.)
Other narratives that "The Winds Of Winter" sets up for season seven include the relationship between Sansa and Littlefinger—he wants to marry her and rule Westeros with Sansa as his queen—and the relationship between Cersei and Jaime. It's the latter that I'm more interested in seeing, as Jaime and Cersei started out at the same immoral place—trying to kill Bran while scheming to steal power—and since moved in opposite directions. Jaime has gotten steadily more honorable, while Cersei has gotten—not more evil, perhaps, but more morally gray, showing herself willing to kill scores without any consideration for the consequences, or even how her own son will react to his mother killing his wife. Her love for her children has gotten them all killed, and you can't help but wonder if her love for Jaime is as strong as his love for her. As Cersei assumes the Iron Throne, a Lannister crown on her head, she finally has the power she's wanted all along, and she takes it, despite what it cost her. And with House Martell and Tyrell uniting with Daenerys because of her, the consequences of blowing up the Sept will reverberate for a long time to come.
"Winter is coming" is the motto of House Stark, and now that winter is here the family of the North looks to be in its element. Jon Snow is King In The North. Sansa is at his side, a leader in her own right. Arya is killing the people who betrayed House Stark. Bran is the Three-Eyed Raven now, which must mean something. But the arrival of winter also signals the arrival of White Walkers. "The true enemy won't wait out the storm," Jon tells his bannermen. "He brings the storm." That could be the motto of the Night's King. Meanwhile, winter is coming, along with fire and blood.
Stray Observations:
The hints of Sansa's pregnancy—saying she can still feel what Ramsay did to her, and Ramsay saying he's part of her now—aren't hinted at any more, as far as I can tell. I hope she's not pregnant, as it would make for an arc dangerously close to a soap opera.

A+ to the effects team for The Mountain's face. Game Of Thrones will get its effects Emmy for the Battle Of The Bastards, but it's the little moments—like seeing a mutilated giant—that put a cherry on top.

Where is The Hound, and the Brotherhood Without Banners? It's too much to ask that the show wrap up all the loose ends, but ignoring two fan favorites—The Hound and Brienne—is a shame.

Lady Mormont is my absolute favorite, and I hope we see more of her in future plots of the North.

Season seven will be a never-ending game of "spot Arya."

Sansa/Jon 'shippers: The tender kiss on the forehead was followed by a gaze that can be interpreted as romantic, but I don't see it.

Lady Olenna asks the name of one of the Sand Snakes, then waves away the response—this hangs a lampshade on how the audience, like Olenna, can't be bothered to learn their names or care much about them at all.
The night is dark and full of spoilers (of a sort)
While I thought Varys' detour from Meereen was to kill Kevan and sow discord in King's Landing, as he does in the final chapter of Dance With Dragons, the homage to that scene is a nice one for book readers: The little birds, instead of finishing off Kevan, gather 'round Pycelle to stab him to death.

Lady Stoneheart Truther Corner: While it seems this is dead and gone, the one bit of hope is that, as Melisandre rides south, she'll encounter Lady Stoneheart and/or play a part in bringing her to life or sustaining her undeath. It's a very slim hope. We also don't see Brienne and Pod in this episode, so maybe season seven will open on them encountering Lady Stoneheart. I think holding out for her is folly at this juncture, but what is dead may never die in Game Of Thrones.
It strikes me that, come the Winds Of Winter book, Sansa may well end up exactly where she is now. The show's writers eliminated the character of Jeyne Pool and gave her storyline at Winterfell to Sansa instead. (Jeyne was Sansa's friend in the book who Ramsay forces to pretend to be Arya Stark and marry.) Dance With Dragons ends with Jeyne and Theon jumping off Winterfell and into the snow, which happened in last season's finale with Sansa in Jeyne's place. But in the book, Sansa remains at the Vale, so she may indeed bring her knights of the Vale to the Battle Of The Bastards, and then take up residence at Winterfell with Jon Snow.