In some respects, Merrill Garbus has come a long way since 2009, when she released her debut as Tune-Yards. That record, the eclectic Bird-Brains, was a homemade delight full of tape loops, faraway vocals, and found-recording snippets. In contrast, Nikki Nack, Garbus' third effort, is polished, meticulously produced, and very much a studio effort.
The chaos, however, remains. Rooted in Haitian drum patterns, schoolyard rhymes, and '80s R&B, Nikki Nack zigs and zags with impish energy, as if Garbus can't decide which trick to try next. At the center of this mayhem spins Garbus, a whirling dervish with a singular vision and a howling, soulful voice.
Organizing such well-orchestrated clatter requires focus and fearlessness, and Garbus has both in spades. "Water Fountain," a hand-clap-driven playground chant about a city in disarray ("No water in the water fountain / No side on the sidewalk"), clicks into place once Nate Brenner's bassline slides in, and the groove sticks until the track—as catchy and accessible as anything Garbus has produced—dissolves again, leaving only disparate parts. Garbus is an immensely talented builder, but she's more than willing to playfully deconstruct.
The album has subtle moments—"Wait For A Minute" is breathy R&B worthy of early Mariah Carey; "Time Of Dark" is all moody synths and pathos—but even these are punctuated with thumping basslines and cracking snares. And about those basslines: If Garbus is Nikki Nack's mastermind, Brenner is its secret weapon. His basslines slink or jump depending on the song's needs. Brenner and Garbus are perfect musical complements.
G/O Media may get a commission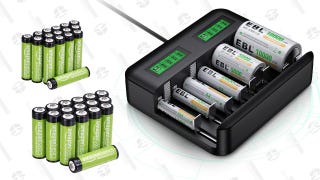 Nikki Nack is not without its misfires—for one, a Jonathan Swift-inspired spoken "interlude" called "Why Do We Dine On The Tots?" that brings the record to a halt—but it's a more-than-worthy addition to the Tune-Yards canon. It's hard to imagine where Garbus and Brenner can go from here, but to paraphrase the refrain of one of Nikki Nack's best songs, they will, as ever, find a new way.