NXT is in a weird holding pattern right now. It's typically like that after a live special, with all the feuds resetting and new talent making their debuts. The result is a string of shows that lack any sort of forceful storytelling. There's lots of good wrestling to be sure, but a lot of that wrestling doesn't really mean anything in any larger scheme. Since the last live special NXT has had trouble finding a new groove, getting its mojo (not that Mojo) back.
Part of the problem is that the whole roster is in flux. It wasn't all that long ago that Neville went to the main roster after losing the NXT championship to Sami Zayn. It's the same night Kevin Owens debuted, and now he's the NXT champion. He beat John Cena at Elimination Chamber, is basically a main roster guy now, and Sami Zayn is on the shelf with an injury. NXT has a lot of talent on its roster, but those main guys (and we can include Hideo Itami on the list too) were driving the main story. They were the draw and now they're absent, or at least working a dual-roster schedule. There's a void at the heart of NXT right now, and as tonight's episode proved, it can be tough to book a compelling hour when your top wrestlers aren't wrestling.
Tonight's NXT is strange in that it's mostly short matches that don't really fit into any storyline. There are glimpses of stories, like Zack Ryder coming to NXT and Samoa Joe making his in-ring debut, but as a whole, the show is lacking in narrative momentum. It starts off well enough with the newly combined and super hyped team of Zack Ryder and Mojo Rawley versus Rollis and Samson. Like most of the matches on tonight's card it falls firmly in the area of "that was fine." While it's weird seeing Mojo Rawley get a hot tag, it is fun seeing the two work as a team. It's obviously still early in their run, but judging by their performance tonight (that Rough Ryder finish!) and the relative potential they both have, I'm excited to see where they go with the gimmick. Like the New Day's positivity, I feel like the "hyped" nature of Ryder and Rawley might work better as a heel gimmick, but for now it's just nice to hear those "woo woo woo" chants again.
Continuing the theme of short, meaningless matches, Emma faces off against Blue Pants. While it's always great to see the crowd pop for Blue Pants, I'm starting to think we've reached diminishing returns with the character. What purpose does she serve? Perhaps part of my issue with the match, which in terms of wrestling isn't bad at all, is that this new "Evil" Emma doesn't totally work for me. "Disillusioned Diva who thinks the system is rigged against her" should work, but Emma is mostly playing it like she doesn't care. Rather than be angry at the way she was treated by the main roster and start to heel it up to win (just like New Day did), she just mopes and has angrier entrance music. It's not enough to care about Emma's plight or to boo her. She's stuck in limbo, not quite a heel but not that old babyface we all loved at one point.
G/O Media may get a commission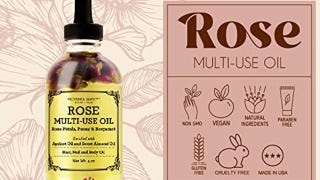 Provence Beauty Rose Multi-Use Oil
Speaking of being stuck in limbo, there's a Bull Dempsey and Tyler Breeze match in the middle of the show. On paper, this is the kind of match I tend to mark out for because it's two opposing styles going at it. The problem is that Bull Dempsey is a joke at this point so there's not much of a match. Admittedly, I laughed when Tyler just ran around the outside of the ring and had Dempsey chase him, tiring him out, the crowd chanting "cardio" as Dempsey tried to catch his breath. It doesn't make much kayfabe sense (just take the count-out win, Bull!), but it was fun. If the rest of the card weren't a bunch of swift matches, this would have felt a little more fun and not like WWE wondering what the heck to do with Tyler Breeze.
You'd think a Bull Dempsey match would be the last meaningless one of the night, but nope, we still have two more! First there's Becky Lynch versus NXT newcomer Jessie McKay. It's a solid match that tells a story, with McKay focusing her offense on Becky's arm, which was hurt during her match with Sasha Banks a few weeks ago. That kind of detail goes a long way, even if McKay seems to only know that one arm lock.
Then there's Baron Corbin versus Angelo Dawkins, and a profound sense of sadness falls over the crowd. At this point Corbin is useless. He's lost all the luster of when he debuted, his charisma (read: good looks and tattoos) hardly covering up his limited offense. He mostly just throws guys into the turnbuckle, hits some clotheslines, and screams a lot. That's cool and menacing for a bit, especially when you debut as an unstoppable force with a penchant for wolf imagery and leather, but over time it grows stale. Even the unstoppable force has to evolve and as of right now, Corbin is stagnating.
Thankfully, Kevin Owens shows up and immediately injects some life into the show. Cutting back from commercial to see Owens with his arm around a despondent Byron Saxton was delightful. Every movement, every word, every action undertaken by Kevin Owens is working right now. The guy just gets it. He's out there to call Samoa Joe's in-ring debut against Scott Dawson–seriously, was nobody else available to wrestle all the known talent tonight?
Again, the match is fine, if a little underwhelming. I think we've gotten used to seeing big name indie talent debut to a whole lot of fanfare that when they don't, when they start out by essentially squashing someone, it feels like we were robbed (note: obviously Samoa Joe's NXT debut during the last live special was amazing; we're talking in-ring here). Still, Samoa Joe looks like a goddamn force in that ring, and we have reason to look ahead now. Next week, Kevin Owens will face off against Samoa Joe. We might not even need much of a story for that one. Buckle up.
Stray observations:
RESULTS: Zack Ryder and Mojo Rawley defeated Mike Rollis and Elias Samson; Emma defeated Blue Pants; Tyler Breeze defeated Bull Dempsey; Becky Lynch defeated Jessie McKay; Baron Corbin defeated Angelo Dawkins; Samoa Joe defeated Scott Dawson.

I'm imagining LaToya reading my Zack Ryder praise above and deciding to never let me cover NXT again. She'll be back on the beat next week, folks.

Tyler Breeze was sporting way more 5 o'clock shadow than usual and it was seriously hot.

I'll never argue with an Enzo, Cass, and Carmella promo. I have no idea what Enzo was saying, but he mentions Blake and Murphy, specifically wanting to "send 'em to go live with Uncle Phil." Between that and the Hey Arnold! promo, Enzo has clearly been digging into the '90s on Netflix.

There's no way anybody has tweeted that Dana Brooke is "the rebirth of the Divas division."

Seriously though, even Brooke's pre-taped segments are garbage. She's got that weird Brie Bella thing where she can't just talk with a normal cadence when cutting a promo.

Corey Graves wins my heart over week in and week out. Referring to Rawley and Ryder: "this is why I stay out of nightclubs." Also, he lambasts Becky Lynch for wearing "pantaloons."

How much food does Bull Dempsey have stuffed in that singlet? That's rhetorical. I really don't want to know the answer.