YG stays dangerous, while Helena Hauff's Qualm is her rawest collection to date, and The Nature Of Imitation is a glorious return to chaos for Dorian Concept. These, plus Mac Miller and GAIKA in this week's notable new releases.
---
[Def Jam]
Grade: B
On YG's third record, "stay dangerous" is at once a life lesson and a creed, something the Compton rapper seems dead-set on. He will not go pop, despite an increasingly glossy roster of guest stars. He's still the relentlessly economical emcee who matched so well with DJ Mustard's minimalist bass thuds on 2014's My Krazy Life, here showing how adaptable his flow can be without changing it all that much. He flirts with triplets on "Can't Get In Kanada," Future-style AutoTuned heartbreak on "Slay," playground taunts and bullying baritones on "Handgun"—and yet he always sounds like YG, versatile and quotable. ("I'll fuck you to my own music," he proclaims, sweetly, on "Slay.") While he's still a regional traditionalist, evoking G-funk and hyphy in equal measure, this is the most nocturnal record in his catalog, its crepuscular hi-hats and ominous synth bleats soundtracking trips to the strip club and shit talk in the parking lot. It pretty much all works, in the way that all of YG's music works, anchored by superlative taste and a flow as versatile and reliable as T.I. in his prime.
RIYL: Jay Rock. Nipsey Hussle. Ty Dolla $ign.
Start here: YG drives drunk as hell through "666," its subwoofer-detonating beat possibly designed by NASA to break California at last into the ocean. (Actually, it's Mike Will Made It.) [Clayton Purdom]
G/O Media may get a commission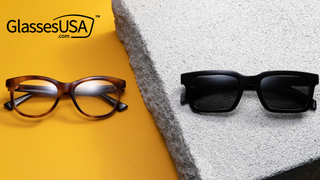 60% off frames
GlassesUSA.com Back to School Sales
---
Helena Hauff, Qualm
[Ninja Tune]
Grade: B+
Helena Hauff is not trying to do anything new. She recently told The Guardian she doesn't even think it's creatively possible. And yet, the Hamburg DJ and producer channels her overt '80s and '90s influences into a magnetic, bruising electro/EBM sound all her own, with songs recorded mostly live using a few select analog synthesizers. On second LP Qualm, Hauff doubles down on her minimalistic approach while pushing her machines to their absolute nastiest edges. Opener "Barrow Boot Boys" bangs out a rhythm frayed beyond recognition, tensely never quite loosing its melody, while eight-minute raver "The Smell Of Suds And Steel" builds to a fever pitch of blown-out 303 lines, staticky pads, and singed laser pews. Twelve tracks at this intensity could be a lot for one record; fortunately, Hauff knows exactly when to slip in beatless sci-fi soundscapes like "Entropy Created You And Me" and "Primordial Sludge." Like all of Hauff's work, Qualm offers a lot to chew on while also resisting overanalyzing. You let it lure and lash you, let it move you or just move on.
RIYL: Italo disco. Dark '80s sci-fi flicks. Dancing in dingy, smoke-filled clubs.
Start here: Though poppier than most of Qualm, "It Was All Fields Around Here When I Was A Kid" is a great glimpse of Hauff's lighter side and a showcase for her skill in assembling outsize grooves from just a few off-kilter elements. [Kelsey J. Waite]
---
[Brainfeeder]
Grade: B+
On Oliver Johnson's Joined Ends, the second full-length under his Dorian Concept moniker, it looked like this analog-synth wizard might be reining in the frenzied energy of his earliest recordings and channeling his keyboard virtuosity into graceful, restrained compositions. The Nature Of Imitation—his debut for Flying Lotus' Brainfeeder label—on the other hand, is a glorious return to chaos. Here, Johnson is pulling from many of the same inspirations as his labelmates, manipulating his synths and backing tracks into unpredictable collages of jazz, funk, and techno. But for all its synthetic parts, Imitation is beautifully alive. It's fussy and whimsical, with most tracks holding onto just a handful of elements as they transform their palettes and dynamics several times over. These jazzlike diversions are thrilling on their own, with Johnson laying down melodies or scratchy synth improvisations over crescendoing accompaniment until the song abruptly changes gears again. Their real power, however, is how tremendously satisfying they make the rare moments where all of Johnson's unruly beats and keys finally lock into a jubilant, unified groove.
RIYL: Flying Lotus. Machinedrum. The squelches, bleeps, and buzzes of a good analog synth.
Start here: On "No Time Not Mine," Johnson's playful assembly of eclectic inspirations—laidback synth funk, blaring free-jazz freakouts, groovy jazz fusion—results in an R&B odyssey that's both smooth and jarring. [Matt Gerardi]
---
---
[Warner Bros.]
Grade: B
Mac Miller has operated in many modes over the course of his career. He's been a fratty master of ceremonies, a depressive Serious Artist, a half-convincing loverman. Swimming features the full suite of personas coagulated into a single voice. With a sobriety (GO:OD AM) and a breakup (The Divine Feminine) record behind him, Miller's now taking the full measure of things. "2009" is about curbing self-destructive tendencies and "Dunno" zooms out on a toxic relationship: "It's so cute you wanna be like me / Wouldn't you rather get along?" Miller sounds great when he's whining, croaking, stretching syllables like warm mozzarella. Swimming's spare, dreamy production allows him to do a lot of that. On "Small Worlds" he says he gets "more peace at slow speeds" these days. Rappers are prone to talking silly shit, but the rest of Swimming backs that claim up. He's as serene as ever.
RIYL: Curren$y. Chance The Rapper. Kendrick Lamar's mellower work.
Start here: It's difficult to make apathy sound as thrilling as Miller does on "Conversation Pt. 1." Over sleepy-menacing keys, he's extravagantly bored—"Everybody famous, everybody wild, everybody dangerous"—and also at his most magnetic. [Colin McGowan]
---
[Warp]
Grade: B+
There's hardly a corner of London that Gaika Tavares doesn't scan and incorporate into Basic Volume, his full-length debut. Sweetened R&B melodies, throbbing dancehall bass lines, oppressively cloudy grime textures, clacking industrial percussion—all of it coheres under the force of his impressively intricate production and songwriter's eye for detail. Which doesn't necessarily mean it's easy listening. Basic Volume is as pocked and scratched as the view through an acid-etched tube car window, and the visions of the city on the other side of the glass are accordingly ugly and apocalyptic; "London City isn't build on God," he sings in "Crown & Key." But Tavares finds strength in the oppressive atmosphere. He bends his voice in ways reminiscent of Frank Ocean (with whom he shares a producer, Buddy Ross), and the heavy bass power of British sound-system culture informs nearly every track here. Basic Volume is noisy and abrasive, but it's also frequently beautiful, and it speaks as loudly as it takes to be heard.
RIYL: Kelela. Frank Ocean. Lotic. Turning anger into power.
Start here: "Black Empire (Killmonger Riddim)" is a showcase for everything GAIKA does well as a producer and singer, from the commanding toasting and dancehall stomp of the chorus to the gray atmosphere he patiently builds in the verses. [Marty Sartini Garner]
---
Purchasing albums via Amazon helps support The A.V. Club.