Aleš Kot has made their name writing politically charged comics, using genre fiction to explore domestic and international problems surrounding warfare, class conflict, and bigotry. Days Of Hate, Kot's new series with artist Danijel Žeželj and colorist Jordie Bellaire, explores all three of these topics as it ventures into the near future of the United States, when the divisions between the far left and far right have turned the country into one big warzone. The series is centered on two former lovers whose political affiliations tear them apart, and while one has become a notorious enemy of the state taking out white supremacist militias, the other is teaming with the government to bring in the woman who broke her heart.
After taking a short break from comics, Kot made a forceful return last year with Generation Gone, an action-packed thriller about millennials with superpowers. They're balancing creator-owned projects like Generation Gone and Days Of Hate with licensed work, writing a six issue James Bond miniseries, The Body, for Dynamite Comics as well as a series based on the Bloodborne video game for Titan Comics. New issues of both of those licensed titles are out this week, and they showcase how Kot brings a new perspective to established concepts: The Body #2 is one long interrogation scene that has James Bond waterboarding a prisoner, and Bloodborne #1 is a meta take on the video game that turns regeneration into a metaphor for cycles of trauma.

The trauma is national in Days Of Hate, and it's a bleak, brutal vision of what could happen if this country continues on its current path. This exclusive preview of next week's Days Of Hate #2 focuses on quiet tension, beginning with the book's government agent antagonist intimidating and belittling a woman of color on an airplane. From there the action jumps to the rebels, who are hiding out in a motel, figuring out their next move. The visuals match the intensity of the story, and Žeželj's artwork has a charred quality, as if these images have been burned into the page rather than drawn. There's no shine in Jordie Bellaire's coloring, and the sandy texture of her rendering emphasizes the grit of Žeželj's linework. Everything about this book is harsh, but readers looking for speculative fiction that doesn't pull punches will be hit hard by Days Of Hate.
G/O Media may get a commission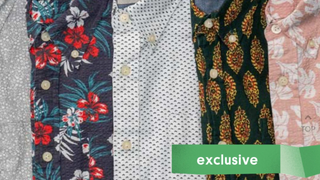 Grab three styles!
JACHS NY Summer Pack