Last month the School of the Art Institute of Chicago announced it would be giving Kanye West an honorary doctorate, as institutions of higher learning often do for famous figures. After some pushback from students, SAIC President Walter E. Massey and Dean of Faculty Lisa Wainwright are now defending their decision to honor Yeezy in a fascinating new interview with Fader.
"The guy is smart," Wainwright explains. "The lyrics are smart, the music is beautiful, it's complicated, it's post-modern, it's hip, it's awakening, I couldn't be happier."
West first dropped the news of his soon-to-be degree in an interview with Clique TV in which he humbly explained, "I was a gifted artist since age five and won national competitions and went to art school. I'm actually getting an honorary doctorate on May 5th from the Art Institute of Chicago." Students quickly took to social media to express their unhappiness and/or suggest someone should rush the stage during the ceremony for an "Imma let you finish" callback, which, admittedly, would be pretty funny.

Others posted flyers around campus featuring some of West's crass lyrics as a form of protest. Alumna Jay Enne even launched a petition to stop the event from happening and shared her "Unpopular Opinion" that West doesn't deserve to be honored by SAIC because he's just a vapid celebrity, not an authentic hip-hop artist.
But SAIC isn't too concerned about its students' grumbling. Wainwright notes, "There's still this sense that high art is what we do, is what we honor, is what we're about. And that pop culture is not what we teach in art school. Pop culture, mass culture—that's a whole other thing, and we're about high art. I think that's a problem. We're trying to collapse those boundaries a little bit. That's what I like about Kanye."
G/O Media may get a commission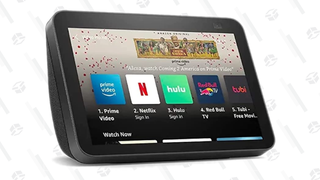 When asked about the pushback, Massey explains: "That hasn't been as widespread. They get maddened about it once they get on social media. People who have no connection with the school will comment on it. They're still young! People aren't fully formed in any of these areas."

For those keeping track, 2015 will now apparently be remembered as the year when art students began rejecting Kanye West, while the academic establishment welcomed him with open arms. [via MTV]