On Thursday, the Fox Broadcasting Company performed a hard reset on its comedy lineup, canceling three single-camera sitcoms whose creative heights were never matched by commercial ones: Brooklyn Nine-Nine, Last Man On Earth, and The Mick. With New Girl previously set to conclude its Fox run on Tuesday, May 15 and the fates of L.A. To Vegas and Ghosted (the latter of which has six retooled episodes hanging in limbo) still undecided, the shape of funny Fox things to come looked increasingly like Tim Allen pandering to Trump Country. Friday's Last Man Standing revival confirmed it: One of TV's most reliable sources for oddball sitcoms is drying up. It's a minor miracle that it lasted as long as it did.
Any list of the past decade's best comedies would be incomplete without Brooklyn Nine-Nine and New Girl. Any conversation about TV's most rewarding risks is unfinished without a mention of Last Man On Earth. Between those flagships, there were shows like The Mindy Project, which managed to compress the giddy highs of big-screen romantic comedies into a weekly half-hour series. Were it not for a maddening unevenness (or the fact that it was produced by Universal), the Mindy Kaling vehicle could've carved out a niche for comedies created by and starring women alongside New Girl on Tuesday nights. The Mick had more jagged edges than either of those shows, but its ensemble of arrested adolescents and actual adolescents were a smart (if briefly lived) pairing for Liz Meriwether's "weird, broken roommates." New Girl and Brooklyn Nine-Nine actually crossed over; we're left to imagine the path of destruction and malapropism that Nick Miller could've woven on a night on the town with Mackenzie Miller.
There are a lot of "What if?"s in the past seven years of Fox sitcoms. What if baseball playoffs hadn't killed the ratings momentum of New Girl's first season? What if Last Man On Earth had found a companion show that was equally adept at straddling the line between the shaggy rhythms of its fellow live-action comedies and the wackiness of the animated shows that surrounded LMOE on Sunday nights? What if that show was The Grinder, and you should feel very bad about sleeping on such a purely enjoyable one-season wonder?
The season that The Grinder bit it was probably the last chance this generation of Fox sitcoms had at establishing a long-term foothold. That fall, the network launched an all-new Tuesday night anchored by marquee names: A fresh from Parks And Recreation Rob Lowe in The Grinder, a not-yet-dropping-by Fuller House John Stamos in Grandfathered, and Ryan Murphy's Scream Queens. None were hits out of the gate, and both The Grinder and Grandfathered required some time to hit their strides: The former retooled on the fly, the latter eased in to a blended-family dynamic that jelled with the ensemble-driven New Girl and Brooklyn Nine-Nine. Last Man On Earth headed into the fall of 2015 on a wave of buzz, and at that summer's Television Critics Association press tour, Tina Fey, Robert Carlock, and Michael Schur all held up the show as an example that broadcast TV was not entirely allergic to left-field pitches. "Networks are getting cooler," said Schur, who then went about proving his hypothesis by selling NBC on a fantasy sitcom set in the afterlife and steeped in moral philosophy texts.
G/O Media may get a commission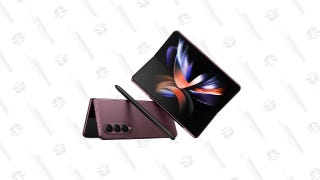 Save Up to $300
Galaxy Z Fold4
Things were looking up, but it didn't last long. To judge it by the stats is to see a period of diminishing viewership and wonky scheduling: New Girl held until midseason twice, Brooklyn shuttled back and forth between Tuesdays and Sundays, Last Man On Earth outliving the high-concept likes of Son Of Zorn and Making History.
But the contents of the shows tell a different story. New Girl's characters matured, but the show got satisfyingly stranger; Megan Fox being successfully folded into the cast during Zooey Deschanel's maternity leave should be remembered as one of the great midstream adjustments in TV history. While perfecting the art of the sitcom cold open, Brooklyn Nine-Nine got increasingly daring in its old age (title of your sex tape), reflecting the realities of a brutal world without sacrificing the basic decency that made it such a beloved weekly escape. Last Man On Earth was still finding huge, game-changing twists until the very end. Also worth praise: Fox allowed one of its leading men to look like this for multiple episodes.
These days, it's hard to feel stung by network TV comings and goings. Even if most cancellations, renewals, pick-ups, and passes remain concentrated in the spring days leading up to the Big Four's upfront presentations to advertisers, shows are living or dying on a daily basis in a television ecosystem where Fox, NBC, ABC, and CBS (plus kid sibling The CW) share oxygen and a pool of talent with streaming and cable. And o quote one of the biggest oxygen hoggers of them all, what is dead may never die: Within hours of being discharged from Fox, Brooklyn Nine-Nine was reportedly fielding interest from Netflix, Hulu, and TBS. (The first two have already passed.) [UPDATE: This article was filed before NBC's 11th-hour order for a sixth season of Brooklyn Nine-Nine.]
But these losses still hurt, the way that any clear, era-marking ending hurts. The Last Man Standing thing isn't helping any, but there's some relief in the talent responsible for the other multi-camera comedies Fox is lining up for next fall: The Cool Kids has a cast of seasoned ringers (Vicki Lawrence, David Alan Grier, Martin Mull, and Leslie Jordan) and an It's Always Sunny In Philadelphia pedigree (like The Mick!), while Rel pairs Get Out breakout Lil Rel Howery with Simpsons vet Mike Scully, who previously worked together on The Carmichael Show. And though the network's strategy appears to be pivoting away from single-camera, Liz Meriwether's pilot Bless This Mess—starring Lake Bell and Dax Shepard as newlyweds who ditch New York City for Nebraska—will be shot next month.
The fourth network's reputation for comedy has always been relatively scattershot. It doesn't have an august history of quality sitcoms like NBC, a string of long-running hits like CBS, or a knack for relatably funny families like ABC. The legacy of its animation block feels like something that exists independent of Fox's live-action comedies, the humble marriage of The Simpsons and King Of The Hill having long ago expanded into a deathless empire. Its past is dotted with the success stories of Married… With Children, Martin, Living Single, Malcolm In The Middle, and That '70s Show, but in terms of consistently amusing output, there's no match for the period that spans from the fall of 2011 to the spring of 2018. Hell, if you want to fudge the definition of sitcom a bit—and ignore the existence of Running Wilde—you can move the start date back a year, to the days when Glee was good and Raising Hope did working-class comedy without "economic anxiety." That's a run of TV comedy as good as any in recent memory; in the 21st century, only the Office/Parks And Recreation/30 Rock/Community years at NBC have it beat—and not enough people were watching then, either. (Also the title of your sex tape.)