Up until recently, former Buffy The Vampire Slayer star Tom Lenk (comic-relief-villain turned comic-relief-sidekick Andrew Wells) used his Instagram as most people do: To take photos of his dog, post selfies, and occasionally reenact Viagra commercials. But about two weeks ago, Lenk started dedicating his Instagram feed to meticulous recreations of red carpet looks.
Originally inspired by the Met Ball, Lenk seems to use items from his house to create his detailed replicas. And even when the looks aren't quite right, Lenk's commitment to capturing each celebrity's essence sells the whole thing.
G/O Media may get a commission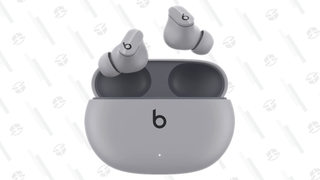 And his dedication to this kind of performance art is pretty impressive. For instance, this recreation of Sarah Jessica Parker's look is constructed entirely out of food, including a pasta wig, a necklace made of Froot Loops, and a tortilla and Nilla wafer top.
Recently, the Cannes Film Festival has provided a new source of inspiration for Lenk's work.
It's unclear whether Lenk is specifically purchasing material and wigs for these looks or if he just has the equivalent of a craft store in his house. But it's clearly a hobby he's grown quite fond of. He's even branched out into poster recreation too.
And he looped former Buffy co-star Eliza Dushku into a pitch-perfect recreation of the poster for The Huntsman: Winter's War.
And they teamed up for a pretty solid recreation of the film as well. Here's the scene from the original:
And Dushku and Lenk's performance:
He's dubbed the whole tongue-in-cheek project #LenkLewkForLess. And you can find even more of Lenk's "lewks" over on his Instagram.