"Robert Kirkman Wears A Tan Blazer And Red Suit Pants," Comedy Bang! Bang!'s season-four Halloween episode, starts off with, well, a bang… and with a familiar story. A straitlaced young couple break down on a rainy night, on a long lonely road. Spotting a light in the forbidding comedy studio up on the hill, they set off in search of help. But help isn't what they find.
"You're in for quite a treat," Kid Cudi greets Bread (CB!B! writer/actor Dave Ferguson) and Jarnet (Megan Heyn), and the opening number hints that he's right. But then, I'm a chump for anything that lets Scott Aukerman show off his pipes. And for a Halloween episode. And, to my surprise after all these years, for a loving Rocky Horror Picture Show homage. (Or, as the Sullivan's Theater promo indicates, a Rocky's Owner's Picture Show homage.)
As ambitious and detailed as the episode is, it falls a little flat—but much of that flatness is intentional. When the confused Jarnet asks, "What's going on?" Scott's deflating explanation recaps and undercuts the pageantry that just played out. "It's a television show. A TV taping. A Halloween episode? It was all in the lyrics, was that not clear?" It's no accident that the show cuts from an elaborate song-and-dance number to Scott, in full Frank-N-Furter costume, collapsing on the loveseat next to his visitors, or that when Scott offers to sing it again, both Bread and Jarnet exclaim "No!"
Despite the Halloween trappings, the show resumes its everyday routine immediately after the specially created credits, with Scott interviewing The Walking Dead creator Robert Kirkman, who arrives costumed (just barely) as Dr. Scott, in a wheelchair with a blanket on his lap. Kirkman, whose graphic (and I do mean graphic) novels and television show have terrified so many audience members, counts off many, many alternate names for zombies in The Walking Dead universe and tells Scott what really scares him.
It's classic Comedy Bang! Bang! anti-comedy, with a bit of anti-horror and anti-spectacle thrown in for Halloween fun. But all that actual spectacle hanging around the studio creates lot of anticipation and not enough pay-off. Unlike previous CB!B! spectaculars—its transformation to morning talk show, for example—"Robert Kirkman Wears A Tan Blazer And Red Suit Pants" clings to routine, setting aside the obvious attention lavished on the songs, costumes, and staging for long stretches of chit-chat. The homage is detailed, even loving, but the rhythm of the episode never gives itself over to absolute pleasure. The pelvic thrust never drives it insane. It has a certain naive charm, but no muscle. And so on.

G/O Media may get a commission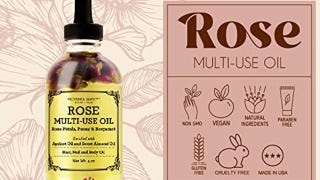 Provence Beauty Rose Multi-Use Oil
Kid Cudi, who promises "a very special evening" and "quite a treat" does his best to deliver. He's a highlight of the show, with his scampering, smirking Riff Raff ushering in the unexpected guests and leeringly introducing them to the notion of Halloween. Comedy Bang! Bang! hasn't always known what to do with Cudi, but lately the writers have crafted great spotlights for him, and he brings his A-game. "A+!" Scott cheers from the couch, and I agree: Cudi is fantastic here, and his energy keeps the show from dragging too hard.
It's Scott and Cudi's visitors whose curiosity bring on the most drama and squalor. Bread (full name Bread Tea Loaf, or maybe that's Bread T. Loaf) and Jarnet are so tightly wound that they've been voted Most Repressed three years running by other members of their congregation. (Of what religion? "We don't want to say, but it's safe to assume it's one of the weird ones.") But these two sheltered creatures keep bringing the conversation back to Halloween: What is it? Why is it? And why is it getting them off?
Jarnet's break-out number and her squealing notes just before the chorus ("Bang me, bang me, bang-a-bang-a-bang me!") are a great riff on Susan Sarandon's breathy, piping performance as Janet. Ferguson brings just the right combination of bluster, self-importance, and quaver to Bread.
This episode does nail the ending: L. Jefe Manincharge (Matt Walsh, who appears earlier as The Criminologist/Halloween episode how-to expert) arrives also costumed as Riff Raff and, accompanied by Magenta (Kathyrn Burns, choreographer for Crazy Ex-Girlfriend), he removes the cast and crews' costumes by ray gun. (Not by Comedy Death-Ray). As things return to normal, Bread and Jarnet realize their plunge into licentiousness wasn't the liberation of Halloween, but the discovery that they're exhibitionists.
The big show-stopping number, Scott's goodbye to the Halloween trappings, is all about reality intruding on a thrilling masquerade. "Now that we're done exploring," he belts out, "Our lives will resume being boring," and that sentiment is the secret heart of RHPS. The pomp of the costumes, the rituals of yelled catchphrases and tossed props, the thrill and solace of acceptance and inclusion: For many of its devotees, these are the appeal of The Rocky Horror Picture Show. But as Scott tells Bread and Jarnet, every day can't be a masquerade. "Otherwise, nothing would ever get done."

Comedy Bang! Bang!'s Rocky Horror Picture Show tribute didn't thrill me, chill me, fulfill me. That's partly because Rocky Horror itself "is no longer as shocking or transgressive" as it once felt, and therefore not as thrilling, partly because the pacing of this episode too often creeps where it should strut, and partly because Comedy Bang! Bang! doesn't capture the vamp and occasional raw raunch of the film. But the obvious affection, enthusiasm, and devotion to detail on display here is still touch-a-touch-a-touch-a-touching.
Stray observations
Scott's on-screen credit: Dr. Frank-N-Furter.

Excellent detail: Jarnet's gold necklace reading (of course) Jarnet.
Scott's second guest, "esteemed actor Martin Thomas Newton" (Matt Gourley), is method-acting as Edgar Allen Pope or Edward Ballentine Pope, depending on which mumbled description you prefer. I'm keeping an eye out for both books he mentions, Edgar Allen Pope's Fall Of The House Of Usher Part II: Rise Of The House Of Usher Part I, and Pope's unnamed contemporary's work, This Is An Old Book For Sure.
Despite its Sullivan product-placement send-ups, Comedy Bang! Bang! has always been great at product integration and amusing advertising bumpers, but between this RHPS tribute and the recent hockey episode, CB!B! is also showcasing its ability to create reasonably strong conceptual episodes around (presumably network-mandated) tie-ins.