The critic Lloyd Rose once pointed out that the image we all have in our heads of what Edgar Allan Poe looked "derives from daguerreotypes taken during the last five years of his life—the years from about 1845 on, when he grew a mustache, started indulging his dipsomania full time, and apparently lost his mind." The upshot is that, for most of his life, "Poe didn't even really look like Poe." The image most of us have of what Leonardo Da Vinci looked like is largely based on self-portraits he did later in life, showing a sad-eyed, ferociously bearded old duffer. If Starz believes that, in his younger days, Leonardo was an unshaven, swivel-hipped git who served as a combination of James Bond, Sherlock Holmes, d'Artagnan, Tony Stark, Gil Grissom, and Jim Morrison, valiantly using his talents to help Lorenzo de' Medici hang onto control of Florence while shtupping his mistress, who am I to say otherwise? David Goyer, who created this series and wrote half of its first season (including tonight's finale), has a thing for superheroes: He wrote the Blade movies with Wesley Snipes, moved on to Christopher Nolan's Batman movies, and his big credit this summer is Man Of Steel. He likes to keep moving up the ladder, and after Superman, where it must have seemed like his only options were to retire or draft the hero of the Renaissance into the Justice League International.
Da Vinci's Demons could scarcely be any stupider, but it would be easy to make peace with that if it were also any fun. The most amazing thing about the show is how insane it's been prepared to get—a couple of episodes ago, it got tired of having its hero contend with maniacal assassins on contract to the Vatican and Pope Corleone and dispatched Da Vinci to Romania, so he could hang out with Dracula—without hardly being any fun at all. This is a show that can show its hero breaking out of prison and blackmailing a judge into dismissing the charges against him by stripping the guy naked and rigging him so that it looks as if he's about to screw a pig, in a sequence whose most salient quality is that it's too talky.
The show, which has sometimes managed to be halfway amusing in its political-intrigue, costume-drama The Borgias mode—especially since Eliot Cowan, who plays Lorenzo, and Tom Bateman as his brother Giuliano, are easier to take than most of the others in the cast—is at its most hopeless when it gets deep into its mystical secret-history Dan Brown side. When that happens, the actors zone out an say things like, "In every moment, you are both the child you once were and the sage you will be." (Mind you, this is the kind of show where, even at the best of times, everyone speaks English with an English accent, except they frequently address Leonardo as "Maestro" or refer to him as the "artista," 'cause they're in Italy.) I like a good alternate history as much as any dweeb, but the "speculation" here is all gaseous mumbo jumbo about accessing the Fountain Of Memory and exploring the Secret Archives to lay hands on the Book Of Leaves, and I got your Vault Of Heaven right here, pal.
The finale is almost all in this mode. It opens with a scene set 13 years earlier in Constantinople, where the fifteenth-century equivalent of the Trenchcoat Mafia is standing on a beach, discussing the fate and future importance of this young pup, Leonardo. "You would make light of our circumstances, Cosimo De Medici?" asks one sourpuss, establishing Cosimo as the only one of these guys you'd want for a Facebook friend. Leonardo is quick to get in on the act. He's the embodiment of rational, intellectually questing man, but he'll ride his horse halfway across the continent if he decides to follow a bird that one of his sidekicks assures him is "an omen," and he'll throw his carefully made travel plans into a tizzy if he sees the right Tarot card lying around. Rooting around Cosimo's death chamber looking for clues and hidden chambers, and sees a design and gasps, "It's King Solomon's knot, the ancient symbol representing the wisdom of eternity!" What's the poor guy standing next to him supposed to say in response to a line like that? "No duh!?"
The last hour of this show turns into more and more of a clusterfuck, with a big climactic fight at the church on Easter Sunday, after the Pope's minions fail to eliminate Lorenzo and his entire family by means of the old poisoned communion gag. (It features the kind of plotting where a good guy suddenly realizes that a character he trusts is a traitor, and then the traitor has an equally sudden change of heart and turns on the bad guys, so you have to wonder why the writer bothered to have him revealed as a traitor in the first place.) Goyer brings down the curtain with a cliffhanger, cutting things off just as Lorenzo and Leonardo's enemies are breaking down the door at the moment that Lorenzo learns that Leonardo has been, I think I may have alluded to this earlier, shtupping his mistress. It's a supreme act of chutzpah, especially since the crude, campy performances by all the actors playing bad guys are so wearying that the only reason for sitting through most of this hour is the implicit promise of seeing one of these guys get it. (My vote would go to Blake Ritson as Count Riario, who, in addition to giving an out-of-control, over-scaled, neurasthenic performance, looks distractingly like Evil Gilligan.) It's a shocking miscalculation, especially considering that the best thing in the premiere, also written by Goyer, was the chance it gave you to see Lord Grantham get it. "The whole point of progress," Leonardo says early in the series, "is overreaching." If that's true, Da Vinci's Demons is the most progressive show on TV.
G/O Media may get a commission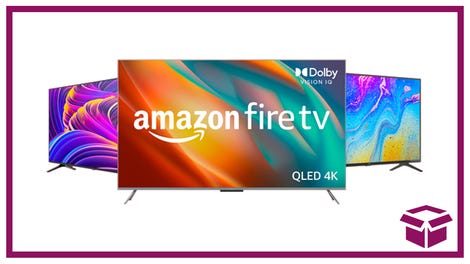 Ooh. stunning.
New Amazon Fire TVs
Stray observation:
When the woman Da Vinci loves tells him that he should stay and fight for Florence, he says scornfully, "The city that turned its back on me? The bastard son? The sodomite!?" You want to draw straws to see who explains to David Goyer why it sounds funny to have the hero say that he feels hurt that someone turned their back on him because he's into sodomy?