In late 2014, The Weakerthans' frontman John K. Samson began hinting that the band's inactivity may become permanent. This didn't garner much news until, in 2015, drummer Jason Tait took to Twitter, announcing that The Weakerthans would be no more. But there's a glimmer of hope for fans that have been waiting for new music since 2007's Reunion Tour, as Anti- Records will release John K. Samson's upcoming solo album, Winter Wheat, on October 21. And while Weakerthans fans have been held over by Samson's 2012 solo album, Provincial, Winter Wheat has something that record didn't: The Weakerthans rhythm section.
Co-produced by Tait—as well as Samson's partner and collaborator, Christine Fellows—Winter Wheat sees three-fourths of The Weakerthans core turning up throughout the album. Today, The A.V. Club is streaming the first song from Winter Wheat, the aching "Postdoc Blues," which sees a protagonist struggling to find connection and hope while existing in a cold, digital world. It's the kind of plaintive rumination that Samson has long been known for, and fits nicely into his body of work without retreading his past. The A.V. Club was able to ask Samson a couple questions about the song, and how this record is actually more like a Weakerthans album than a solo record.
The A.V. Club: Winter Wheat seems to put an emphasis on technology and how it influences our lives today. What fascinated you about this subject matter, and how does it relate to "Postdoc Blues"?
I'm really interested in how technology is altering the way we interpret the world. It seems like everyone, especially those of us who have lived in a world with and without the internet, is obsessed by how it is changing the way we live and think. And I love how words like "dongle" suddenly appear in our lives.
G/O Media may get a commission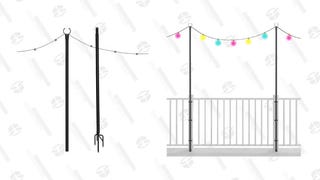 Up To 49% Off
Holiday Styling String Light Poles
In "Postdoc Blues" I wanted to see that character move beyond the immediate comforts of screens and solitude, and catch sight of the larger picture—that we need to keep working to build a community that will care for the world and for each other, and that there can be real joy in that labor. The end of the song is inspired by a wonderful book, Active Hope: How To Face The Mess We're In Without Going Crazy By Joanna Macy and Chris Johnstone.
"Postdoc Blues" is also one of several songs on this record that I wrote in response to Neil Young's 1974 album On The Beach. Young was uncannily prescient about our current addictions to screens and drugs and fossil fuels and nostalgia.
AVC: This being the first solo record since The Weakerthans ended, did you feel free to explore whatever you wanted musically? Is there a reason you found releasing music under your own name more compelling?
I'm not entirely sure. Strangely, this album is technically more like a Weakerthans record than my first solo album. It is co-produced by Jason Tait, The Weakerthans drummer, along with my partner, Christine Fellows, and also features Greg Smith, The Weakerthans bass player, and much of it was recorded by Weakerthans sound tech Cam Loeppky. But in other ways it feels very different. It is a bit of a sprawler at 15 songs, which is unusual for me, and is mostly acoustic and spare, and was recorded in home studios over a really long Winnipeg winter.
---
Pre-orders for Winter Wheat are available now and come with an instant download of "Postdoc Blues."