In We're No. 1, A.V. Club music editor Steven Hyden examines an album that went to No. 1 on the Billboard charts to get to the heart of what it means to be "popular" in pop music, and how that concept has changed over the years. In this installment, he covers Garth Brooks' Ropin' The Wind, which went to No. 1 on Sept. 28, where it stayed for one week, and again Oct. 19, where it stayed for seven weeks, and again Jan. 18, 1992, where it stayed for two weeks, and again Feb. 8, where it stayed for eight weeks.
This Saturday, Garth Brooks will perform at a 550-capacity venue located inside the Encore at Wynn Las Vegas casino and resort. It's a long way from Nashville's Bluebird Café, the storied club where Brooks was discovered by Capitol Records in 1987. The Encore and sister hotel the Wynn are acknowledged as some of the best hotels in the world, earning top ratings from every group whose opinion matters on the subject. The Encore has 2,034 suites and cost $2.3 billion to build.
For a property where only the best of the best will do, Brooks is a vital part of the architecture. You could even say the Encore, which opened in 2008, wasn't fully complete until Brooks signed a five-year contract to perform there in 2009, officially ending the retirement that commenced after the release of his final (to date, at least) studio album, 2001's Scarecrow. The album went to No. 1 on the pop and country charts, and was certified platinum five times.
Statistics matter to Garth Brooks. In 2007, when he sold out a string of concerts at L.A.'s Staples Center in 59 minutes, his website noted that it was "the first time any performer sold out that many shows in the Los Angeles arena in one day." Undoubtedly that's true, but it's the sort of meaningless numerical distinction that's regularly tossed out by sportscasters whenever someone becomes the first left-handed second baseman to hit three doubles in a National League game. Additionally, garthbrooks.com noted that "as part of his unprecedented appearance, the legendary performer will play five full concerts in two days—a feat believed to have never before been attempted by any artist." If for some reason it already had, Brooks would have surely found a way to squeeze in six full concerts.
Brooks won't be attempting anything unprecedented on Saturday. He'll merely be playing two shows, at 8 and 10:30 p.m., with just his own guitar backing him up. If that night's concerts go like his usual Vegas engagements, he'll strum a mix of his own hits and personal favorites by some of his biggest influences: James Taylor, Billy Joel, maybe some Cat Stevens. For this, fans will pay the princely sum of $250. Judging by the promotional video on the hotel's website, they'll pay hundreds or thousands more to fly in from places like Michigan, Alaska, and Liverpool, England. And they will inevitably find Garth Brooks "amazing," "so awesome," and "moving," just like the people in the video.
But because Garth Brooks cares about statistics, he must also be aware that Saturday marks the 20th anniversary of the release of his third album, Ropin' The Wind, the first country album ever to debut at No. 1 on the pop albums chart. An astounding 4 million advance orders were made for Ropin' The Wind, and the centrifugal force of the album's popularity sucked Brooks' first two releases back into the Billboard Top 20—the first time a country artist had so many records ranked so high at the same time on the chart.
G/O Media may get a commission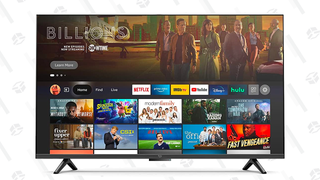 22% off
Amazon Fire TV - 50" Omni Series 4K - Early Access Deal
Ropin' The Wind spent 18 weeks at No. 1 over the course of more than six months, competing with (and eventually besting) albums released by Michael Jackson, U2, Guns N' Roses, Metallica, and an upstart band from Seattle called Nirvana. Brooks later beamed about the record's chart performance in a 1994 Playboy interview. "I called it the Cheerios of country music," said the former advertising major, "because at that time, Cheerios was doing an ad where you push a Cheerio down in a bowl of milk and it pops back up. What happened was that U2 came out, slammed in at No. 1, and Ropin' popped back up. Michael Jackson did the same. They just kept coming. I think it traded places six or seven times. That album spent 18 or 19 weeks at No. 1, while six or seven of the world's biggest artists released things. So I was extremely proud of that."
Ropin' The Wind to date has sold 14 million copies, which puts it among the best-selling country records ever, and the biggest albums of any genre on any all-time list. It's the record that cemented Brooks as the most popular singer of his time, and heralded the arrival of country music as a dominant pop genre. In recent years, Taylor Swift and Lady Antebellum have stood toe-to-toe with the most successful pop stars in the world, and come out ahead. That this doesn't seem at all unusual speaks to the titanic impact Brooks had on the music world, and pop culture in general, both in the '90s and for years afterward.
And yet there are no plans for a deluxe reissue of Ropin' The Wind. No music magazines have devoted special issues to delving into the record's history or the influence it had on other artists. Jon Stewart will not be hosting a two-hour retrospective on the album. All of those honors instead have been bestowed on Nirvana's Nevermind, an album that was embraced by a different group of people—a much smaller group, Brooks would likely point out—than the group that backed Garth.
It's possible that Garth Brooks doesn't care about any of this. Nirvana might have the media coverage, but Brooks still has his numbers. Besides, Ropin' The Wind might not even be his best or most important album. The 17 million-selling No Fences (which peaked at No. 3) moved more copies and produced more No. 1 country singles (four vs. Wind's three). The record's most enduring track, "Friends In Low Places," is the one song that even people who loathe Garth Brooks will admit is sort of awesome. And Fences spawned his greatest video, for "The Thunder Rolls," where Brooks plays a domestic abuser with a fake beard that makes him look like Bonnie Bedelia's coke-sniffing co-worker from Die Hard.
Studying Garth Brooks' album sales has an instantly destabilizing effect. The usual rules for determining music's relative popularity go out the window. The fact is, Brooks has four studio albums that for any other artist would be once-in-a-lifetime career highpoints: 1989's Garth Brooks (10 million sold), No Fences, Ropin' The Wind, and 1997's Sevens (10 million sold). He also has a diamond-selling greatest hits album (The Hits) and live record (the 21 million-selling Double Live). As of 2010, Brooks is only 1.5 million albums behind Elvis Presley on the list of best-selling artists ever. Even after giving Elvis a 35-year head-start (and cutting his recording career short, so it's only half as long as the King's), it's entirely possible that Brooks will pass him, especially if he decides to tour once his Vegas contract expires in 2014.
But you already knew that. Garth Brooks is defined by his numbers. Even people who couldn't hum one Garth Brooks song—aside from "Friends In Low Places," of course—know that he thoroughly dominated his era like only a handful of artists before him. It's that very success that has made Garth Brooks a divisive figure in country music history.
To fully understand the size and scale of Brooks' popularity, perhaps it's best to briefly look at his biggest failure, 1999's misbegotten concept album Garth Brooks In… The Life Of Chris Gaines. The album was supposed to allow Brooks to create a freaky, Ziggy Stardust-esque alter ego for a collection of dark, rock-oriented songs. It was released in advance of a proposed film, The Lamb, pitched as a fictional biopic in the style of The Rose, only with a country superstar in the lead and more soul-patches. (The film was never made.)
Admittedly, taking the most successful country singer in human history and dressing him up as an ersatz alt-rocker was a major blunder. Chris Gaines was either the work of a megalomaniacal madman drunk on his own success, or a desperate act by a bored superstar out of goals to achieve, and looking to shake up his image just to end the monotony of non-stop adoration. Chris Gaines instantly became pop-culture slang from "unintentionally hilarious celebrity boondoggle," and took a place of dishonor next to the Bee Gees' Sgt. Pepper's Lonely Hearts Club Band and Kiss Meets The Phantom Of The Park in the lowest level of pop-music embarrassments.
And yet… Chris Gaines went double platinum. The album's lead single, "Lost In You," peaked at No. 5 on the pop charts, Brooks' best-ever showing in the Hot 100. If Chris Gaines had come out in 2010, it would've been the fifth best-selling album of the year, not far behind teen phenom Justin Bieber's My World 2.0. Chris Gaines might have been a disaster by Brooks' lofty sales standards, but in no way did it diminish his standing among his fans; in a weird way, the record's dweebishness underlined his appeal.
Let's state the obvious: Garth Brooks is not cool. He appealed to old people and little kids, he recorded Bob Dylan songs only when Billy Joel did them first, and he knowingly walked around in public in loud, multi-colored shirts tucked inside tight black Wranglers. But guys like that sell records. And Garth Brooks was that guy at the exact moment when nobody else wanted to be that guy.
The '90s music that we're devoting so much energy to commemorating right now—whether it's grunge, gangsta rap, rave, or indie-rock—rose up from underground scenes and rubbed shoulders uncomfortably with mainstream tastes. We romanticize that tension, because those artists were romantic and tense, and aging nostalgists associate those qualities with their own childhoods. Garth Brooks, meanwhile, was a compendium of popular music from the '70s and '80s, and his accomplishment was showing how potent old formulas could still be. As Brooks told Playboy:
When I saw Queen I pretty much thought, Man, this is the feeling I want … And when I heard George Strait in the early '80s, that was it. I said, "There's my way: country music." But I was worried, because when you play country music you pretty much stand there. Then I saw Dwight Yoakam and I said, "Hey, he ain't just standing there. He's all over the place. We'll pump it up and do everything that a late-'70s arena rock show did, except that what comes out of the speakers will be pure country. And that's what happened.
Guys like Kurt Cobain and Dr. Dre drew lines between young and sexy people and not-young and not-sexy people. If you wanted to be hip, you knew what side you had to be on. Then Garth Brooks came along scooped everybody else up. He cornered the market on appealing to people who didn't fit in with what rock and pop had become in the '90s, which turned out to be a lot of people. He created one big circle, invited the world to step inside, and then set it on fire as he floated high in the air on invisible suspension wires. Of course the audience went wild.
In 1996, Brooks embarked on a three-year tour; in the first year alone, he played 121 shows in 41 cities, generally charging under $20 per ticket. (That's less than the service fees for a ticket to see him at the Encore.) Simple math shows that he played an average of about three shows in every market that year. Sometimes he'd just keep adding concerts if the demand was there. At the Target Center in Minneapolis, he played nine consecutive sold-out nights; considering he sold more than 159,000 tickets in four hours, he probably could've added several more concerts if he allowed sales to go on for a full workday. As it was, if Garth Brooks was playing anywhere near your town and you had any interest in seeing him, it was almost certain that you would be able to.
The odd thing about Brooks is that he's now viewed as a more polarizing figure than Nirvana, a band that intentionally set out to bother people by writing songs about rape and putting grotesque baby fetuses on album covers and associating with Steve Albini. There are still people who blame Garth Brooks for "ruining" country music—like music journalist Grant Alden, founder of the alt-country publication No Depression, who summed up the critical judgment on Brooks in an interview with the BBC. "The people who made Garth Brooks a big star are not country-music fans," he said. "They are pop music fans who have found pop music in a country setting."
I suppose I should take this moment to point out—for the people who care about such things—that Ropin' The Wind is actually a fairly traditional country record. It has a song called "Rodeo," which is pretty clearly a song about rodeos. It has a song called "In Lonesome Dove," which nods to the popular Larry McMurtry cowboy novel and CBS miniseries that aired just a few years before Wind's release. One of the album's hit singles, "Papa Loved Mama," is about a guy killin' his wife for cheatin' on him, which is about as country as it gets.
On the cover, Brooks stands tall with his thumbs hooked in his jeans, and fingers interlocked over a fat belt buckle. His hat is black and a mile-wide. Behind him is blue sky straight out of a Technicolor Western (or Sears Portrait Studio). Once the cover shoot was over, I assume Brooks retired to the nearest Cracker Barrel and feasted on chicken-fried steak.
But what does it matter? His detractors might have the media coverage, but Garth Brooks still has the numbers. And perhaps that's the most country thing of all about Brooks. After all, at the annual CMA Awards, the night's top honor goes to the entertainer of the year, not the artist of the year. (Brooks has won that award four times, by the way.) Looking at his statistics, it's clear that nobody from his generation comes close to having entertained as many people as Garth Brooks.
So, in that sense, Alden is absolutely right: If Nirvana and the bands that followed took over the mainstream rock audience for a couple of years, Garth Brooks created a whole new audience that didn't exist before. And they're still out there, flying in from all over the world to see a pudgy, balding man sing James Taylor's "Sweet Baby James" inside one of the most opulent hotels on the planet. Now, if you'll excuse him, Garth Brooks has another show to do.
Coming up: Stevie Wonder's Songs In The Key Of Life