A month before releasing his new and first commercially available solo album, Himanshu Suri (Heems) tweeted his frustrations with the promotion process. "I made an album at the end of 2013 in one of the darkest periods of my life," the former Das Racist rapper wrote, "and now I have to relive it through interviews for promotion."
Midway through the resulting LP, you sense the Queens-born artist wasn't joking. Heems and co-conspirator Kool A.D. once delighted in confounding the media, but there are few layers of academic irony separating Eat Pray Thug from what haunts its creator. Heems' first official solo outing is an unfailingly direct set of meditations on post-9/11 racism and failed love, set to skeletal beats and bracing, plainspoken hooks.
So what's lost in transition? Trailing steadily behind two solo mixtapes released in Das Racist's final year (the brilliantly scattershot Nehru Jackets appeared at the start of 2012, Wild Water Kingdom toward the end), Eat Pray Thug bears the hallmarks of a mixtape-to-album debut. The length is trimmed; the production pared down. Heems trades Mike Finito for a team of producers including Harry Fraud and Gordon Voidwell, who manage successful forays into synth-pop on "Pop Song (Games)" and the embittered "Damn Girl." You'd be forgiven for missing Jackets' overstuffed samples and smirking looseness (remember "Womyn"?), though at its best Eat Pray Thug draws potency from political pathos.
Lyrically, Heems sobers up, perhaps literally (catch the veiled references to heroin addiction and to feeling "too dark" at Alcoholics Anonymous meetings—a far cry from Wild Water Kingdom's jokey "don't do drugs" PSA). Once brushed off as a purveyor of novelty rap, here Heems manages surprisingly moving and even confessional songcraft. "Home" is a coup, spotlighting Dev Hynes (Blood Orange) for an understated, late-night breakup jam that's easily the best thing on the record. Hynes provides the shimmering jazz guitar and longing moans, Heems the unfiltered heartbreak: "When it's cold outside, I miss you / But we had too many issues."
G/O Media may get a commission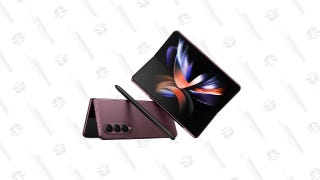 Save Up to $300
Galaxy Z Fold4
Eat Pray Thug is nothing if not awkwardly paced (the forgettable braggadocio of "Hubba Hubba Hima" clumsily follows "Home"), but it does manage a rare feat in being at once Heems' most personal and political work. The two spheres have never been separate for the rapper. Three tracks explicitly reference the 9/11 attacks, which Heems watched from a Stuyvesant High School classroom; a fourth, "Al Q8a," ends in a caustic "USA! USA!" chant, while "Flag Shopping" tells of buying American flags to ward off Islamophobia. It's tough to think of any mainstream hip-hop album that confronts Islamic oppression as plainly, and stark musical choices accent Eat Pray Thug's directness. "Suicide By Cop" soundtracks police harassment with a looped siren effect, while "Patriot Act" quickly abandons rhyme entirely for a spoken monologue on family and friends' stories of anti-Muslim harassment. "Those giant metal birds in the sky brought my parents here and made things confusing," Heems reflects over a wailing flute sample, "and then crashed into those buildings and made things confusing."
That confusion is key: For Heems, emblems of opportunity are emblems of oppression. To its credit, Eat Pray Thug never feels like a forced or obligatory stab at maturation. Instead, it seems like Heems has a lot to get off his chest and has little use for obfuscation, hooks, or irony.