One of the bigger curiosities in recent TV history is the shelved How I Met Your Mother spin-off, How I Met Your Dad. Given the phenomenal success of HIMYM and the unexpected casting of Greta Gerwig as the central husband-hunting character (in this case, one who was also going through a divorce), HIMYD seemed like a shoo-in for CBS. But the network unexpectedly decided not to pick up the pilot without reshoots while creators Carter Bays, Craig Thomas, and Emily Spivey refused to reshoot it without a series commitment, leaving the show at an impasse. Unable to find a new home for the series, Bays officially declared the project dead in the water in July 2014, leaving HIMYD as one of the more infamous TV failures.
So what went wrong? According to CBS entertainment president Nina Tassler, "there were elements of the pilot that didn't work out." That vague answer kept a lot of people guessing (Vulture tried to delve into the pilot's potential problems, including some weaker cast members and the issue of Gerwig's character being "likable" enough), but while the filmed pilot has yet to come to light and likely never will, those who are curious can now read the script thanks to Lee Thompson's excellent website TV Writing. The site hosts an impressive array of scripts from both existing and unaired series, all with the intention of helping writers improve their craft. And Thompson recently uploaded the HIMYD pilot along with over 50 other scripts.
After reading the pilot, it's easy to see why CBS wasn't completely sold. For one thing, HIMYD feels a whole lot like HIMYM. It has a virtually identical flashback-heavy structure and the pilot even ends with the same twist that the potential love interest is actually… Uncle Frank! (A reveal that would've worked a lot better before HIMYM used it in its own pilot and then proceeded to jerk around viewers for nine seasons.)
G/O Media may get a commission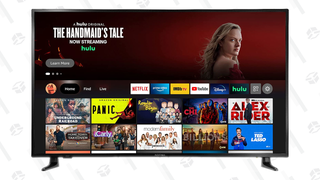 38% Off
Insignia 50" 4K UHD Smart TV
The script also trades pretty heavily in stereotypes and one-dimensional characters. Gerwig's Sally is a 27-year-old party girl who can't grow up, Smash's Krysta Rodriguez is her even more frivolous fashion blogger friend Juliet, Mixology's Andrew Santino is her uptight gay brother Danny, while his husband Todd (Drew Tarver) fulfills the supportive gay best friend role and regularly refers to Sally as "princess" and "sweet pea." (The original cast also included Workaholics' Anders Holmes as Sally's judgmental soon-to-be ex-husband Gavin, Masters Of Sex's Nick D'Agosto as her Robin-esque potential love interest Frank, and Meg Ryan doing the voiceover for present day Sally.)

All that being said, it's also true that a talented cast can make somewhat generic dialogue work better onscreen than it does on the page (although, in this case, that appears not to have been enough to convince CBS). There are some definite laughs in here, like the way Frank panics over Sally's announcement that they're going to have sex at the end of their date and notes, "It's just like being on a plane about to take off, and the stewardess comes up and says, 'Oh, by the way, 15 minutes before we arrive, the captain's gonna get sick and you're gonna have to land the plane.'" And we should point out that since this is labeled a "writer's second draft," it's also possible the script changed a bit before shooting. So while we're hesitant to judge the potential series too harshly based solely on this script, it still provides an interesting insight into the fraught process of making TV.