Scary Movie 2 star James Woods is known throughout the world not just for his performance as Owlman in the direct-to-DVD Justice League cartoon but also for his stringent far-right ideology and willingness to defend it to the mother-fucking grave on Twitter. In the grand pantheon of people who are mad online, James Woods is, well, the James Woods-iest, the only one who a) performed the voice of Falcon in Stuart Little 2 and b) once gloated over a political opponent's death, tweeting afterward, "Learn this. Libel me, I'll sue you. If you die, I'll follow you to the bowels of Hell. Get it?"
Despite briefly promising to quit Twitter last year, the actor is still out here weighing in on the controversies of the day, serving as a veritable one-man news network for people who want to hear what General Hein from Final Fantasy: The Spirits Within thinks about identity politics (bad) and whether or not former President Barack Obama is a Muslim (obvs). And so yesterday he solemnly remembered the heroes of Iwo Jima—
—apparently confusing statues commemorating American soldiers who successfully fought fascism in World War II with statues commemorating Confederate soldiers who unsuccessfully defended slavery in the Civil War. Because, truly, if there's one thing liberals hate—and by liberals, we mean the cartoonish construct of them that exists within the minds of their far-right opponents—it is, um, statues? All statues, apparently?
Obviously, this lead many "#liberals" online to wonder what they might set their malevolent, statue-hating sights upon next.
G/O Media may get a commission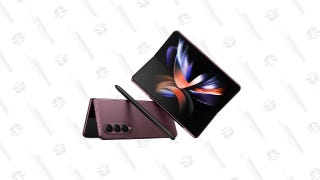 Save Up to $300
Galaxy Z Fold4
It is chilling stuff, the world that exists inside James Woods' head.