It's been so long since I've felt the rush of Jane The Virgin firing on all cylinders. Those episodes that are just one long sustained burst of adrenaline and emotion, when the show's engine moves smooth and powerfully through character interactions that get more complex and meaningful each second. "Chapter Eighty-Four" is fueled by everything going wrong for Jane all at once; responsibilities of motherhood collide with the complications of an undead love triangle, forcing her to solve a lot of problems in quick succession. Problems that all have Jason at the center.

This dude is really shitty. He won't hand over signed divorce papers until Jane goes on a date with him to discover if the spark is really gone. He knows that Jane doesn't want Mateo to know about him, but reveals himself anyway without considering how that's going to make her life more difficult. Jason has a real problem with boundaries, and all of the work Jane has done to expose him to the life she and Michael had together has given Jason a twisted view of their current relationship. Because she's legally still his wife and he's seen so many positive visions of their past, he thinks there might be a spark he can fan into a flame if Jane gives him a chance to properly court her. This makes Rafael furious for very good reason, and Jason refuses to compromise on his demands.
Jason makes Jane get on a boat with him and sit with him until she catches a fish, an especially tedious activity that takes her away from other people and traps her on an open body of water. After Jane tells Jason about how Michael got her to enjoy camping, he straddles up behind her and swings his arms around to grab the fishing pole, forcing a moment of intimacy that tricks Jane into feeling like she's back with Michael. As she mentioned in the season premiere, Jason doesn't just look like Michael, he smells like Michael, and when you get that close, its easy to fall under the pheromone spell despite your better judgment. The moment is interrupted by Jane getting a fish on her line and subsequently forcing the boat to overturn when she jumps up, but that hint of a spark is the harbinger of this episode's monumental cliffhanger.
G/O Media may get a commission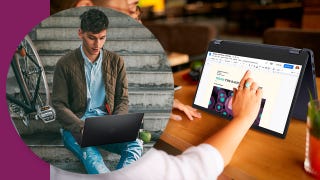 Ends August 15
Best Buy Anniversary Sale 2022
Ends August 15
Best Buy has a number of different promotions happening all for its Anniversary Sales Event. Laptops, tablets, TVs, you names it. Whether you're heading back to school or just trying to fill your home with some new tech, there is something here on sale that you've likely been waiting for.
I fully expected Jane's love to be the thing that would resurrect Michael's memories, and once there was a moment of genuine attraction, the memories wouldn't be far behind. This scene on the boat isn't the one that does it, but it plants a seed that grows when it's exposed to a stimulus tied to a foundational memory. The episode continues to up the ante until that seed blossoms, and Petra plays an important role in moving Jane's relationships with both Rafael and Jason to a point where the return of Michael's memory will hit the hardest. But before they get there, we get a classic Jane and Petra fight!
Jane's parenting trials have been pushed to the side while she deals with the pressing matter of Michael's resurrection, but they become too big to ignore when violence breaks out between Mateo and the Twins (I'm just going to refer to them as a unit from now on). Teasing, exclusion, and physical retaliation have made it impossible to bring the kids together, and Jane and Petra have to work together to stop the animosity between their children. This just creates more tension as Jane and Petra's separate parenting styles face off for dominance, but even when they find a solution that satisfies them both, their frustration and anger bungles the execution.
The root conflict between the mothers is a reflection of the one between their kids. Petra feels left out of the massive Jason drama that Jane has talked to everyone but her about, and she's unhappy about being at the bottom of Jane's totem pole when they've worked so hard on their friendship. Jane can't argue against Petra's totem pole position because it's true, but there's no denying that Petra is a huge part of Jane's life and someone she's been able to lean on in times of crisis. Petra says pole but she's really sad about falling out of Jane's inner circle, and while she recognizes that she'll never be as important to Jane as someone like her abuela, she wants to be a person Jane can rely on when things get tough.
Jane responds to Petra's sadness by reminding her that she loves her, but Petra wants to be liked. I'm a huge Lady Bird fan, so I squealed when I saw a seminal scene from the film translated to Petra and Jane's dynamic inside the tent. LIke Lady Bird and her mother, Petra and Jane are two headstrong women whose personalities are constantly at odds but who share a deep affection that overcomes their differences. Both scenes speak to how love can come across as an obligation if a person doesn't actively support you and seek out your support in turn, and the women need to close a gap before it grows irreparably wide. For Lady Bird, the experience of leaving home and dealing with the first days alone at college makes her realize how instrumental her mother was in getting her to this point and how much she owes to her mom's sacrifice.
It doesn't take a cross-country flight to unite Jane and Petra, and being in a kids' tent makes Jane realize how Petra is the sister she's always wanted. Petra has essentially filled the role Lina used to play in Jane's life, and Petra's experiences give her a unique view on the telenovela craziness that has taken over Jane's life yet again. Jane realizes that Petra is someone she can talk to without fear of judgment, and Petra gives her the advice she needs to fully let go of Jason and commit to her relationship with Rafael. It is not Jane's duty to devote so much time to Jason when it is damaging the strong family unit she has with Rafael and Mateo, and Petra convinces her to tell Jason to go back to Montana. Petra's words help Jane reaffirm her love for Rafael, and after 16 glorious minutes of sex, Jane talks to him about the possibility of adopting a sibling for Mateo, which he enthusiastically approves.
"Chapter Eighty-Four" ends with Jason bringing Jane signed divorce papers, showing that he's not a total piece of shit by accepting that he needs to leave Jane alone and go back to Montana. His change of heart compels Jane to feel tenderness toward him again, fully inserting the emotional key that just needs one last twist to unlock Michael. When Jane hands back the fishing pole Jason gives her as a memento, she inadvertently makes her greatest wish and fear come true. Jason is about to walk out of Jane's life when the end of the fishing pole rubs against the roof above the entryway, causing white flurries to fall on his face. Snow falling is so essential to Jane and Michael's relationship that it's the name of the book Jane wrote after his death, and when Jason has this sensory experience in the same place it originally occurred, his mind restores Michael's memories in a rush of flashbacks while his face shifts from confused Jason to terrified Michael.
While Michael's return is the biggest plot this week, the B-story with Rogelio and River is also exceptional. It manages to be both poignant and absurd, with Rogelio entering petulant child mode when he discovers that he's getting paid half of what his co-star makes. He's in a rage over his "pitiful pittance of a paycheck," but this opens up a vital discussion about pay parity in Hollywood, with Xo pointing out that it's pretty cool a woman is getting paid more than her male co-star. Pay parity is a huge topic in the entertainment industry right now, and Xo mentions that male actors like William H. Macy and Bradley Cooper have stood with their female co-stars—Emmy Rossum and Jennifer Lawrence, respectively—in the fight for equal pay. What Rogelio gleans from this conversation is that he and River should be paid the same amount, but she refuses when he asks her to stand by him wanting a raise in the name of pay parity. She's the bigger name in the U.S. and the reason the show was even greenlit in the first, so she refuses to back down from an elevated position she worked for her ass off to reach.
River worked her eyebrows and a toe off for it, too, and in a rage about the lack of equality in the U.S., Rogelio causes her another injury by accidentally kicking her in the face. Half of River's face is paralyzed, but she refuses to let this interrupt production, delivering a rousing performance in profile. As the production team cheers for River, Rogelio realizes that she's getting paid what she is worth, but then he starts to lament that he isn't getting paid what he is worth. Pay parity affects people of color, too, and he's starting to question why he's so eager to become a star in a country that doesn't value or accept him. Starring in a U.S. TV show has always been Rogelio's dream, but the reality is disheartening. After this scene, the episode cuts to Jane reading an article about mass deportation and failed family reunification, connecting Rogelio's struggle to a macro issue Latinos are facing all around the country. The script doesn't linger on discussion of the Trump administration's immigration policy, but this moment provides important cultural context that shows how pay parity is a symptom of a greater epidemic of inequality across race and gender lines.
Everything about "Chapter Eighty-Four" is expertly calibrated. Valentina L. Garza and Deidre Shaw's jam-packed script flows with ease in the hands of director Brad Silberling, who summons powerful performances from the ensemble. We get rare moments of honest vulnerability from Petra and Rogelio, two people who exaggerate their emotions when they feel slighted. Both performances showcase how well the actors have realized the heightened personalities of their characters, with Yael Grobglas' mastery of Petra's iciness making it all the more surprising when she seeks warmth from Jane and gives it in return. In the case of Rogelio, it's easy to think of him like a cartoon character because the scripts put Jaime Camil in situations where he's encouraged to go over the top. When all the hysterics are stripped away, like in Rogelio's heartbroken conversation with Xo at the end of the episode, Camil's performance brings on all the weight of the challenges Rogelio has had to face in his life, opening the character's eyes to the harsh truths he's tried to push out of his mind.
Speaking of harsh truths being pushed out minds, Michael's memories are back. But does that mean Jason is dead? I don't think the show would go into evil alternate personality territory, but it's not entirely unfeasible. Will Jane and Rafael accept Michael's revival or will they think Jason is faking it to get closer to Jane? What if Michael decides to not reveal himself because he sees how happy Jane is without him? The story spent just enough time with Jason to make him an antagonistic force that Jane doesn't want in her life, setting up a very complicated scenario for the season to explore further as it heads to the series finale.
Stray observations
Alba is the regular character who gets short shrift in this episode, but her limited screen time strengthens the emotional core of this episode by exploring the differences between a soul and soulmate, informing the spiritual aspect of Jane's predicament. Religion has been a major part of the Jason story from the start, and I like that the show's final season recommits to the theme of Jane's faith in its first episodes.
River supports Rogelio's fight for pay parity in order to position herself as a hero within the Latino community, landing on the cover of People En Español for her new woke attitude. At the end of the day, it's just one power play after another.
I adore this TV Guide deep dive into Petra's character and wardrobe, full of commentary from Yael Grobglas and costume designer Rachel Sage Kunin and lots of pictures of Petra's awesome outfits.
It's interesting that Jane isn't involved in the pay parity storyline at all give Gina Rodriguez's… complicated history discussing the topic.
Rafael's growing out his chest hair and I am into it.
Rogelio: "Clearly I need to read more about this important initiative." Cut to Elsa and Anna reading Sheryl Sandberg's Lean In: Women, Work, And The Will To Lead. Petra: "Put the books away, girls! It's time for brunch."
"Are you a worm or a chum girl?" Jason knows just what to say to get a lady going.
"Certain performances are etched in dramatic history. None more so than River Fields acting with half her face in The Passions Of Steve And Brenda."
"Looks like Jane is finally off the hook." Such an awful pun from the Narrator and I love it so.
"Glue the pictures or no iPad for a year!" I want to see a Judd Apatow-esque extended reel of Petra yelling potential punishments at children.
"You may only have half a face, but you have double the heart of anyone I have ever met."
Jane: "Are you saying that there's no soul? Like that God has nothing to do with it, that we're just a collection of memories and experiences—" Petra: "Whoa look. This religious stuff is something you can discuss with your grandmother."