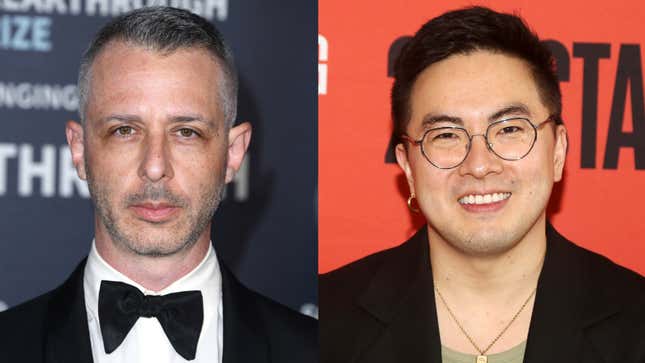 As the Succession series finale closes in, the weight of Jeremy Strong's performance as not-so-fortunate son Kendall Roy has begun to settle in, prompting glowing praise and character eulogies from critics and fans alike. But for Nora From Queens star Bowen Yang, the end of the Kendall Roy era means musing on something else altogether: the perfect time to muse on a story about Jeremy Strong's penchant for method acting. 
Jesse Palmer on vomiting, karaoke, and the burdens of hosting a reality show
Let Yang elaborate. "The most recent season of Nora From Queens shot at the same studio as this season of Succession," Yang explains on a recent episode of his long-running podcast with Matt Rogers, "Las Culturistas." "The Nora From Queens production office was pretty close to the Succession stages and their production office, and as we famously know, Jeremy Strong is a method actor," Yang explains. At one point, Jeremy walks into the Nora From Queens production office and says, 'Excuse me, do you know where the bathroom is?' and then someone in the office is like, 'Yeah, it's just down the hall to the left.' He goes, 'Thank you so much' and he leaves."
Yang continues: "So Jeremy leaves. Ten minutes pass, and a [production assistant] from Succession comes into the office and goes, 'Hi, was Jeremy just in here?' and they were like, 'Yeah he was — he went to the bathroom' and then this PA goes, 'Did he ask where it was? Did he come here to ask you where the bathroom was?' They were like, 'Yeah, why?' and the PA says, 'He has a scene today where he has to ask someone where the bathroom is.'"
Ultimately, Yang chalked the moment up to a level of in-depth method acting so profound, it had to be winking.
"I think that is method to such a ridiculous degree that he must be in on the joke," Yang concludes. Fair enough, and yet: Jeremy Strong hasn't always been known to see the comedy in Succession's well-crafted errors.
The final episode of Succession's final season premieres on HBO this Sunday at 9 P.M.
[UPDATE 5/25 5:00 PM ET]: The original version of this story ran with the headline Jeremy Strong's Succession method acting prep included asking Bowen Yang for bathroom directions. On Instagram, Yang saw our post and wrote: "not true! i was not present!" We regret the misinterpretation. Sorry Bowen!