Arcade Fire is the latest band caught up in a larger cultural conversation about how media depicts underrepresented communities. Against Me! frontwoman Laura Jane Grace—who is a trans woman—took to Twitter to criticize Arcade Fire's video for "We Exist." The video stars Andrew Garfield as a trans woman named Sandy. After being assaulted at a bar, Sandy imagines a dance fantasy and eventually finds herself on stage with the band at Coachella. Grace initially argued that the band should have cast an "actual 'trans'" actor instead of Spider-Man" in the role.
Russell Crowe is pretty chill about not being in that "Gladiator" sequel
In response to the critique, Arcade Fire frontman Win Butler and director David Wilson discussed the video with The Advocate. In that interview Butler explains he wrote the song in reaction to Jamaica's notoriously antigay culture (the album was partially written and recorded in Jamaica). He was shocked by the constant threat of violence many gay Jamaican kids live under. He argues that Garfield's star power helped increase the exposure of the video: "For a gay kid in Jamaica to see the actor who played Spider-Man in that role is pretty damn powerful, in my opinion."
Wilson, meanwhile, explains they initially considered casting a trans actor, but Garfield's passion for the project won them over. They enlisted trans musician Our Lady J to coach Garfield for the role. Butler ultimately explains, "There was just so much thought and love that went into the video I don't personally see it as negative," but added, "I can totally see the sensitivity of the issue."
Grace again took to Twitter to criticize what she called a "problematic" interview. In a series of Tweets she explained, "To start with there's the fact that Win says 'he' and Wilson says 'she'… the implication that a homeless Jamaican LGBT youth living in a sewer is going to feel empowered because… a cis, straight white male actor in movies they can't afford to see stars in a music video they'll never watch? That's so like wtf?"
G/O Media may get a commission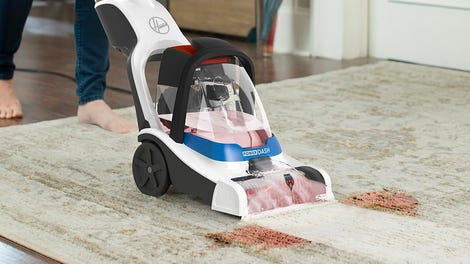 26% Off
Hoover PowerDash Pet Compact Carpet Cleaner
She also takes issue with the fact that the video relies on stereotypes while claiming to speak for a disenfranchised community. She explains "We Exist" is an especially frustrating title because "there is literally no signs of that existence represented. Should have been called 'They Exist'." In contrast, Grace praised the band's 2010 record The Suburbs, claiming the group was able to find power and truth in representing a perspective they had experienced. More of Grace's tweets have been documented on Consequences of Sound.
Similar controversies have erupted over Jared Leto's portrayal of a trans woman in Dallas Buyers Club as well as Macklemore's gay rights anthem, "Same Love." In all of these cases, one side argues that they want to use their popularity to tell under-represented stories. The other side, meanwhile, makes the case that cis [nontrans] men should help amplify voices, not usurp stories. (An interesting comparison point is Orange Is The New Black. That show's decision to cast a trans actor as a trans character led to an almost universally praised performance and helped Laverne Cox gain prominence as an activist and public speaker for the LGBT community.)
Perhaps putting a lid on the discussion, Grace tweeted later in the evening, "Just got done talking w/ @ourladyj about her involvement in the @arcadefire video. Her perspective really made me think about it differently." Our Lady J further explained on Twitter, "Andrew & I saw the character as a young man who is exploring his gender, not a realized trans woman."