Every two weeks, Comics Panel covers recent notable releases along the entire comics spectrum, from superhero/mainstream comics to graphic novels/art comics.
Not so long ago, superhero and art comics alike were enamored of "decompression," telling stories that dripped slowly with no detail left unexamined—often via panel after panel of characters reacting, silently. Gilbert Hernandez doesn't do decompression. If anything, his work has been a bold experiment in elision, as he's tried to see what he can leave out of a story and still have it "work." Sometimes Hernandez does this because he's looking to disorient the reader, as a way of drilling straight into the subconscious. And sometimes he leaves gaps because he knows his readers are smart enough—or creative enough—to fill them in themselves.
Hernandez's graphic novel Julio's Day (Fantagraphics) is as much about what's not on the page as what is. The book takes exactly 100 pages to cover 100 years in the life of a farmer's son, born in 1900. It starts out as a series of short vignettes about growing up, with young Julio handling school, bullies, and weird relatives; but then time marches on, and Julio sees people come and go from his small village, heading off to war or to a new life in the city. Gradually, Julio's Day begins to take on a larger shape. Life keeps cycling around for Julio and his family, as old fights are renewed every decade or so, and pestilence recurs. Fashions, mores, and technologies change; but desires and disappointments do not.
Julio himself is mostly a passive character in his own story, while all around him people experience intense joy and devastating loss, some of which Hernandez shows to the reader and some of which he only alludes to. By the end of the book, a lot of what initially seemed mysterious—such as Julio's deeply closeted homosexuality, or why his sister Sofia doesn't trust their uncle Juan—becomes clearer. But readers are left to guess at the meaning of some other incidents, which in typical Hernandez fashion range at times into the surreal. As a result, 100 different people could read Julio's Day and come away with 100 different impressions of what actually happened during all the years that Hernandez doesn't show. In that way, Julio's Day puts readers in the same position as its protagonist, who in some ways leads a small, sheltered life, and in other ways sees all that he needs to see to understand his world… [NM]
G/O Media may get a commission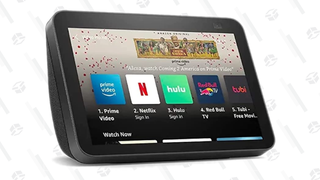 Marvel is gearing up for its upcoming Chris Pratt-starring, James Gunn-directed Guardians Of The Galaxy feature film, and the cosmic superteam's comic-book return has an appropriately cinematic feel. Guardians Of The Galaxy #0.1 (Marvel) tells the origin story of the Guardians' leader, Peter Quill, decompressing the narrative so that it has more emotional punch than the few panels it received when he first debuted in 1976. The son of alien royalty and the Earth woman who healed him when his ship crash-landed in her front yard, Peter has a conventional superhero childhood, protecting bullied classmates on the playground and lamenting the lack of a father in his life. Everything changes when the alien Badoon come after him and his mother, eager to put an end to the Spartax bloodline. This sets Peter on the path that leads him to a group of interstellar heroes made up of a green father-daughter pair, a talking raccoon, and a walking tree.
Bendis is joined on Guardians Of The Galaxy by artist Steve McNiven, who shows why he's one of the best creators in superhero comics with his meticulously detailed, incredibly dynamic pencils. The intimate moments of courtship between Peter's mother and father are given the same attention as the explosive action sequences, and the taste of outer-space sci-fi after an issue of rural American drama piques interest in the future of this title. Justin Ponsor's vivid color palette uses complementary hues of orange and blue to wonderful effect in the opening pages, with the bright orange glow of Jason's spaceship bringing warmth into the cold blue world of Meredith Quill. The team of McNiven, Ponsor, and inker John Dell has fantastic creative synergy, and it will be exciting to see what they are capable of as the story moves to more alien locations. This book is setting the stage for the Guardians Of The Galaxy film, and if the movie is anything like the comic, it's going to be one hell of a ride… [OS]
While on the topic of cinematic Bendis comics, March sees the release of his long in-the-works Age Of Ultron miniseries with artist Bryan Hitch. Age Of Ultron #1 (Marvel) skips the exposition and drops readers right into the heart of the event: a New York City that has been completely overrun by the Avengers' robotic nemesis Ultron. The villain never actually appears in this issue, which instead focuses on Hawkeye taking on a suicide mission to save a captured Peter Parker and bring him back to the superhero resistance. Hawkeye is Marvel's hottest character right now, and it's a wise decision to put the archer in the spotlight, showing just how much of a badass he can be with those arrows. The lack of information may frustrate readers who want to know how this story fits into the current Marvel timeline (Bendis insists this is in-continuity), but this first issue is an exhilarating start that plays out like a high-budget action movie. Bendis still has eight issues to explore just what happened to cause this apocalyptic scenario, but Age Of Ultron #1 is all about setting the stakes.
Hitch is only illustrating the first three issues (Carlos Pacheco and Brandon Peterson will divide the remaining six), and was given a lot of lead-time to ensure that the book would come out without delays. That time shows in the artwork, which is some of the most striking work of Hitch's prestigious career. The splash pages are breathtaking, blending photorealistic New York City landscapes with Ultron's intricate sci-fi technology. Hitch's widescreen art also looks fantastic digitally, primarily using horizontal rectangle panels that are the ideal size for viewing on a tablet screen. There's a reason why Hitch's art on The Ultimates had such a big influence on the Marvel movies, and Age Of Ultron is the kind of cataclysmic superhero epic that would break a studio's budget, but is perfect for the world of comics… [OS]
There's no question what Joe Casey and Piotr Kowalski's new ongoing series is selling; there's an arrow pointing to it right on the cover. Sex #1 (Image) has Casey working with his preferred type of protagonist, an aging superhero who has turned his back on the costumed life and is searching for new ways to get that old thrill. Casey spends the majority of the issue setting up the current situation in Saturn City since Simon Cooke gave up his life as the Armored Saint, looking at how Cooke's company has grown and how the city's underworld is taking advantage of the lack of a hero on the streets. Toward the end, the book starts to deliver on its title when Simon checks into an establishment where he can pay to watch two woman get intimate. As he watches the women lick and fondle each other, Simon reminisces about the dying words of a friend, which creates an intriguing juxtaposition between what's happening in Simon's mind and what's unfolding before his eyes. (It's also extremely graphic; Apple has banned the title from appearing in the Image Comics and Comixology apps on its devices due to its sexual content.)
Kowalski's art is an evocative blend of Chris Weston's realism with the sharp linework of Greg Capullo, creating extremely detailed city environments populated by distinct characters. He also shows a talent for drawing vaginas. Letterer Rus Wooten highlights certain words with a color that is supposed to reflect the emotion behind the dialogue, which creates an interesting visual, even if it's not the most effective storytelling tool. It's still unclear what the long game of Sex will be, but Casey and Kowalski definitely have the tone down, doling out a shot of the erotic with a chaser of depression in a title that's more sad than arousing… [OS]
And…
Belgian cartoonist Christian Durieux's An Enchantment (NBM Comics Lit) is the latest in the series of graphic novels created in partnership with the Louvre Museum, though Durieux's book is billed as a "graphic poem," which better reflects both its length (at just over 60 pages), and its tone. Largely eschewing plot, Durieux imagines the Louvre as a place where people disappear into paintings, and characters from paintings slip into reality. An Enchantment is about an older gentleman—a reluctantly retiring curator—and a beautiful young woman, as they take each other on a tour of the museum focused on their particular interests. Durieux's art is lovingly detailed, but doesn't detract from the actual paintings he reproduces on these pages—paintings that in An Enchantment serve as a multiplicity of windows to other places, other times… [NM]
Speaking of poetry, Dark Horse Presents #21 (Dark Horse) includes a Paul Chadwick adaptation of Neil Gaiman's wonderfully nerdy and romantic poem "The Day The Saucers Came," in which Gaiman stacks up apocalyptic imagery (zombies, Ragnarök, etc.) in service of a half-sweet, half-heartbreaking punchline. Chadwick devotes a full page to each stanza, making each one a poster-worthy depiction of world-changing phenomena contrasted with mundane humanity. Without using panels, Chadwick guides the reader's eye around a richly conceived imagining of Gaiman's words, right up to its perfect payoff. The rest of this latest volume of Dark Horse Presents mostly consists of in-progress serials of varying quality (from okay to very good), but it's worth picking up the whole anthology just for these seven pages of Chadwick/Gaiman greatness… [NM]
Jim McCann and Janet Lee's Return Of The Dapper Men was a visually striking fable that earned the team an Eisner Award for Best Graphic Album in 2011. They reunite for Lost Vegas #1 (Image), a sci-fi story set in an outer-space casino. It's a stark departure from their previous work, but the concept allows McCann and Lee to stretch their imaginations as they flesh out this new world. McCann's plot follows a down-on-his-luck gambler who's been forced to work at the Lost Vegas casino to pay off his debt, now plotting his escape after five years of servitude. It's a fun spin on the prison-break narrative, but the real reason to buy this book is Lee's dazzling artwork, which has grown considerably since her last collaboration with McCann. With a design sense that is part Pixar, part Futurama, and part The Fifth Element, Lee fills each page with unique alien characters. The spectacle of the casino is put on full display in Lee's engrossing splash pages, spotlighting the artist's talent for unconventional architecture and crowded group shots. Each new page gives Lee more opportunities to experiment, and much of the fun of this first issue comes from seeing just what Lee will come up with next… [OS]
Over its few years of (sometimes sporadic) existence, Faith Erin Hicks' comic strip Superhero Girl has combined light world-saving adventure with the humorous anxieties of a young Canadian woman dealing with career stress and romantic crushes. The Adventures Of Superhero Girl (Dark Horse) collects more than a hundred of Hicks' strips, with subtle coloring by Cris Peter that helps position Superhero Girl as what it is: halfway between mainstream-comics parody and affable, down-to-earth indie. Hicks has a gentle sense of humor, and the jokes in Superhero Girl tend toward the quirky rather than the boffo. (Superhero Girl takes up knitting in one series of strips, for example; in another arc she's mistaken for a supervillain because she wears a hoodie to cover up a bad hair day.) It's a much slighter work overall than Hicks' young-adult graphic novels, but it's highly likeable, and would be great to pass along to Hicks' teen and pre-teen fans… [NM]
The Wildstorm series Sleeper wasn't Ed Brubaker and Sean Phillips' first collaboration, but it was where their partnership evolved the most, blending the worlds of superhero comics and crime noir for what's arguably the best book to come out of the now-defunct imprint. The Sleeper Omnibus (Vertigo) collects the five-issue Point Blank prelude miniseries along with both seasons of Sleeper and bonus content including character and cover sketches and page layouts. It's a beautiful package, and the art by Phillips (with Colin Wilson on Point Blank) looks fantastic on the oversized pages. Through the struggle of undercover government agent Holden Carver, Brubaker has crafted the perfect story for readers with little or no familiarity with the Wildstorm universe; longtime fans of these characters who aren't pleased with how they've been portrayed in DC's New 52 will delight in seeing the antiheroes presented at a higher level of sophistication and emotional depth. Sexy, action-packed, and psychologically complex, Sleeper is what most mature superhero comics aspire to be, but it exists in a class all its own… [OS]
Even Michael Kupperman devotees who've picked up every issue of the cartoonist's Tales Designed To Thrizzle comics will need to pony up again for the Tales Designed To Thrizzle Vol. 2 (Fantagraphics) hardcover collection, in part because the collected edition adds comics that didn't appear in the original issues, and in part because the only thing better than pamphlet-sized Thrizzle is book-length Thrizzle. Kupperman's work only gets funnier when read in bulk, which allows the rare clunker gags to get absorbed into page after page of stories about a crime-fighting Mark Twain (with his partner Albert Einstein!), Cowboy Oscar Wilde ("Ignorance is like a delicate flower, podner"), and The Hamanimal (a superhero with the head of a canned ham and the body of whatever animal he chooses). Kupperman's comics take pre-existing popular culture—TV shows, advertising, other comics—and tweak them just a little until they become hilariously absurd. Read 170-odd pages of them in one sitting, and afterward even straight entertainment starts to look ridiculous… [NM]
DC's Ame-Comi Girls line is a perplexing thing. These digital-first comics are based on T&A anime statues of DC heroines like Wonder Woman, Power Girl, and Batgirl, but it's unclear who the audience is for this book. The stories by Jimmy Palmiotti and Justin Gray have an all-ages simplicity, with bright, cartoonish artwork by artists like Ted Naifeh, Sanford Greene, and Amanda Conner, but the exploitative costumes make for an uneasy disconnect between plot and design. Ame-Comi Girls #1 (DC) assembles the heroines and their villainous counterparts to fight an out-of-control female Brainiac, a standard superhero narrative that isn't helped by all the butt shots. The minds over at the Hawkeye Initiative would have a field day with the poses drawn by Eduardo Francisco, who has an attractive style that falls somewhere between Ross Campbell and Nicola Scott. Unfortunately, the layouts of the book are very bland due to the fact that each print page is actually two digital pages. These images are made for a horizontal tablet screen then put together on a vertical page, and the result is a lot of repetitive panel structure. A book spotlighting the females of the DC universe is a smart idea, but the execution of Ame-Comi Girls is questionable… [OS]
It's a good time to be Cullen Bunn: The writer has two series at Marvel and his celebrated horror Western, The Sixth Gun, has a TV adaptation in the works at NBC. Now Bunn has a second ongoing at Oni, with Helheim #1 (Oni) teaming him with artist Joëlle Jones for another horror hybrid. Helheim inserts elements of Frankenstein into a 6th-century Viking epic about Rikard, a fierce warrior in love with the beautiful Bera, a woman who's as menacing as she is seductive. The book has the type of high-fantasy tone that Bunn's Fearless Defenders #1 should have had, but Bunn tends to thrive when he gets to create a world from scratch. He also has a stronger collaborator in Jones, who has proven herself quite the versatile artist. She blends the sharp lines of animation with an eye for realistic detail, giving her pencils intense energy that's still grounded in reality. Bunn and Jones deftly combine the worlds of fantasy and horror, making Helheim a captivating read for fans of either genre… [OS]
There have been multiple comprehensive comic-book histories published over the years, but nothing quite like Two Morrows' new American Comic Book Chronicles, which intends to cover the medium decade-by-decade in hardcover books that combine well-written and -researched overviews of each era with timelines and extensive illustrations. The series starts in the middle, with the John Wells-penned American Comic Book Chronicles 1960-1964 (Two Morrows), which considers the era when Marvel changed the nature of superhero comics' Silver Age, while newspaper comics adjusted to the ascendency of Peanuts, and DC continued publishing some of its best-ever war comics. It'll be interesting to see how the next volume incorporates the underground comix era into a story that at the moment is still too dominated by "the big two," but for now, American Comic Book Chronicles is a welcome hybrid of coffee-table book and pop history. [NM]