Even if he were still alive, Frank Sinatra would probably never give you a personal tour of the Capitol Records building unless you were an unusually foxy dame. Similarly, you can ask politely, but Berry Gordy is not going to show you around Motown, either. But thanks to the good folks over at Hush Hip Hop Tours, you can get old-school legends like Grandmaster Caz (a.k.a. Casanova Fly), solo hitmaker Kurtis Blow ("The Breaks"), and godfather of hip-hop DJ Kool Herc to show you spots around the Bronx where hip-hop was born and bred in the mid-'70s.
In 2007, the New York State Office Of Parks, Recreation & Historic Preservation recognized 1520 Sedgwick Ave., a 102-unit apartment building, as the "birthplace of hip-hop" and the site of DJ Kool Herc's first bona-fide hip-hop party on August 11, 1973. So when Pop Pilgrims decided to visit, it joined forces with Hush Hip Hop Tours and, more specifically, with 52-year-old tour guide and hip-hop giant Grandmaster Caz of the Cold Crush Brothers, a charismatic walking encyclopedia of early hip-hop.
The owners of the building recently had some bad experiences with film crews shooting without permission, so as a peace offering, we brought along enough food and beverages for a 40-person barbecue for the building's residents. We loaded the foodstuffs onto the plush Hush Hip Hop tour bus and headed to our destination with the great Grandmaster Caz in tow. "Empire State Of Mind" blared on the stereo as the perfect soundtrack and mood-setter to the afternoon's endeavors.
Outside the weather was grey, drizzling, and oppressively overcast, but we weren't about to let that stop us. We unloaded our gear and food at 1520 Sedgwick and were led to the unassuming rec room that had served as the unlikely birthplace of a cultural movement that would transform pop culture in ways pioneers like Caz and DJ Kool Herc could never have imagined.
Grandmaster Caz has every reason in the world to feel frustrated by his treatment from the music industry. Everyone from 2Pac to Will Smith to Jay-Z has paid tribute to Caz and his group in song, but the Cold Crush Brothers never released a proper album, let alone scored any hits. Caz's former manager Big Bank Hank—a non-rapper recruited by early hip-hop mogul Sylvia Robinson to perform in her group the Sugar Hill Gang—notoriously "borrowed" Caz's lyrics for the seminal and influential single "Rapper's Delight" (the first true hip-hop hit), without ever crediting or compensating Caz. Hank was so incompetent in his creative thievery that he borrowed lyrics like, "I'm the C-A-S-A-N the O-V-A and the rest is F-L-Y," that literally spelled out the nickname of the man he was ripping off.
Yet today, Caz is anything but bitter. His decades in the business have blessed him with humility and a wonderful sense of perspective. He's grateful for all the places hip-hop has taken him and proud of all it has accomplished. We couldn't have asked for a more knowledgeable or authoritative guide to hip-hop's early days. We had the honor of learning about the genre's embryonic beginnings from a man who lived through them.
G/O Media may get a commission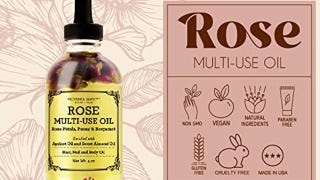 Provence Beauty Rose Multi-Use Oil
After the interview concluded, Caz suggested we shoot some footage of a young friend of his breakdancing, and we were consequently treated to a private display of virtuoso pop-locking and b-boying from Caz's gifted young protégé.
We then left 1520 Sedgwick and Caz gave us a condensed version of the tour he gives Hush Hip Hop patrons. The highlight of the tour came when Caz used the bus' impressive sound system to perform "MC's Delight," a feisty answer-song and extended Big Bank Hank diss track he wrote on the 25th anniversary of "Rapper's Delight." The camera crew and I didn't need any further convincing: At that point, we were ready to head over to Big Bank Hank's house and deliver some justice.
We visited Caz's spot on the Bronx Walk Of Fame and checked out a mural devoted to fellow Bronx hip-hop icon Big Punisher looking shockingly svelte, as well as various locations where the ill-fated 50 Cent vehicle Get Rich Or Die Tryin' was filmed. Caz made sure to note the former location of Disco Fever, the legendary early hip-hop club where much of Krush Groove was filmed. Time marches on, however, and the former location of Disco Fever now houses, not a memorial or a museum, but a 99-cent store of little importance to the history of hip-hop.
In our interview, Caz compared the Bronx in the '70s to Beirut. It was, in his estimation, a lawless realm, an urban Wild West of burnt-down buildings, ubiquitous graffiti, and rampant poverty, the perfect place for a bunch of kids with nothing but energy, talent, and the boundless enthusiasm of youth to create a whole new culture out of their parents' old albums, some microphones, and turntables. As wide-eyed pop pilgrims, it was both edifying and educational to visit the vibrant, electric streets of the Bronx with an icon who had helped shape the evolution of hip-hop as a young man.