While the writers of various websites and blogs devote much of their passion and intellectual energy to the atavistic yearlong ritual of Oscar handicapping, The A.V. Club has in its possession the Oscar-O-Meter, a device pulled from a stone like Excalibur and bequeathed only to those who have only a passing interest in this sort of thing. Coming up with a number between 1 and 10 is far from arbitrary: It's the result of a complex matrix that factors in social engagement, audience flattery, self-importance, Meryl Streeposity, and whatever buzz the Oscar-O-Meter can pick up from The Toronto International Film Festival. (In the off-season, the device is also useful for spa-quality back massages and detecting metal studs in drywall.)
So get out your pad and paper, and prepare to win your Oscar pools now, because the Oscar-O-Meter has never been wrong. The King's Speech was the only entry to score a 10 last year, and look what happened there. Don't bother looking for counterexamples. You won't find them.
Now Playing
Drive 

Premise: Ryan Gosling stars as "The Driver," a getaway driver/Hollywood stuntman/grease monkey/would-be stock-car racer whose infatuation with a neighbor (Carey Mulligan) leads him to get involved in a pawn-store heist. The fallout puts him on the wrong side of local gangsters, played by Ron Perlman and an acting-against-type Albert Brooks.
G/O Media may get a commission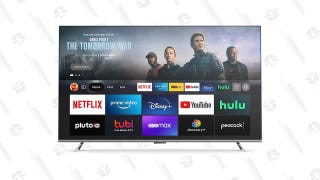 Save 46%
Fire TV 55" Omni Series 4K UHD Smart TV
Pedigree: Though Gosling and Mulligan have an Oscar nomination apiece—him for Half Nelson, her for An Education—both are just getting started, as is director Nicolas Winding Refn, who's venturing out of Denmark for his Hollywood debut. The real veterans in the cast (Perlman, Brooks, Christina Hendricks, and Bryan Cranston), the ones with the lion's share of nominations and awards, are in support.
Oscar-O-Meter rating: 2. Refn earned the Best Director award at Cannes, a festival traditionally wary of genre cinema, but it's unlikely he'll be extended the same generosity by the Academy, which is even more squeamish. One exception may be Brooks, whose unexpected turn as a vicious kingpin offers a chance for voters to make up for the award they should have given him for Broadcast News.
The view from TIFF: Recalling Le Samouraï and The Driver, Refn's minimalist thriller stands out in an action-movie landscape where frenetic camerawork and editing is passed off as excitement. Every shot and every cut has a purpose, and the violence, when it comes, rips through the moody '80s-style atmosphere like a thunderclap.
Premise: He (Henry Hopper) is a mopey young man with a penchant for vintage clothing and a habit of showing up at funerals at which he has no business. She (Mia Wasikowska) is a quirky teen with a yen for Darwin and a date with the grim reaper. Can this crazy pair find love with a little help from the ghost of a World War II kamikaze pilot who enjoys playing Battleship? Maybe!
Pedigree: This is a decidedly mixed breed. The script comes from first-timer Jason Lew and was originally intended as a father-daughter project for Ron Howard and Bryce Dallas Howard. They stayed on as producers and handed the film off to Gus Van Sant.
Oscar-O-Meter rating: 3. Wasikowska is terrific, and she has the kind of heartstring-tugging role that often earns awards. But…
Advance word: …she's by far the most emotionally resonant element in a film that's by turns distant and mawkish. Van Sant's love of Portland and tortured young people fails him here.
Premise: This biopic follows Pennsylvania biker-turned-pastor Sam Childers as he emerges from prison, embraces Christianity, starts a church, builds an orphanage in the Sudan, and takes up arms against a local marauding militia. Along the way, he fights his doubts over whether the good he's doing in Africa is worth the damage he's doing to himself and his long-suffering family.
Pedigree: Director Marc Forster helmed Monster's Ball, which won Halle Berry an Oscar and was nominated for Best Original Screenplay, but nothing else. Gerard Butler, who plays Childers, has more Razzie nominations (two) than Oscar nominations (none), and is known as much for his eye-popping physique (particularly in 300) as his acting.
Oscar-O-Meter rating: 3. This may superficially look like Oscar-bait—Butler brawls and does drugs, then converts and cries, then saves children from atrocities in a war-torn country, descending rapidly into rage and despair in the process. But Forster's approach is more action-movie than prestige-picture. It's intimate but slick, and it lacks either the gravitas or the rawness of a likely Oscar-winner.
The view from TIFF: Mixed, with some calling it warmed-over Rambo or yet another "white savior among anonymous black folk" story, and others saying it was the most inspirational feature at the festival.
Premise: Based on Michael Lewis' book, Moneyball profiles Oakland A's general manager Billy Beane, who bucked conventional wisdom in making his small-market club competitive with franchises operating with three times the budget. The film focuses on the 2002 season, when Beane rebuilt a winner after losing three of his star players.
Pedigree: In spite of Pitt's fame, he's found awards elusive, with just two Oscar nominations (lead for The Curious Case Of Benjamin Button, supporting for Twelve Monkeys) in the two decades since Thelma & Louise. Director Bennett Miller got a nod for his 2005 biopic Capote, but the real prestige is behind the typewriter, with Steven Zaillian and Aaron Sorkin both decorated for past adaptations: Schindler's List and The Social Network, respectively.
Oscar-O-Meter rating: 7. Lewis' book burnishes a story that might have been dismissed as a formulaic underdog tale, like a high-toned Major League, and Beane's tortured route from big-league flameout as a player to sabermetric visionary as a general manager gives Pitt more to chew on than just tobacco. Sorkin reworked Zaillian's script when director Steven Soderbergh left the project, and the dialogue is as Sorkin-y as expected.
The view from TIFF: Converting a book about stats geekery—the rise of OBP and walks, the fall of sacrifice bunts, stolen bases, and the intuition of veteran scouts—into a compelling human drama sounds more challenging than Miller, his screenwriters, and the cast makes it look. Moneyball is smart and breezily entertaining, and just substantive enough in its campaign against traditional baseball dogma to feel like something more significant.
---
The week of September 30
50/50 

Premise: In this modern Terms Of Endearment—and by "modern," we mean "more swearing, and skewed toward a younger demographic"—screenwriter Will Reiser details his battle with cancer as a 27-year-old. Joseph Gordon-Levitt plays Reiser, Seth Rogen more or less plays himself.
Pedigree: Gordon-Levitt, Anna Kendrick, and Bryce Dallas Howard all seem marked for future awards, but the real pedigree here belongs to Rogen, who has collected two of the three most coveted trophies in the business: Canadian Comedy Person Of The Year (2009) and ShoWest Convention Comedy Star Of The Year (2008). (The third, the Dallas-Fort Worth Film Critics Association award for Best Supporting Actor, remains elusive.)
Oscar-O-Meter rating: 5. Gordon-Levitt shaved his head on camera for this movie, but as Steve Carell learned the hard way, shaving your body in Seth Rogen's presence is rewarded only by agony. Still, as Dolly Parton says in Steel Magnolias, "Laughter through tears is my favorite emotion," and if she represented the Academy, 50/50 would win 20 Oscars.
The view from TIFF: Reiser and director Jonathan Levine may be guilty of making Reiser's life unfold too much like a movie, but the irresistible mix of sentimentality and gallows humor counteract the occasional lapses in emotional authenticity. And though Kendrick has given this performance before—terse, high-strung, emotionally brittle—damned if it isn't affecting again.
Margaret 

Premise: Kenneth Lonergan's long-awaited writing and directing follow-up to You Can Count On Me stars Anna Paquin as a high-school student whose role in a bus accident on Manhattan's Upper West Side complicates legal action against the driver (Mark Ruffalo). Matt Damon, Matthew Broderick, Jean Reno, Allison Janney, and others also star.
Pedigree: You Can Count On Me conquered Sundance and earned Lonergan an Oscar nomination, but his expected coronation with Margaret has been severely damaged by the film's five-year journey to completion, marked by multiple lawsuits, creative wrangling, and Lonergan's reported intransigence.
Oscar-O-Meter rating: 10 in 2005, 0 now. What was once the prestige-iest of prestige projects—promising writer-director, impressive cast, backing from big-name producers (Scott Rudin and the late Sydney Pollack and Anthony Minghella among them)—has become a fiasco to rival all fiascos. With the final cut finally submitted, Fox Searchlight couldn't get it out faster or more quietly than it has. This isn't a movie anymore; it's a contractual obligation.
Advance word: Beyond the well-publicized court battles? None.
Take Shelter

Premise: Michael Shannon plays a husband, father, and pillar of his community who risks his job and his family when he begins to obsessively plan and build a well-stocked shelter in his backyard, prompted by a vivid recurring dream about an apocalyptic storm. Is Shannon prophetic, or just suffering from the paranoid schizophrenia that began gripping his mother when she was his age?
Pedigree: Shannon re-teams with writer-director Jeff Nichols, with whom he previously worked on the acclaimed family-feud drama Shotgun Stories.
Oscar-O-Meter rating: 2. The movie is way too odd for the Academy, though Shannon's star has been rising lately, and he has an outside chance at recognition. Even more likely to get a nod would be Jessica Chastain, who's terrific here as Shannon's wife, trying to stand by her man while also wondering how he's going to pay for their deaf daughter's cochlear implants if this storm never hits.
The view from TIFF: Take Shelter has been well-received at the Sundance, Cannes, and Toronto film festivals, though it hasn't become many critics' runaway favorite. Perhaps that's because Nichols takes such a slow, smooth approach to this material, delivering a film about the end times that's more cerebral than emotional.
Also in multiplexes: The bible-thumpers behind the surprise-hit Kirk Cameron-overcomes-pornography-addiction drama Fireproof return with Courageous, a similarly Jesus-loving epic about hero cops who discover the toughest job of all just might be raising children in a godly home. The raunchy sex comedy What's Your Number? looks like it belongs to the thriving subgenre of broad comedies so dire, not even the charm and magnetism of Anna Faris can save them. And Dream House classes up a by-the-numbers haunted-house premise with direction by Jim Sheridan and a prestigious cast headlined by the recently married, ridiculously attractive Daniel Craig and Rachel Weisz.
[pagebreak]
The week of October 7
Dirty Girl 

Premise: Opening in hick-town Oklahoma during the '80s, this indie dramedy stars Juno Temple as a trailer-trash nymph who befriends a plump, closeted gay outcast (Jeremy Dozier). The two then set off to California in search of the daddy she's never known.
Pedigree: Beyond Temple's future indie-darling status and William H. Macy in a supporting role, the real pedigree here belongs to the Weinstein brothers, who purchased this little beauty for $3 million in advance of the 2010 Toronto Film Festival. The Weinsteins are famous/infamous for their awards-snagging machinations, but this high-profile purchase has been collecting dust for more than a year.
Oscar-O-Meter rating: 1. Temple is an appealing sprite, but this coming-of-age story has more redneck irreverence than Oscar gravitas, in spite of an odyssey that occasionally recalls Little Miss Sunshine.
The view from TIFF: The Weinsteins' overspending on Dirty Girl recalls their $10 million binge on the flop Happy, Texas, and the similarities don't stop at the conspicuous price tag: The two films also share a grotesquely stereotypical vision of small-town life, a sentimentality that burbles through the broader-than-broad comedy like acid reflux, and the presence of one William H. Macy.
The Ides Of March

Premise: George Clooney's adaptation of Beau Willimon's play Farragut North features Ryan Gosling as an idealistic political consultant who believes he's found a real "change candidate" (played by Clooney), but soon discovers that even doing what's right in politics requires so much compromise that it's impossible to stay ethically pure.
Pedigree: Clooney is an Academy favorite, both as a director and star, while Gosling's an up-and-comer. The supporting cast is stellar too, including Philip Seymour Hoffman as Gosling's mentor, Paul Giamatti as the manager of a rival campaign, Marisa Tomei as a pesky reporter, and Evan Rachel Wood as a sexy intern with a power fetish and a political pedigree of her own.
Oscar-O-Meter rating: 5. With that much star wattage, it's easy to imagine that at least one nomination will fall Ides' way.
The view from TIFF: On the other hand, while The Ides Of March is enjoyable to watch, it feels a bit inconsequential. This is a political drama that isn't about big issues, but about matters of trust, fidelity, and the perniciousness of rumor. And though that's probably a lot closer to what real politics is like, as drama, it's pretty slight.
Also in multiplexes: After scoring a huge hit with the Karate Kid remake, Jackie Chan returns to direction with 1911, a historical epic that doubles as the prolific filmmaker's 100th film. The big-budget action blockbuster Real Steel isn't officially Rock 'Em Sock 'Em Robots: The Movie, but it's about as close as it can get without risking litigation. The film stars Hugh Jackman as a former boxer who becomes a promoter and ultimately a robot-builder after robots take over boxing. DreamWorks is big on the film's commercial prospects; a script for a sequel has already been commissioned.
---
The week of October 14
The Skin I Live In

Premise: Pedro Almodóvar's take on the body-horror and kinky thriller genres stars Antonio Banderas as a plastic surgeon who experiments on new kinds of skin and face transplants, using an abductee as his test subject.
Pedigree: After years as an outsider, Almodóvar has practically become an institution, garnering Oscar nominations and wins as a matter of course.
Oscar-O-Meter rating: 2. Unless Spain selects Skin as its official entry for Best Foreign Language Film—a decision to be made this week—the movie has little chance of breaking through in any categories. And given how strange it is, it isn't a lock for a Best Foreign Language Film nomination even if Spain does back it.
The view from TIFF: After it was largely shrugged off at Cannes, critics and audiences were more responsive to The Skin I Live In at Toronto. It's a striking-looking and often gripping film, with an eye-catchingly clinical visual design and an extended mid-film flashback that fills in the story's more bizarre details. But while it's a worthy-enough effort from Almodóvar, the director doesn't embrace the horror genre enough, and his narrative stalls out.
Also in multiplexes: Jack Black, Steve Martin, and Owen Wilson square off as rival birdwatchers in the star-studded comedy The Big Year, while Craig Brewer gives the Hustle & Flow/Black Snake Moan treatment to Footloose, a sexed-up remake of the 1984 "classic" that features all the steamy sensuality and dirty dancing a PG-13 rating will allow. In other remake news, The Thing offers a long-overdue, seemingly unnecessary prequel to John Carpenter's 1982 science-fiction classic, which itself was an adaptation of a novel that had previously been adapted into Howard Hawks and Christian Nyby's 1952 SF classic The Thing From Another World. Sigh.
---
The week of October 21
Martha Marcy May Marlene

Premise: Elizabeth Olsen plays a family black sheep who reluctantly asks her sister Sarah Paulson for refuge after she escapes from a creepy back-to-nature cult led by John Hawkes. While recuperating, Olsen bucks against the upper-class trappings of Paulson's lakeside home, and begins to fret that Hawkes is coming back for her.
Pedigree: This is Sean Durkin's first film, and it features a breakout performance from Olsen, who until now has been toiling in the shadow of her former-child-star twin sisters Mary-Kate and Ashley.
Oscar-O-Meter rating: 5. The movie is in no way Oscar-bait—it's too dark and moody for that—but Olsen could easily nab the Jennifer Lawrence/Winter's Bone slot this year, given how riveting she is in the lead role. Paulson and Hawkes stand an outside chance as well.
The view from TIFF: The raves haven't stopped for MMMM since it debuted at Sundance back in January, and for good reason: This is a terrifying, thought-provoking, strikingly cinematic piece of work, playing off the uncertainty of the heroine's mental state, the disparity between the cult compound and the lake-house, and the vulnerability of a fragile family unit nestled in the wilderness.
Also in multiplexes: Remember all that paranormal activity in Paranormal Activity and Paranormal Activity 2? Guess what's back in Paranormal Activity 3? For those tired of ghosts and more interested in musketeers—especially in sets of three—there's The Three Musketeers, the latest adaptation of Alexandre Dumas' classic novel, here given the 3-D steampunk-inspired twist it's so desperately needed by Resident Evil and Death Race director Paul W.S. Anderson. Still no? How about a kid trying to achieve immortality by setting a world record before he dies? That's what Snowmen is about.
---
The week of October 28
Anonymous

Premise: Noted literary scholar Roland Emmerich (Godzilla, 2012) finally blows the lid off this William Shakespeare fellow and exposes him as a phony by trotting out another variation on the nonsensical, snobby Shakespeare-was-a-fake conspiracy theories that have ensnared seemingly otherwise reasonable, thoughtful people since the mid-19th century.
Pedigree: Well, it has some good actors on its side, including Rhys Ifans (as the proposed true author, Edward de Vere), Vanessa Redgrave (as Queen Elizabeth), and David Thewlis. Derek Jacobi—a real-life anti-Stratfordian—provides the narration.
Oscar-O-Meter rating: 1, we hope. Surely the Academy isn't as stupid as this movie is.
Advance word: "Done to death by slanderous tongue / was the hero that here lies."
Also in multiplexes: Georgian filmmaker Géla Babluani remakes his strikingly raw, rough-edged 2005 cult hit 13 (Tzameti) in English simply as 13, a much slicker big-budget action feature with Jason Statham, Mickey Rourke, 50 Cent, Michael Shannon, and more. In Time has Justin Timberlake and Amanda Seyfried in a twist on Logan's Run in which people have to earn time in order to live; the trailer features characters saying the word "time" over and over until it becomes grating, then laughable, then meaningless. And Rowan Atkinson follows up his 2003 spy spoof Johnny English with the not-much-anticipated Johnny English Reborn, which seems to be roughly 50 percent James Bond movie parody, 25 percent Austin Powers wannabe, and 25 percent pure, unfiltered crotch-damage gags.
---
The week of November 4
My Week With Marilyn

Premise: British TV director Simon Curtis makes his big-screen debut with this adaptation of a memoir by British writer and filmmaker Colin Clark, about the short time he spent with Marilyn Monroe while she was shooting 1957's The Prince And The Showgirl with Laurence Olivier. Michelle Williams stars as Monroe, Eddie Redmayne plays Clark, and Kenneth Branagh is Olivier.
Pedigree: Curtis is a first-timer, Redmayne is a Tony-winner but a relative unknown in film in spite of a handful of roles, and Branagh is a dark horse, given his past propensity for shameless hamming and the fact that he's done so little acting over the past decade. Williams, however, has two Oscar nominations under her belt (for Brokeback Mountain and Blue Valentine), and the Academy might feel she's due.
Oscar-O-Meter rating: 6, though almost solely for Williams for another performance nomination. The Academy does tend to love films that remind them of the great old days and the great old figures of classic Hollywood.
Advance word: Not much. The film doesn't even have a trailer yet, and it won't première until October 9, at the New York Film Festival. Most of the buzz is based on the theory that Williams has been great thus far in the likes of Wendy And Lucy, Meek's Cutoff, and her Oscar-nominated roles, so she's likely to do something good with her meaty opportunity here.
Also in multiplexes: Tower Heist was once pegged as a black Ocean's Eleven. Then Ben Stiller signed on as a co-lead and the target of the central heist was changed from Donald Trump to a Bernie Madoff-like swindler, but the cast is still packed with big names, like Matthew Broderick, Eddie Murphy, Casey Affleck, Judd Hirsch, and Alan Alda. Kal Penn left the Obama administration and turned his back on public service to serve a greater good: starring in A Very Harold & Kumar Christmas, the climactic 3-D entry in the Harold & Kumar trilogy. Tired of Shrek sequels? Then you'll absolutely love Puss In Boots, a Shrek spin-off centered on Antonio Banderas' lusty feline.
---
The week of November 11
J. Edgar 

Premise: Self-promoting crime-fighter J. Edgar Hoover (Leonardo DiCaprio) rises to the top of the FBI through a mix of intelligence, innovation, and blackmail. And maybe cross-dressing. Reports vary as to how deeply the film will delve into Hoover's sexuality.
Pedigree: DiCaprio! Directed by Clint Eastwood! Dame Judi Dench as Hoover's mother! Intrigue! History! A screenplay from Milk writer Dustin Lance Black! Aging makeup! If this thing were any more pedigreed, we'd have to give it a dog biscuit and parade it in front of John O'Hurley on Thanksgiving.
Oscar-O-Meter rating: Let's go with a solid 7. Eastwood is aiming big with this one, and he's got a great team backing him both in front of and behind the camera. But is he aiming too big? This could be the epic look at the recent past Eastwood was born to make. Or it could be his Good Shepherd. (Remember? Think back…)
Advance word: Not a lot of word floating around about this one yet. We suspect a cover-up.
Melancholia 

Premise: It's the end of the world as we know it, and Lars von Trier feels fine. As the titular immense blue planet threatens to crash into Earth, a pair of siblings prepares for the possibility of oblivion: Kirsten Dunst, who's afflicted by crushing depression, and her more level-headed sister Charlotte Gainsbourg, who frets about her family's future.
Pedigree: Von Trier has been terrorizing the festival circuit for years with polarizing films like Breaking The Waves, Dancer In The Dark, and Dogville, and his enfant terrible status was reaffirmed at the infamous press conference for Melancholia, where his remarks on Nazis got him banned from Cannes. (While unambiguous anti-Semite Mel Gibson enjoyed the red-carpet treatment, but that's neither here nor there.)
Oscar-O-Meter rating: 1. Dunst has struggled to assert herself as a serious actor, but while her strong performance here goes a long way toward changing her image, the animus toward von Trier is simply too powerful a force to counteract. And even by von Trier standards, this is bleak stuff—gazing-into-the-abyss bleak.
The view from TIFF: Though its premise of a mysterious planet profoundly affecting its human characters owes much to Andrei Tarkovsky's Solaris, Melancholia is a much simpler film, more emotional and existential than philosophical. Yet it's eerie and restrained in its vision of an impending apocalypse, and von Trier's personal experience with depression informs the drama profoundly.
Also in multiplexes: The supernatural horror pic 11-11-11 looks pretty cheap, but that's to be expected from blood-on-a-budget director Darren Lynn Bousman, who helmed Saw II through IV. The big annoyance isn't how generic it looks, with its silly date-based metaphysical ominousness, but the way the trailer recycles Poltergeist's iconic "They're here!" tagline. Adam Sandler—oh God, do we really have to type this?—plays a put-upon L.A. family man and his obnoxious twin sister in Jack And Jill, in which the main joke is apparently "Adam Sandler wears a dress and a wig and half-asses a Bronx accent!" Isn't this just a white Norbit? Tarsem's Immortals, another take on the Greek myth of Theseus, looks like Clash Of The Titans' script directed with 300's cinematography. The trailer is gorgeous, but over-the-top and giggle-inducing at every frame.
---
Our fall movie preview concludes tomorrow, with the rest of November and December: New films from Steven Spielberg, Martin Scorsese, David Fincher, Wim Wenders, Cameron Crowe, Alexander Payne, David Cronenberg, Lynne Ramsay, Jason Reitman, and director (!)Angelina Jolie. Oh, and the new Twilight movie.