Here's what's up in the world of TV for Friday, August 8, and Saturday, August 9. All times are Eastern.
TOP PICK
The Knick/Outlander (Cinemax, 10 p.m., Friday; Starz, 9 p.m., Saturday): Funny how history looks a lot more interesting when it stars Clive Owen and/or sexy Scottish warriors. At least that's what Cinemax and Starz are hoping as they both debut new historical dramas produced by respected creators. First up: On Friday Cinemax offers The Knick, a Steven Soderbergh-produced medical drama about a turn of the century New York City hospital staffed by Clive Owen's talented but racist surgeon, Dr. John Thackery. Then on Saturday Starz debuts Outlander, a tale of time travel, romance, and kilts produced by Battlestar Galactica's Ron Moore. Outlander is an adaptation of Diana Gabaldon's popular novels while The Knick is an adaptation of everyone's worst fears about antiquated medicine.
---
ALSO NOTED
L Word Mississippi: Hate The Sin (Showtime, 9 p.m., Friday): Showtime documents the lives of lesbians living in the conservative Deep South. The film comes from L Word producer Ilene Chaiken and chronicles the stories of a dozen women in places like Maryland, Florida, and Mississippi.

G/O Media may get a commission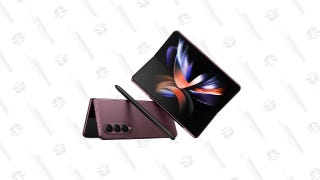 Save Up to $300
Galaxy Z Fold4
Jonah From Tonga (HBO, 10 p.m., Friday): This controversial Summer Heights High spin-off makes its way to HBO. When the show aired in Australia it was rightly called racist for featuring a white actor in brown face playing a 14-year-old boy of Tongan descent. Unsurprisingly, the American backlash has already begun.
The Legend Of Korra (Nick.com, 12 p.m., Friday): Just because Nickelodeon made the bizarre choice to pull this show from its TV schedule doesn't mean you should give up on it. Oliver Sava continues to be impressed by Korra's storytelling choices, which are worth seeking out on Nick.com.

---
TV CLUB CLASSIC
Babylon 5 (11 a.m., Friday): Rowan Kaiser continues his mold breaking TV criticism by looking at episodes 12-16 of Babylon 5's fifth season. After watching and writing about five hours of TV, we think Rowan deserves a Jovian Sunspot.
Blackadder (3 p.m., Friday): Thanks to the British model of TV, Kate Kulzick is already reaching the end of Blackadder's third season. Miranda Richardson and Steven Fry are on hand to help end the season with a bang.

The Twilight Zone (1 p.m., Saturday): In "Number 12 Looks Just Like You," The Twilight Zone examines our culture's obsessive fascination with beauty. Zack Handlen has his blonde wig and belted leotard at the ready.

---
ELSEWHERE IN TV CLUB
Daniel Radcliffe may be a megastar who singlehandedly carried one of the biggest film franchises of the past decade, but he's also a TV fan just like everyone else. In a new Fan Up he reveals which TV couple makes his heart melt. Elsewhere, the A.V. Club staff share the fictional older siblings we look up to.

---
WHAT ELSE IS ON?
Dick Cavett's Watergate (PBS, 8 p.m., Friday): This Friday marks the 40th anniversary of President Richard Nixon's resignation announcement. To mark the occasion, PBS examines the Watergate scandal through talk show host Dick Cavett's interviews.

Human Resources (Pivot, 10 p.m., Friday): This new reality show from Pivot ("the millennial channel") follows a company trying to "eliminate the idea of waste." TerraCycle recycles, up-cycles, and transforms anything landfill-bound, presumably while texting, tweeting, and refusing to get "real jobs."
Please Like Me (Pivot, 10:30 p.m., Friday): This Australian sitcom written by 26-year-old Josh Thomas returns for a second season. Its charming, sweet tone proves that maybe Millennials aren't so bad after all. Maybe….

Flipping Vegas (A&E, 12 p.m., Saturday): The summer premiere of Flipping Vegas focuses on revamping a 1970s house. Groovy.

Stranded In Paradise (Hallmark, 9 p.m., Saturday): An unemployed executive tries to find a new job at a Puerto Rican HR convention but ends up finding love instead.

Ghost Planes (H2, 9 p.m., Saturday): Based on the public's interest in the Malaysia Airlines Flight 370 disappearance, this H2 special examines other planes that have vanished without a trace.
Grease 2 (ABC Family, 8:30 p.m., Friday): Michelle Pfeiffer needs a coo-oo-oo-ool rider in this so-bad-it's-good sequel to Grease.
American Hustle (Starz, 9 p.m., Friday): Bradley Cooper curls his hair, Amy Adams uses a fake British accent, Christian Bale has a comb-over, and Jennifer Lawrence can't stop smelling nail polish in this David O'Russell film.
The Thin Man (TCM, 8 p.m., Saturday):Despite the fact that this 1934 comedy-mystery was shot in a mere 12 days, it remains a cinematic classic.
Women's Softball: Big League World Series (ESPNU, 7 p.m., Friday): Those looking to explore America's pastime from a different angle can check out this Women's Softball match on Friday….

Little League Baseball: West Regional Final (ESPN, 9 p.m., Saturday): …and this Little League match up on Saturday. Play (non-traditional) ball!!
---
IN CASE YOU MISSED IT
Married: Orthodontia is the theme of this week's episode of Married. Dennis Perkins filed his review then popped in his clear retainer.