Many would say Owl City—née Adam Young—makes music for teen girls. They'd be wrong. Owl City makes music for pre-teen girls. A cursory scan of the lyric sheets on Young's previous three LPs reveal musings on bumblebees, fireflies, and shooting stars. It would be no surprise if Young's greatest influence was not The Postal Service, but My Little Pony.
That's not a bad thing, necessarily. Often, it's Owl City's relentless sunniness and commitment to such an impossible sense of innocence that makes its music so appealing. That said, Owl City's 2012 LP The Midsummer Station revealed Young had pretty much pushed his signature twee-tronica to its breaking point. It's both reassuring and mildly disappointing, then, that Mobile Orchestra finds Young branching out both sonically and lyrically.
To do so, he's called upon a slew of disparate collaborators. Professional hired hand Aloe Blacc guests on opener "Verge," a song that, by virtue of its fun U2-cum-EDM sound and hopeful refrain, is bound to pop up on countless high school prom playlists. U.K. vocalist Sarah Russell joins Young on the dubstep-lite "Thunderstruck"; on the other end of the spectrum, country-pop musician Jake Owen lends his drawl to the twangy "Back Home." And, though it sounds good on paper, Young's collaboration with Hanson is the stuff of nightmares, with the gang simply listing '90s-era ephemera against harmonic whistles and a sunny keyboard line. It's a BuzzFeed list set to music, and it's truly awful.
Which is too bad, because the songs that bookend it are quite lovely. "Bird With A Broken Wing" evokes Drive-Thru Records at its sugariest with a strong hook and some stirring, if synthesized, strings. Yet it's the gentle piano ballad "My Everything" that depicts the artist at his most comfortable. A vocal Christian, Young's worship songs have always popped with a passion he's rarely conjured on his secular work. And Mobile Orchestra contains more of these songs than any of his previous releases. "You're Not Alone," for example, transcends its inspirational message with soulful vocals and an infectious air of positivity.
G/O Media may get a commission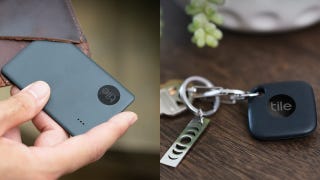 Up to 35% off
Tile Item Trackers
Young's most promising song, however, is album closer "This Isn't The End," if only because it finds him prioritizing narrative over vague affirmations. A heartbreaking yet hopeful tale of a young girl coping with her father's suicide, Young's lyrics cast subtle shades of nuance, even if his tone borders on judgmental near the song's end. It's a huge step forward for Young as a lyricist; more than any kind of sonic upheaval, this is an area he'd be wise to pursue in the future.
Mobile Orchestra is a true transition album. It's the sound of an artist trying to rediscover himself. Young's said in interviews that the album's genre-hopping was inspired by his travels across the world. He's grasping at new collaborators and fresh sounds in much the way he's likely sampling the customs and cuisines of the countries he's visiting. Nothing on Mobile Orchestra indicates he's found his new muse, but it reveals a well of passion for that discovery. Should he find it, perhaps his audience will grow up with him.