Last night, Pusha-T released one of the most caustic, personal diss tracks ever conceived, running rough-shod through Drake's parents's divorce, his ethnicity, his alleged illegitimate child, the health of his friend longtime producer Noah "40" Shabib, and a whole lot more. It was low blow after low blow, and released alongside a damning picture of the rapper in blackface. The amount of invective packed into the three-minute track was sort of frightening, like letting an evil spirit into your home. For long-time fans of Pusha, it felt like the good old days, a reminder of the time when he and brother Malice felt like avenging spirits lurking just outside of hip-hop's mainstream.

Anyway, for people invested in the saga, it's hard to think about anything else this morning, so it was good of Pusha to call into 105.1 FM morning show The Breakfast Club today to provide a little more fodder for the rumor mill.
He starts by making clear the impetus for the track—the moment on "Duppy Freestyle" when Drake mentioned Pusha's fiancé, Virginia Williams, by name. "All bets are off because of that," he says.
The title of the track—"The Story Of Adidon"—and its most explosive allegations are related. "The Adidas situation is this," he says in the interview. "Allegedly, [Drake's] new line on Adidas is called Adidon, which is named after Adonis, his son. But we couldn't know about the child until you started selling sweatsuits and sneakers?" There have been rumors around Drake's son with former adult actress Sophie Brussaux for awhile; if he was going to announce it with the Adidas deal (a sponsorship he shares with Pusha and Kanye, for what it's worth), he's not quite as deadbeat as Pusha makes out on the track, just opportunistic.
Not that Pusha's going to let him off the hook, either way. "I don't even hang out with my friends who got child-support issues," he says. "I'm big on kids, that's for real." And anyway, the whole Adidas diss could fuck up Drake's big planned reveal, making what might've been his big "fatherhood" moment seem sordid and glib.
G/O Media may get a commission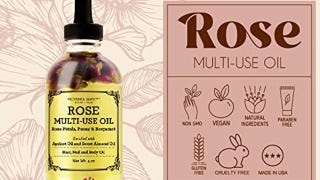 Provence Beauty Rose Multi-Use Oil
As for those pictures in blackface, Pusha is even less forgiving. "I really need to understand what makes you take a photo like that," he says in the interview. "I'm not ready to excuse that. This isn't so long ago. Have you just started recognizing your blackness?" Apparently there was a second half of the picture in which Drake, still appearing in blackface, appears sadder, creating what was apparently intended as a more thoughtful juxtaposition. They were originally done in 2008, a year before Drake released his debut mixtape. For what it's worth, photographer David Leyes has stood by them. "Hell no!! For sure I took it!!," he said on Instagram. "I'm proud to be part of a strong statement made by a black man about the f*cked up culture he is livin in."
The Breakfast Club hosts give Pusha a few chances to express regrets that he went too far, and he absolutely does not. "I'm prepared for everything," he says, later saying he's held onto a lot of this information for years, saying, "You gotta live a calculated life." When told that Noah "40" Shebib, who he mocks on the track for having multiple sclerosis, tweeted this—
—Pusha's response is a flat, "Oh, wow. That's ironic."
Not wanting anything to do with any of this, however, is ol' Quentin Miller, Drake's sometime ghostwriter. In The Breakfast Club interview Pusha even expresses regret for pulling him into the saga, and Miller has, accordingly, released a track today essentially demanding to be taken seriously outside of the whole saga.
It's a fine track, but we gotta say, good luck with all that, Quintin. Even if Drake taps out—which is certainly possible, the way this thing is going—this beef's already one for the history books.