The shuffler: Fran Healy, frontman of Scottish alt-rock outfit Travis, is the brains behind the band's six albums. Its latest, Ode To J. Smith, is noticeably less produced than its previous ventures, opting for prominent licks over ambient electric-guitar strums. Though Healy currently lives in Berlin, he was born in England, and he's regularly credited with spurring the recent Brit-rock surge; Coldplay's Chris Martin went so far as calling himself "the poor man's Fran Healy." Turns out—as Healy tells The A.V. Club—all those scenester guys know each other pretty well.
Little Joy, "Brazil"
Fran Healy: It's a friend of mine's band. I don't even know if it's on their album. [It isn't. —ed.] They're a new band out of Los Angeles. It's Fabrizio [Moretti] from The Strokes and my friend Banky's girlfriend, and the singer is called Rodrigo—I can't remember his second name. I've been playing it a lot. I shouldn't even have this track, but my friend in the band slipped me it.
The A.V. Club: What has you interested in the song right now?
FH: They came into the studio while we were mixing, and they had been very down about this record that they were making. They were like, "Oh, we don't know what we're doing. We're not sure." We had been out with them the night before—this was in April—and after hearing that, I was thinking, "Shit. This is gonna be shit." They came into the studio the next day and played it, and it was unbelievable. I had never heard anything like this before. The production was really rudimentary, really scratchy. I remember turning to Emery, the guy who was producing our record, and we were both like, "Fuck!" It is so good. I think it is going to be a massive record, because it isn't like anything else, and it's got the most charming, fantastic member of The Strokes as the main songwriter. That song has got this really sunny, West Coast feel. It sounds like if The Strokes met some really cool Brazilian band in a sort of nuclear fusion. The closest thing I can think of is that it's the sound of sunshine, and I predict that it will be the sleeper hit of next year.
G/O Media may get a commission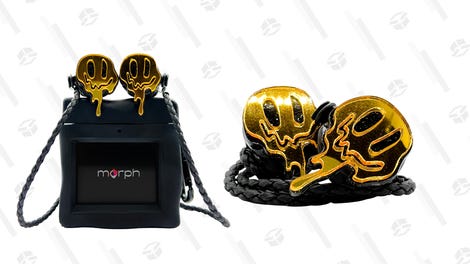 morph audio
Morph Earphones
AVC: You have a lot of musician friends. Do you have a stock response prepared when you don't like their music? "Congratulations" or something?
FH: [Laughs.] No, I generally am pretty honest. I'm not very good at lying. That's why when they came to play it, I was very uncomfortable, because I thought "If this is shit, it's gonna be really bad, because I'm going to have to say, 'Oh yeah, I think maybe you should do this.'" For instance, when our contemporaries like Coldplay and Keane and bands like that—these are friends of mine, and you compete against them, sort of. I got a text from Chris [Martin] the other day. He was listening to the new record, and he's like, "Fuckin' amazing, man, great!" I went to see Tim [Rice-Oxley] from Keane when they were making their new album—they were listening back to the mix, and there was no low-end on it. I was like, "Fuck, man, who mixed this thing? It's not very good." Then he sent me an e-mail saying that he thought our album kind of dips in the middle, maybe we should put this song there and that song there. It's cool. You can take their advice and it will either solidify what you already think, or move you to change it because you had suspicions. My biggest critic and adviser is my wife, because she doesn't know anything about music. She will be really honest.
AVC: Does she have little stock things that she says when she doesn't like something?
FH: She would just say she doesn't like it—she's German. [In thick German accent.] "I don't like it." I'm like, "Come on baby!" We had this thing called the "Jake-box jury," which is taken from the TV show Jukebox Jury. The "Jake" came from our friend's 2-and-a-half-year-old son. We played him The Man Who before we released it, just to see how he would react to the songs. Really young kids will either be like "No." or "Yeah." They are sort of heartfelt about it. He really got into all the ones that were going to be singles, and was dancing. He had never heard them before, and those were the ones we thought we should use. So kids are good as well.
Eric Clapton, "White Room"
FH: [Singing.] "In the white room…" [Laughs.] I heard it for the first time when I was 17. I was a late developer. I'm still kind of learning, because I didn't have any brothers or sisters. I'm still picking up music that everyone has totally heard.
I think this is a really odd song. I don't even know what it's about, but it has got that thing that really great songs generally have, which is you want to hear it again after the first time you hear it. I remember listening to this song tons and tons. I actually did a cover of it in one of my first bands. We were called Mandrake Root—that wasn't my idea. The guy who played guitar was amazing. He could do anything on the guitar. He favored all these types of songs that had these really wicked guitar solos. He would end up doing 10-minute guitar solos in these songs while the rest of us were just keeping time. That song has good memories for me.
Later on, weirdly, last year I was talking to Steve Lillywhite. We were talking about doing a record together. I was like, "What kind of songs should we do? What's a good reference point?" and he said "White Room" by Eric Clapton. So it's kind of odd that that song should come up. The subsequent album that we have done is nothing like "White Room." I guess it has got a similar soul, because we wanted to record it on 16-track analog.
Belle And Sebastian, "We Rule The School"
FH: This is turning out good. Stuart [Murdoch] is an old friend of mine from Glasgow. He and I were best friends with two sisters. His friend was called Kiera, and my friend was called Jude. His dad was a really famous Irish writer; it was a big eye-opening moment in my life to get to hang out at their place, because they were so cultured. His dad would listen to classical music in his front room and stand and conduct it. He would have loads of really cool arty-fartsy people over at the house. I was just a kid, like 16 or 17. Stuart was a really nice guy, but slightly annoying. He always pulled his cardigan cuffs over his hands and twiddled with the wool at the corner. He always looked down at his feet, and I was like, "For fuck's sake!"
I remember I was just starting out in a band, and he wasn't in a band or anything, one day he wrote a review of our show. It was like our second show, and he absolutely pasted us. He was just so horrible about it. I sat down and confronted him on the stairs at the front of Jude's house in Glasgow. I was like, "Stuart, what the fuck? Give us a chance, man." He was like, "Oh, I just thought, um, I just didn't really enjoy it." I'm like, "Fuck you, come on! It was our second show." He totally gave us a pasting, and I never forgave him.
Then one day in Glasgow at the art school—I think Stuart was at university—I think we were in second year, and it was evening. We were at the art-school bar, and there were people setting up musical equipment. I saw Stuart and I said, "Say, man. What are you doing?" He was like, "We are going to play a gig." I'm thinking, "Oh yes! This is going to be rubbish. Fucking brilliant!" So all of our mates, we all got pints, and we are sitting waiting for this horrible gig to happen, while we sit and gloat in the front row.
They were setting up and we had a few drinks. Then it all goes quiet. Stuart steps up, still playing with the wool at the end of his cardigan, and he's like, [Whispers.] "Hi. We're Belle And Sebastian." "Oh God, this is going to be rubbish. He's not even projecting." He went up to the mic, and everyone is so quiet, because we couldn't bloody hear the guy talk. You could hear a pin drop and he went, [Sings.] "I was surprised / I was happy for a day" and started playing ["The State That I Am In"]. Everyone's jaws hit the floor. To this day, it was one of the best gigs I've ever been to. I was like, "Fuck! Not only are you kind of smug, but you are amazing as well." I went up to him after and was like, "I so wanted that to be shit." He was so sweet. He was like, "Thanks. Thanks a lot." That was the first gig they ever played. It was the Glasgow Arts School at the Vic Bar. They are just amazing.
Travis, "Closer"
FH: [Laughs.] I probably have got more tracks on my iPod by us than any other band. It is an earlier mix from an album called The Boy With No Name. I wrote that song in New York. I remember we recorded, and then [producer] Nigel Godrich came in and laid his hands on it, added some really beautiful moments in the second verse. It is one of my favorite songs of ours.
AVC: When your own song comes on, how often do you skip it?
FH: About 50 percent. Sometimes I will listen to it just to see if it's good, you know? In case it's shit. It's amazing that sometimes when you are in the process of making a record, you might think something is good, and the next week you think it's rubbish. That's the thing, you end up taking those rubbish songs off albums because of it. The songs that stay on the album are the ones that have actually survived throughout the month of constant playback.
AVC: What about the ones that you think are rubbish that are actually on the album?
FH: Well, there's nothing you can do about those. You just gotta skip over them. I think they are the ones that everyone else skips over as well.
Roy Orbison, "Communication Breakdown"
FH: It's from The Very Best Of Roy Orbison. [Laughs.] Roy Orbison is one of the greatest rock 'n' rollers ever. Weirdly, I was only just yesterday talking about this to a taxi driver who was asking me what got me into music, and what kind of stuff I was listening to as a kid. No one in my family followed music at all, so I sort of picked up on whatever was lying about. At my friend's house, they had this tape that had all these rock 'n' roll songs on it. At the same time, Back To The Future was out. You know when he was playing "Johnny B. Goode"? I really liked that song; it was on the tape. Then one day, it was like a Friday night, there was this show on Channel 4 called The Last Resort With Jonathan Ross. He had Roy Orbison on. I was about 12 years old, and he played "Pretty Woman." It totally mesmerized me. I don't know what it was about him—what he looked like, his big red guitar, or just his vibe. Whatever it was, after he finished it, I ran to my mom in the kitchen. I was like, "Mom, can I change my Christmas present? Is it too late? Have you ordered it yet from the catalog?" She was like, "No, no. What do you want?" I said, "I want to get an acoustic guitar." So we went and looked through the catalog, and they had this acoustic guitar. When I got it at Christmas, one of the first things I learned was the riff to "Pretty Woman." Here. [Holds iPod up to phone; the song playing isn't "Communication Breakdown."] That's wrong. This album was the one of all the covers he did of his own songs. To make matters worse, all the songs didn't match up with the track listings [on iTunes]. What I'm actually listening to is "In Dreams."
The interesting thing is, I've met Jonathan Ross. I told him all about [my experience], and he said that they were going to have someone else on. Roy Orbison just happened to be in town, and the other guest had cancelled. I thought how close that was. I might still be at art school.
Yeah Yeah Yeahs, "Gold Lion"
FH: I kind of liked the Yeah Yeah Yeahs. I'm speaking of them in the past tense because they don't feel as though they are about anymore.
Beck, "Cellphone's Dead"
FH: With all Beck records, it kind of came and went. It's actually an amazing album. I know that for a fact, because I kind of came in and out of it. Nigel, our producer, made it with Beck, and it took him, like, three years. On that whole album, there isn't one beat, lyric, or moment that's not been produced. I think it was like pulling teeth at some moments, trying to get songs turned around. They would listen to hundreds of records and try and find really good breaks, and then get the band to copy them.
Ry Cooder, "Nothing Out There"
FH: It's from the Paris, Texas soundtrack. That's one of my favorite films, and in fact, it is where we got the name Travis from, because Harry Dean Stanton's character is named Travis. I first heard the soundtrack when I was around my friend Jude, whose sister was friends with Stuart. I think I saw the film in art school. As far as I know, the soundtrack was just Ry Cooder sitting with an amplifier and his guitar, sitting in front of a big screen just playing along to the film, using what he was seeing as inspiration for the soundtrack. I don't know many soundtracks made like that. It's like what you are hearing is the first thing he heard when he saw what he saw.
The Kooks, "She Moves In Her Own Way"
FH: It is from an album called Inside In/Inside Out. This band is from Brighton. We saw them playing in Germany, and they were better than anybody I'd seen in ages, a proper band. And they looked amazing, really good-looking guys, with girls falling at their feet. The whole thing: girls chucking knickers on the stage and crying and all that. I've had it happen [to me] actually, with a really small—worryingly small—pair of knickers thrown at us one day, and a worryingly big pair. I didn't like that. It's like, "Fuck! Can we not get a decently sized pair of knickers thrown at our band please?"