Because this episode struck me as, sadly, kind of dull (how much more predictable could that Rubber Man reveal have been?) and because it's the night before Thanksgiving and because I would, apparently, like to get fired and because I watched this episode with my wife, and she couldn't stop screaming about how horrible she found it (and she raised some, to my mind, valid points), I thought we'd try something a little different here, in the spirit of how this show is a grand, messy barrel of awful fun that keeps getting dumped over the audience's head while it insists we're being entertained. Ladies and gentlemen, let me present the story… of "Rubber Man." Or, rather, watching "Rubber Man."
American Horror Story
"Rubber Man"
Dramatis personae:
Libby Hill (the author's wife)
G/O Media may get a commission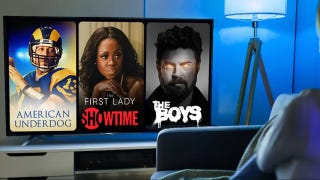 UNDER $1
99¢ Prime Video Channels
Ryan Murphy (writer of this episode)
Ben Harmon (the worst psychiatrist in the world)
Vivien Harmon (walking womb)
Violet Harmon (cheap Bella Swan knockoff you might buy at a Big Lots)
Tate/Rubber Man (crazed ghost of a school shooter with lots of mother issues who's in love with Violet for some reason but also raped her mom, which should just make her happy as hell)
With special guest stars
(And a hat-tip to Progressive Boink)
I can't believe I had to watch that. It was so stupid and boring.
Stupid and boring! Nay, I say unto you! Nay!
Yes, it was! I don't care how much my stupid husband says its terribleness, lack of compelling characters, and utter disregard for the rules of narrative make it entertaining! I am calling bullshit! Bullshit! You can't just make a show where the entire reason for its existence is to have things happen. You need to have characters. You need to have storytelling. You need to have something more as a mission statement than, "Let's just make this as weird as possible." You can't just pretend to like something horrible and…
Mmmm phmm mmm.
You're not fun! You're a deranged teenage rapist!
Sorry. Forgot to take off my mask there. Don't you watch Toddlers & Tiaras?
Don't you judge me! It's entertainingly horrible! And sparkly!
Our show is all of those things. Did you see my bedroom in the scene where Tate and I finally did it because he's such a sexy ghost rapist? Weird ephemera? Doll parts? I'm moving into a Stone Temple Pilots video.
It's one thing when a reality show is horrible! But this is scripted! This is FX! You're supposed to be trying and instead America just keeps embracing a stupid show where nothing ever happens. Have you noticed this? It only creates the illusion of things happening. But every episode is about "Will Vivien move out of the house" and…
Oh God, do you think I should move out of the house?
Of course. This is literally the only plot point your show has to play, and it keeps having you run out of the house, and then you run right back in.
There were people in my car. *emphatic head shaking* I'm not crazy, Libby. The man in the suit is here. Do you think I should move out of the house?
No. We should stay here.
Mmmm phmmm mmm.
Huh?
I said, "That's right. I'm here, baby."
We've made a giant hit show here, Libby. We've gotten normally sane critics—including your husband!—to ignore their usual standards and shut off their brains and just have a good time. And we're telling an important story about a marriage. So stop thinking so much and turn off your brain and really try and think hard about what we're doing here. It's profound.
I can't just shut off my brain.
Mmmmmmm… brains.
I don't know what came over me.
Madam is hungry.
I am hungry. Am I hungry? Should I have something to eat? You can't tell me I'm crazy and not feed me.
For Christ's sake, you're Connie Britton! You're Mrs.Coach, one of the best female characters of the past decade, and here you are, starring in a show where people tell you stuff about the history of hysteria and pretend that's feminism when the only real action you've taken in weeks is getting your real estate agent to drive all the way across town so you could steal her gun. And then you shot your estranged husband with it and let a bunch of ghosts consign you to a mental ward, which everybody kept calling the "loony bin," like it was all a big joke.
Will you stop taking this show so seriously? We're just trying to tell a fun story about the victimization of women throughout history. It's really kind of profound, if you think about it.
Stop doing that.
I'm going to leave this house. I'm going to…
Listen, Libby. I can tell that you're tense. I could maybe help you out with that. I know what I'm doing, and I'm also the ghost of a mass murderer, which makes me sexy and sympathetic.
I mean it. I'm going to go to Florida.
Everyone: Fucking go, already!
I do not appreciate the way you speak to Madam, Miss Hill. You are not a credit to your gender, with your insistence on well-drawn characters and well-crafted stories. Now. Let me tell you something. You're not crazy. This show isn't as good as everyone says it is. And that's because they're trying to make you crazy. This whole website is designed to make you crazy. All it is is an echo chamber, an echo chamber that will drive you mad if you don't agree with it. Scroll down to the end of this article and hear the howls of the damned. How they suffer.
Hey, everybody. Here to knock some books off shelves.  I'm fucking terrifying.
Moira's just delivering some exposition. It's what she does.
Shit! Exposition! You want some exposition? So I says to the guy, I says…
[Hayden launches into a 15-minute monologue about her ghost powers that has been thankfully redacted.]
See, that's what I mean? Why did any of that happen, except to just have a bunch of random scary shit to throw at the screen willy-nilly?
Hi, everyone. I'm Harry from Dexter, best deliverer of needless exposition on television, and perhaps I can explain what's going on here. Ryan Murphy created a television show. Libby Hill doesn't like it. That television show stars characters, and we're all gathered here to talk about what Libby doesn't like and also whether Vivien should move out of the house.
Do you think I should go?
I'm not sure. It could be a good idea, but the world outside is scarier than the world in here. But now you're going to the loony bin. That could be good for you.
Goddammit, Harry from Dexter, I was on a roll there. Listen: It wouldn't be so bad if this show was just full of weirdness and so on and so forth, but the worst thing about all of this is that everyone in it is so self-evidently pleased with how subversive and edgy they're being, with how much they're sticking it to the man, when they're really not risking anything. This is a show that's meant to be shocking, but it doesn't dare do anything that's actually edgy or risky. It's stuck in a bunch of banal plot loops that never resolve. It's like the worst of Nip/Tuck in trying to push the envelope and instead ending up an empty mess.
Hi, I'm JungleJim2243@yahoo.com. I can explain.
[Suitable pause.]
Let me explain. Nobody who watches this show is expecting anything that will last for years to come. We've all made peace with the fact that it's, quite frankly, a show that thinks it's brilliant but one that is actually quite stupid. But is there anything wrong with watching something that's so much fun, even if it has an unfortunate tendency to repeat itself? Is there anything wrong with rooting for the show to top itself in terms of sheer, goofy plot twists? Like… why on Earth would Vivien call her real estate agent just to get her gun? Why would Tate be so stuck on Nora? Why does the show keep doing random flashbacks to the gay couple that lived there previously, flashbacks that tell us nothing new but, instead, fill in the history of the suit, which boils down to, "Somebody bought it"? Because this is a show that's aiming for something big and constantly falling short, and there's something pure and awesome about that.
This all sounds very familiar…
It also has Kate Mara calling Tate "Little Lord Fauntleroy," and it's got no one apparently being able to tell Tate apart from anyone else when he's in the suit, because the suit is a magic suit that not only changes to fit any size male body but also changes the sound of your voice, the way you smell, and reality itself.
Mmmmmmmmmmmmmmmmmmmmmmmmmmmmmmmmm.
[Ben offers a thumb's up and manages to look pained doing it.]
Listen to JungleJim2243@yahoo.com. He understands that what we're doing is an utterly stupid, deeply profound television program that takes us to unexpected places.
I'm not letting you off the hook yet, Murphy. Putting Tate in the suit was a pretty dumb move, both in terms of fucking with your best character and in terms of, uh, how it's not really unexpected at all. Or did you forget that he was in the suit back in episode two?
The expected is the new unexpected.
Profound.
He's a genius.
Hi, I'm Constance, and I wasn't in this episode. But I'd like to tell you about the summer of 1965. It was a summer ripe with potential. It was a summer when the air smelled of growing dreams and the open blue sky. I used to take a mint julep with my dear grandmamma—I was seven at the time—and as I sipped at it, I would turn to my grandmamma—she was the spitting image of Tuesday Weld—and I would say, "Grandmamma, there is a house, and it is filled with darkness. But it is also a beautiful place. It is a place where we all can be together again." The children chased hoops down the streets in those days. They chased hoops down the streets, and they were known for bringing special gifts for the pregnant mothers down the street. I'd already had five children by that time, but not yet my Tate. Oh, my precious Tate. And they say he has mother issues.
I do!
Give it a rest, Constance.
Don't give me an excuse to kill you again.
*gasp* How shocking and provocative.
My goodness. Is it possible that this house is full of ghosts? Should I leave?
Cool.
YOU SAID THAT IN THE PILOT! YOU CAN'T JUST REPEAT PLOT POINTS OVER AND OVER AND ASSUME IT'S INTERESTING EVERY TIME!
That's the beauty of this, Libby! It's all simultaneously a weird Lost ripoff and a complete train wreck that's, nonetheless, completely, compulsively watchable. I'll grant that "Rubber Man" wasn't the show's finest hour—it was too logy in the middle there, and the Tate reveal was incredibly disappointing—but it also featured a bunch of ghosts deciding to drive Connie Britton crazy and doing so in the space of about a day. When people decide to get things done in American Horror Story, they get things done.
Gazeeeeeboooooo…
This is all very, very familiar.
I agree. It's time to find out who's beneath the mask. Who is… JungleJim2243@yahoo.com?
Please, please don't make that a plot point.
[The players hold down JungleJim2243@yahoo.com Sadly, he kind of likes it. Tate removes his mask.]
Why it's…
America's 15th favorite television critic, Todd VanDerWerff!
You. You're the one trolling BDSM chat rooms to drive wedges between perfectly enjoyable gay couples?
Anything for my boy, Ryan Murphy!
[Todd and Ryan share a high five.]
You son of a bitch. This is terrible TV, and just jackin' it with some guy online is cheating. I don't care what this show says.
But Libby! The vengeful ghost of Kate Mara!
[The two exit.]
And they said I couldn't write a sophisticated, provocative look at modern marriage.
Oh that Ryan!
[Everybody laughs. Freeze frame and roll credits.]
Grade as an actual piece of TV: C-
Grade as an entertaining piece of claptrap that no discerning person would ever watch: C+
Official grade: B for Black Version Of The Greendale Human Being