Controversy hounded British comedian Russell Brand starting in his teen years, when he was kicked out of the Drama Centre London for violence related to his heroin and alcohol abuse. He was later fired from a radio gig for reading pornographic material on the air, and canned as a VJ for showing up to work on September 12, 2001 dressed as Osama bin Laden. He staged a comeback in 2004 thanks to, of all things, Big Brother, hosting a British-only show where contestants on former seasons dished on behind-the-scenes goings-ons. He's also continued to focus on his stand-up, and he's cleaned up his act—he went to rehab for his drug habits, and was also diagnosed with a sex addiction. He tells the whole story in his memoir My Booky Wook, now available in the U.S. Now, fresh off his role in Forgetting Sarah Marshall (he played a former addict), Brand is conquering America with his Comedy Central special Russell Brand In New York City—which includes a detailed discussion of his contentious turn as host of MTV's 2008 Video Music Awards.
Before the special's encore performance tonight on Comedy Central (it debuted a week ago), The A.V. Club managed to secure a few bare minutes on the phone with Brand—who was audibly exhausted from a day of interviews, book signings, and an appearance on The Late Show With David Letterman.
The A.V. Club: What's it like being introduced to America with this stand-up special, even though you've been a comedian overseas for years?
Russell Brand: It's peculiar, but also a welcome introduction to the subject and nature of fame. You can be really successful and famous in one country, but it don't mean anything once you get on an airplane. It's a reminder that fame is ultimately meaningless.
AVC: Previous specials have dealt with drug use and sex addiction; this one talks about hosting the VMAs. Why is this one so much tamer in comparison?
G/O Media may get a commission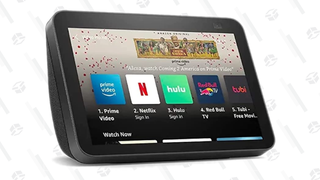 RB: I think it was, like, when I first started, my immediate frame of reference was my life as an impoverished drug addict. So it made its way into my material. Then after that, I was endlessly fascinated with sex. Then I started working [in films], and ran into the embarrassment inherent in an industry beset with protocols for being embarrassed. The challenge is to make being in a film relatable, because ultimately, the human experience is embarrassment.

AVC: You have to be accurate to what's happening at the time, then.

RB: Yeah. Also, I suppose that when you're on the TV, you can't go, "Oh, this sexual experience, that sexual experience," with the freedom one can with a live audience.

AVC: A lot of the jokes involve your penis as a prop. What does it bring to the stand-up formula?

RB: It gives me the drive to get out there. Like Socrates said, "The male libido is like being chained to a madman." And I suppose the fire of that insanity is this limp fleshy phallus, dragging us through life.

AVC: At the end of your memoir, you talk a little about your experience looking back at that tough period of your life. That seems like a very "memoir" thing to do—was there any pressure to include some reflection?

RB: In a way, there was an element of catharticism or desire to draw a line on this period of my life—getting arrested, being a heroin addict. The last page does have thinking about it, a rather sentimental feel to it. I think that's necessary in a conclusion to some point. But it's not like, "Looking across the landscape of my life, I realize now, I owe it all to the movie Fame." I don't take that stuff that seriously, hence the title.

AVC: You dedicate the book to your mom, then beg her not to read it. Has she caved?

RB: No. She won't. Actually, a lot of that stuff, she's not… it was a bit difficult, my childhood and my life, and she actually doesn't want to go through with it again. It was hard enough the first time. She knew most of that stuff anyway, though here it's explicit in a way that one wouldn't describe to their mums. But she knew all the problems I had. She was getting phone calls from police stations and reports from drug-rehab centers, blood on her carpet. She knows what she knows.
AVC: There's the book, the countless recounts of your past, your extremely prolific Twitter—is there such a thing as TMI for you?

RB: Depends whether it's interesting or not. I think there's such a thing as "not interesting information," which would be an accusation that would trouble me. But if it's not offending anybody, and kinda funny, there's no need to worry. I'm being myself, and I'm comfortable with that. I don't have anything unpleasant or unsavory to hide; I don't see the necessity for it, when we live already enshrined in convention.
AVC: A lot of your jokes deal with you as a famous person, while most stand-up comics try their best to assert that they're just ordinary people.
RB: I feel an obligation to be authentic. I cannot tolerate inauthenticity or insincerity. In my experience, things happened because I'm famous. Before, when I was a drug addict, my routine was about being a drug addict. And that's all I'm really qualified to talk about, unless, you know, I read a book on astrophysics. Then I can do stuff about that. But there are qualified academics, I feel.