As a young man struggling with women, his weight, and most of all, his apparently epic appetite for mood-altering substances, Scott Raab "couldn't wait to kill somebody" and didn't know why, as he writes in his 300-page harangue, The Whore Of Akron. Eventually, he got into the Iowa Writers' Workshop and became a free-ranging, highly entertaining contributor to GQ and Esquire. He also sobered up, had a kid, and occasionally got his weight under control. Yet Raab remains a man of "homicidal ideation," as he readily admits in his first book, which reads like Frederick Exley's A Fan's Notes on brown acid. Raab is a bastard, but he's a funny bastard.
Ever since an absurd television spectacle known as "The Decision," Raab has had a particular victim in mind—LeBron Raymone James, an Ohio native who plays basketball for a living. As a diehard sports nut and a longsuffering native of Cleveland, Raab wears a tattoo of Chief Wahoo, the Indians' mascot, on his arm. In his wallet, he still carries his ticket stub from the Browns' improbable win in the 1964 NFL championship game—the last time any team from his hometown won a title. As anyone who has ever bounced a ball is surely aware, the Cleveland Cavaliers were fully expected to hoist an NBA championship trophy with the supernaturally gifted James, who joined the team fresh out of high school in 2003.
Except that it never happened, largely due to the franchise player's inexplicable shortcomings at crunch time. And when, after seven seasons with the Cavs, James announced his decision to "take [his] talents to South Beach" to join the Miami Heat as a free agent in 2010, Raab suddenly saw the ego-bloated, all-too-human baller—a man-child with a soul that could fit in a "wee jewel box"—as the bane of his existence.
"Hating is a full-time job," Raab writes. But where LeBron James is the object of his irrational ire—and Raab became widely recognized as James' biggest, most belligerent detractor on Twitter well before Whore Of Akron was announced—it's abundantly clear that the player isn't so much a real-life target as a 6'8", 250-pound all-purpose voodoo doll for Raab. LeBron's betrayal of the city that so desperately needed him was just the last in a colossal pile of straws that buried Cleveland, and not just because its teams haven't sipped champagne in decades.
And it isn't just Cleveland, either. Raab, who lives in New Jersey these days, could be writing about any number of places that feel betrayed, beleaguered, and brokenhearted. A great section in Stiffed, Susan Faludi's book about "the betrayal of the American man," addresses the excruciating anguish—emasculation, even—Cleveland fans felt when Browns owner Art Modell slipped off to Baltimore in 1995. For Raab, as for Big Dawg and the other Browns fans Faludi wrote about, it's an existential thing: People leave. Dreams die. Happiness, wherever you find it, is fleeting at best.
G/O Media may get a commission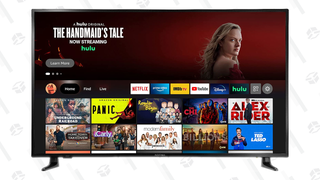 38% Off
Insignia 50" 4K UHD Smart TV
After following the Heat through James' inaugural campaign with the team, which looked like a sure NBA title until the Dallas Mavericks showed up with other plans, Raab finds a measure of solace in LeBron's latest playoff failure. "The Germans must have a better word than schadenfreude for what I'm feeling," he writes. Nothing is ever enough for Raab—but that's the nature of sports fandom. In the end, there are no real winners. He's bitter, but the fact that he's so comically relentless about it means, in a weird way, he's still refusing to give up hope.