The increasing demand for cable-television content means the rise of more and more specialized networks to fill that vast, ever-expanding bandwidth. Interested in watching only programming that caters to your interest in professional horseracing, lawn-and-garden maintenance, or the specific sensibilities of Oprah Winfrey? There are now entire channels devoted to nothing but—all self-contained ecosystems existing far beyond the perimeter of mainstream TV, all populated by foreign civilizations of personalities harboring their own unique languages, value systems, and ideas of what constitutes entertainment. Most of these go completely undiscovered, happened upon only by an accidental slip of the remote and quickly fled after an exclamation of "What the hell am I watching?" TV Outland cuts a machete-swath through the TV thickets, and explores the strange indigenous tribes living just out of sight on your cable package.
The channel: Launched in 2004, Sí TV became the first cable channel catering to the Latino community with exclusively English-language programming—a "bicultural" alternative to networks such as Univision or Telemundo, and marketed toward audiences who enjoy a Spanish flavor without all the actual Spanish. Sí TV is currently available in around 200 cities and 22 million homes in America, which is a relatively limited audience, considering the rapidly expanding Hispanic population. But in spite of its low profile, it managed to make a national impact in the 2008 presidential election with its work on the Crash The Parties campaign, and it maintains a surprisingly active web presence for such a small network, arguably providing more content online than what's on the air.
Whereas Spanish-language stations continue to adhere to a tried-and-true slate of outlandish variety shows, even more outlandish telenovelas, and the never-fail strategy of featuring large-breasted women, Sí TV opts for a point of view modeled on the familiar basic-cable concepts of mainstream America. Reality shows dominate the channel's original programming, often offering mirror images of familiar shows with barely anything to distinguish them besides the casting or a benedictory "Hola." Thus, it's the perfect station for viewers seeking the sense of inclusiveness and cultural connection important to the Latino community, but who aren't necessarily fans of traditional, often corny fare like Sábado Gigante.
Target audience: Sí TV's explicitly targeted demographic of viewers aged 18-34 are presumably those who have long since assimilated into American convention, and who don't necessarily have any particular fealty to the sort of programming that goes to great lengths to remind them of their heritage—unlike their first-generation parents or grandparents. So in keeping with that cultural watering-down, the idea of the "Latino identity" that Sí TV presents is somewhat nebulous: While its official slogan is "Speak English, Live Latin," its programming rarely ever pauses to ponder what "living Latin" means. Its station-identification bumpers are even more diplomatically vague, consisting of animations resembling various tattoo designs such as diamond-studded skulls, ornate hearts, and, oddest of all, a banana rendered as a mirrored disco ball, each with accompanying slogans like "My Style," "My Passion," and "My Flavor." As niche lifestyles go, the Sí TV version of being Latino could use a little more niche.
Or more likely, the network's point is that there is no marked difference between being a young American Latino and being a young anything else, at least not as far as their needs for entertainment are concerned. After all, the Latino population represents a growing majority in many states—their styles, passions, and flavors are often indiscernible from those of the rest of the country's youth. And among the same commercials for Proactiv and T-Mobile phones you'll find everywhere else, there are only a few hints that Sí TV—or at least, the advertisers who keep it afloat—have a specific Latino audience in mind, with a few commercials that play to certain pervasive stereotypes about the Latino community. There's a noticeable increase in ads for baby-related products, for example, and it's one of the few secular stations that runs regular commercials for mail-order Bibles. But the implicit suggestions that Latinos tend to have large families and be religious is about as far as the network goes toward being plainspoken in its marketing.
G/O Media may get a commission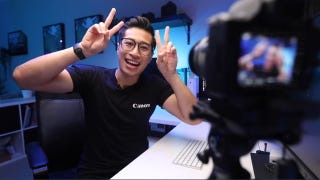 Up to 33% off
Canon Camera National Promotion
Webcam kits, lenses, & more
Since many of us adopted working from home, we've become accustomed to the crappy video quality output of our laptops' built-in webcams. Present yourself professionally with the help of a professional quality camera. Dress to impress now means set dressing and picture definition. Canon has made it easy to take your EOS camera and convert it to a webcam with the help of a variety of kits.
What's on: That vagueness naturally raises the question of where the ostensible "cultural connection" comes into play, and indeed, it often seems as though Sí TV struggles with its own questions of identity. While the network proudly boasts that 70 percent or more of its content is original, that statistic hides the fact that the sheer bulk of its programming day is given over to reruns of Prison Break and New York Undercover, two canceled Fox network dramas that Sí TV dubiously claims are "Latino-led syndicated shows." But even allowing that reasoning, there's no denying that Sí TV openly marginalizes the shows that are actually, purely Latino-focused, running New York Undercover and Prison Break in three- to four-hour blocks every day, and giving over nearly the whole of Saturday to the latter.
Unless the young Latino community genuinely counts those two shows as its favorites, this seems like a decision based less on speaking to the network's professed cultural identity and more on drawing in random viewers who don't particularly care what channel they're watching. That seems especially true for its other most-broadcast show—reruns of the Wayans' sketch comedy In Living Color—something the network doesn't even bother pretending is "Latino-led," and whose inclusion seems predicated almost entirely on Jennifer Lopez's tenure as a Fly Girl. The network does hew a little closer to the mark with its featured movies, sticking to films starring actors such as Antonio Banderas or Penélope Cruz, or in a pinch, Cheech and Chong. Again, however, it's not as though these films particularly capture the Latino experience; their subject matter rarely seems to matter so much as their cast.
That leaves Sí TV's small handful of original shows alone to make that cultural connection with the Latino community, whether through profiles of interesting Latinos, celebrations of unique attitudes toward beauty and style, or just a whole bunch of jokes about being poor, having many family members, and liking to party, all of which seem to come up a lot. On that last note, Sí TV frequently walks a tricky line—humorously reveling in or proudly reclaiming stereotypes while trying to avoid coming off as reinforcing or pandering to them—which it mostly accomplishes by keeping things uniformly upbeat and lighthearted. Because hey, did we mention that Latinos like to party?
The viewing week: One of the exceptions to prove that rule is American Latino TV, a mostly serious-minded news-magazine format—albeit of the fluffy, in-flight entertainment variety—exploring the Latino community's contributions to various areas of culture. Hosted by former model and MTV VJ Daisy Fuentes, the show is, in Fuentes' words, "where we celebrate Latino pride," whether it's "barrios, cine, sonidos, dreams, or athletes." One typical episode, for example, found Fuentes introducing segments with Olympic wrestler Henry Cejudo, Dirty Girls Social Club author Alisa Valdes-Rodriguez, roots-rocker Raul Malo, and a jewelry designer who stamps all of her pieces with "inspirational messages"—all Latinos who have found some modicum of success, no matter how loosely defined.
Still, in spite of its stated intention of celebrating the subjects' "Latino pride," it often seems like cultural identity rarely plays into their success, either negatively or positively. It's simply a matter of fact. For example, a mention from Fuentes that "Raul Malo might not sound like the name of your typical country artist"—and a quick aside from Malo about the unfortunate racist element in the country-music audience—is the closest American Latino TV ever comes to probing anything related to race in his episode. Again, maybe that's because there isn't really much of a cultural border to be crossed: Malo's encounters with certain redneck strains aside, it's not as though his being of Cuban descent has prevented him from enjoying a successful career, just like Cejudo's ethnicity had nothing to do with his perceived or actual ability to wrestle. In that sense, American Latino TV often edges perilously close to suggesting the needlessness of even qualifying its subjects as Latino, when they're simply successful people.
An "edgier" companion to American Latino TV, the syndicated LatiNation focuses on more youthful areas of entertainment (i.e. extreme sports, rock and hip-hop groups, teenage actors) with the help of similarly edgy, youthful co-hosts José Mangin and T Lopez. Mangin, of SiriusXM's Octane and Liquid Metal and occasionally MTV's Headbangers Ball, brings an expectedly dude-brah, horns-throwing 'tude to the proceedings, which tends to be a bit much when he's exhorting viewers to, say, add Real Women Have Curves to their DVD collection. Lopez, a pop star currently prepping her solo debut for Cash Money Records, is a holdover from Sí TV's former flagship The Drop—a dance/music variety show in the mold of MTV's The Grind that still lives on in early-morning reruns as The Drop Classics. On both shows, Lopez's default setting is often as flirtatious as her music, while she has a predictable tendency to refer to all other females as "my girl."
As with most shows that work overtime to be loud and energetic, the hosts' sense of presentation is exhausting, but LatiNation does usually overcome its somewhat pandering packaging to explore Latinos working in some fairly obscure cultural corners—BMX pros, comic-book artists, musicians in genres ranging from rock-rap to cumbia—and in that sense succeeds in connecting with the second- and third-generation Hispanics it's chasing. Through all the graffiti mural backdrops and repeated insistences that it's "representing your generation," however, it also reinforces the idea that pandering to teens is universal.
Also universal: Extreme sports shows that offer little beyond the vicarious thrill of watching dudes ride dirt bikes or surf some gnarly waves, which is precisely what's on tap at Adrenalina. Hosted by the beyond-laid-back duo Pablo Lanatta and Zalman Lekach—both windsurfers, skydivers, and extreme-sports photographers who somehow lucked into getting paid to just hang out full-time—the show finds the affable duo engaging in various stunts in primarily Central and South American locales, loosely stitched together with interstitials of them gently teasing each other like amiable bros, and intercut with random close-ups of sandy, bikini-clad butts. Lanatta is Argentinean, and he handles most of the interaction, but even this engaging with the local culture is usually limited to questioning where they can party, or maybe orchestrating the occasional prank on Lekach, such as one episode where Lanatta hires a girl off the streets of Peru to wake Lekach up by stripping and getting into his bed. It's all harmless, pointless fun, and so seemingly disconnected are they from their surroundings, they're barely even fazed when, for example, a guy crashes an Ecuadorian skate park brandishing a machete and a sawed-off shotgun:
[pagebreak]
An altogether different kind of slack-jawed pointlessness pervades Elle & Tito: The Married Life: Sort of like Newlyweds: Nick And Jessica with far less wit and charisma, the reality show formerly titled Married On MySpace follows the continuing saga of aspiring musicians Elle and Tito Figueroa, who won a 2009 contest to have every detail of their "dream wedding and honeymoon" decided by users of the social-networking site. Now free to make their own terrible choices, the Figueroas shuffle aimlessly around the fringes of the entertainment industry. As cameras track their every move, they hold down day jobs and make a minimal effort to launch their music careers, all while struggling with the usual mundane details of marriage.
On the one hand, you could argue that it's a glimpse into the drab reality behind the long-held maxims about Latino passion, the same ones teased into telenovela hyperbole on Sí TV's Spanish-language counterparts. But really, like so much of Sí TV, there's nothing particularly "Latino" about Elle And Tito's story. Instead it's just another example of the network fulfilling its niche entirely through casting, rather than through content.
That strategy is most evident on what is unquestionably Sí TV's current flagship show, Model Latina, which follows the basic skein of other runway competitions like America's Next Top Model, while making allowances for Latina curves by casting women who would be considered too hefty to mingle with the ambulatory clothes-racks that Tyra Banks finds pleasing to the eye. (Though Model Latina does tend to weed out all but the relative skinniest in its first few weeks.) Here, contestants are put through only slightly Latino-themed spins on typical ANTM fare—like "posing with a telenovela star," for example—and are then judged by an equally catty panel, making for a show that's essentially a cheap knock-off. Once more, it prompts the question "Is the 'Latino experience' really just about the insular pleasures of surrounding yourself with other Latinos and sharing in its stereotypes?"
As it turns out, Model Latina also suggests an answer. The show explicitly searches for a woman who can serve as "a spokesperson for the Latino community," so in addition to strutting, models are asked to write essays or exhibit poise while delivering a public speech. In other words, they have to provide demonstrations of an all-around inner beauty that can only come from a slightly higher caliber of human being. This means that, unlike America's Next Top Model, the women tend not to turn on each other in some sort of teeth-gnashing, Lord Of The Flies frenzy of survival. When one of them wins a contest, the others graciously say something like "It was about time for her"—something you'll almost never hear on an American reality show—and even though they frequently fall back on clichés such as "I'm not here to make friends" or "I know I'm the best," there's nevertheless a genuine supportiveness to Model Latina that's different from its mainstream American counterparts. It also proposes the idea that "togetherness"—the sense of putting family and community first—may be the most defining aspect of what it means to be Latino.
Signature show: Of course, part of being a family is having the right to give your relatives shit, mercilessly and repeatedly. And given the generations of Latino comedians whose entire careers have been based around ripping on other Latinos, that family has to rank among the world's most self-deprecating people. Like Jewish comics, Latino comics often take pride and power in owning their stereotypes, and in that sense, Latino 101 is easily Sí TV's defining show: It's a faux-educational program on "how to be Latino" that is essentially a nonstop barrage of playful, politically incorrect character assassination on the entire culture.
Structured like the countless talking-head "countdown" shows that have sprung up in the last decade, with dozens of comics riffing on a single topic over animations and old educational film clips, Latino 101 is basically VH1's I Love Being Latino, save for the fact that its panel is fairly open to all races. While definitely concentrated on entertainers like Last Comic Standing's Felipe Esparza, Napoleon Dynamite's Efren Ramirez, and Charo—and occasionally Edward James Olmos, who mostly shows up for silent reaction shots in which he stares incredulously at the camera—its multicultural assemblage ranges from Indian-American comic Morak to African-American mainstay-of-these-kinds-of-shows Godfrey. The booking policy seems to be whoever is willing to come collect an easy paycheck that day.
In some respects, the jokes are equally universal: During an episode on "Sex Ed," for example, the comics riff on how awkward it is to have your parents discuss the facts of life. They share horror stories about getting caught masturbating, complain about men falling asleep after fulfilling their own selfish needs (right, ladies?), and touch on other experiences that certainly aren't limited to Latinos. (Never mind a few Latino comics' proprietary claims to the "Dirty Sanchez" or "donkey punch"; those are the guaranteed rights and privileges of all peoples.)
But more often than not, the show delves into thorny fare that could likely be perceived as racist were it coming from anyone other than Latinos themselves. Jokes abound about doing prison time, being inherently lazy, the questionable style choices of "cholas," indecipherable accents, trucks crammed with illegal aliens—all the boilerplate characterizations, in other words, that run the risk of insulting an audience so sensitive to public perception, many of them would even take umbrage with the term "Latino." That shaky relationship with its audience—the strange middle ground between wanting to be respectful toward its cultural heritage, yet not at the cost of being flippantly entertaining—pretty much defines Sí TV as a network, for better or worse.
Defining personality: In addition to its tendency to take mocking aim at its own, Sí TV's emphasis on its sense of being a "family" may also have something to do with the fact that no one person on the network manages to stand out—which isn't surprising, since every show has a minimum of two interchangeable hosts working the same job. (Surely the comics of Latino 101 would have a quip for this…) What Sí TV has instead is a defining personality type in its primarily female hosts, all of whom tend to be perpetually flirtatious, self-deprecating, and generally boisterous, occasionally bordering on shrill. And while it would be oversimplification to say that represents the whole identity of Latino-Americans, it is an identity that Sí TV constantly projects—most likely as a way of luring those next-generation kids who, again, perhaps don't care as much about seriously examining their culture.
Switching off: Still, the lingering question is whether Sí TV should care a little more. After all, when a niche cable channel caters explicitly to a race, it carries an inherent responsibility to do right by its people, to make up for all the reasons they may feel underserved by other networks. And there's no question that many Latinos, in spite of their growing majorities among the nation's population, still feel ostracized by mainstream American culture: According to recent studies, more and more English-speaking Latinos have gravitated toward Spanish-language TV in recent years, in search of the aforementioned "cultural connection" while turning away from what they perceive as negative portrayals on English-language TV. At a time when the immigration debate is thornier than ever, it's no wonder so many seek safety in numbers and look for programming that reinforces a sense of belonging, and the time seems ripe for a network like Sí TV to step up and bridge the generation gap.
But in some ways, Sí TV is guilty of some of the same sins as any other English-language channel. For one, it revels in easy, predictable stereotypes for laughs; for another, when it dares to get serious, it presents a primarily whitewashed, ill-defined version of Latino culture. Perhaps just as damning, it takes most of its cues from American media and seems content to do the bare minimum to be true to its identity, all while still pretending to be special. So even though it proudly proclaims itself as "bicultural," the chances of Sí TV finding a loyal audience on either side of the divide seems pretty slim. After all, a television station doesn't have to be the voice of the people, but it should still have a voice. As of now, Sí TV is just a faintly accented echo.
Up next: You may be living, but chances are you're not living purposefully. ION Life can help.