When People magazine named Blake Shelton their 2017 Sexiest Man Alive this week, the public responded with varying degrees of anger, disgust, and, as we did, total indifference. But, while Twitter was busy repeatedly dunking on the average-looking country singer, the true sexiest man alive was waiting in the wings, polishing his irresistible bald head and perfecting his playful smirk. But he has been waiting long enough. It's time that we, as an international community of sexiness appreciators, acknowledge Sir Patrick Stewart as the true sexiest man alive.

"Gentlemen, come at me when you are THIS sexy," said Stewart in response to fellow MCU-adjacent celebrities Hugh Jackman and Ryan Reynolds. Apparently, the sexiness debate began when Jackman, People's Sexiest Man Alive for 2008, reached out to Blake Shelton, advising him to skip the part where he pretends to be humble and just "milk the sexy status for ALL it's worth." Never missing a chance to take a jab at the Logan star, Ryan Reynolds, 2010's Sexiest Man Alive, butted in to point out the unavoidable truth of the matter.
G/O Media may get a commission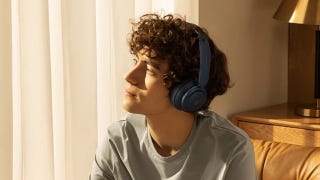 30% off
Soundcore Headphones and Earbuds
Elsewhere, Dwayne "The Rock" Johnson was making his own case that, since he wore the crown of Sexiest Man last year, he should continue to be considered as such in perpetuity. As he sees it, the only thing holding him back from reclaiming the title this year was that blasted fanny pack photo that millennials love sharing so damn much.
But after taking a long look at Stewart's early-90s TV Guide cover, it's difficult to disagree on who the clear winner is. Even Blake Shelton had to take a break from his recent stream of self-effacing, celebratory tweets to acknowledge that the TNG star is "Out of this WORLD sexy." It's time the rest of us do the same and bow to the supremacy of Sir Pat Stew. #WelcomeToTheGunShow