Look, we love Stan Lee like a hypothetical grandfather who may or may not have done really well in our Fantasy Pop-Culture Grandpas bracket last year. But the 92-year-old Marvel Comics impresario isn't always selective in how he chooses his projects. Sure, he's always had a bit of P.T. Barnum in him, but was Stripperella really necessary, Stan?
Anyway, due to Lee's track record, any new project to which he attaches his name will inevitably attract skepticism. So it's with cautious optimism and a healthy respect for our elders that we report that Lee is joining forces with the U.K. pay-cable network Sky TV and Downton Abbey producer Carnival Films for a new series, Lucky Man.
Described as a down-to-earth hybrid of the superhero and crime thriller genres, the drama is based on an original idea by Lee; the story revolves around Harry Clayton, a detective on London's Murder Squad who receives a charm that appears to give him the ability to control luck. "I don't believe in luck," he'll probably growl at one point, wrapping his fist around the charm. "But I do believe in this!," he'll cry, socking a bad guy in the eye with the ancient object, which we assume will have an eye or a scarab or something like that on it.
James Nesbitt, a.k.a. Bofur from the Hobbit movies, is set to star as Clayton, with Nurse Jackie's Eve Best as Clayton's wife, who left him due to his gambling addiction. ("Looks like your luck is turning around," we imagine her saying, with a skeptical-but-affectionate smirk. "You have no idea," he'll reply.) Luther's Sienna Guillory is also attached to the project in an unknown role.
Lee says that, "Luck has always been a fascinating subject to me, and I am excited to finally share that fascination with audiences around the world." Executive producer Richard Fell is similarly confident, saying, "Stan has come up with an absolutely brilliant idea; something that we can all relate to. What if you could control luck? Would that be the greatest thing you could give someone, or their worst nightmare? It's a twist which brings the whole superhero genre right back down to earth." We're crossing our fingers and hoping that he's right.
G/O Media may get a commission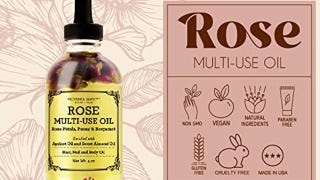 Provence Beauty Rose Multi-Use Oil