Katherine Heigl's narrative is about how desperately Katherine Heigl needs to change her narrative. That's been the case since Heigl rose to fame on Shonda Rhimes' Grey's Anatomy, ramped up to collecting $12 million paychecks for disposable rom-coms, then skidded after several rounds of bad publicity painted her as an entitled diva. If Heigl's goal has been to shift the conversation away from her Veruca Salt reputation, returning to television in NBC's political thriller State Of Affairs is a wobbly strategy; the show's log line practically demands comparisons to Scandal, Rhimes' hottest property, even as the public feud between Heigl and her former boss rages on.
Heigl plays Charleston Tucker, a high-ranking CIA analyst who pulls levers behind the curtains of the White House while navigating an emotionally fraught relationship with the President. But in spite of the surface similarities to Scandal, Affairs' resemblance goes no further than its key art. Affairs will attract unfavorable comparisons, but it'll be measured against Homeland, a terrorism drama that often resonates even at its silliest. Affairs feels flimsy out of the gate.
Charleston—she goes by Charlie, so the audience knows she's approachable—bears a resemblance to Homeland's Carrie Mathison from the show's first scenes. It attempts to add complexity to its female lead in the hackneyed way modern television dramas often do, showing Charlie as a steely, instinctual professional by day and a boozy, sex-positive good-time gal at night. In Charlie's case, her impulsive behavior is fueled by grief rather than mental illness. She lost her fiancé Aaron in a terrorist attack that nearly killed her, as well as President Constance Payton (Alfre Woodard), who happens to be Aaron's mother.
The women's shared grief ripples through their working relationship, with Charlie in charge of screening security threats and presenting only the most urgent to President Payton. Both Charlie and the president constantly second-guess whether their consequential decisions are the products of strategy or bloodlust, but Affairs resists the urge to frame the inner-conflict around gender. While it's refreshing not to hear, "Is this because I'm a woman?" for the umpteenth time, the circumvention of gender politics in a show about a black female president and her top female intelligence officer creates a disconnect big enough to obviate a show exploring such earthbound subject matter.
G/O Media may get a commission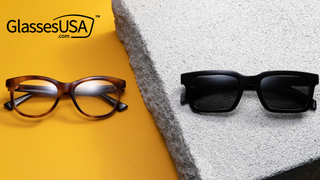 60% off frames
GlassesUSA.com Back to School Sales
Affairs never manages to overcome this sense of hollowness in its pilot, which plants seeds for an overarching mystery—one that feels exhausting even before it has begun unfolding—but never delves deeper than Charlie's desire to avenge Aaron's death. Affairs doesn't have much on its mind, and uses its White House backdrop for its implicitly high stakes rather than as a platform for ideas. It isn't too reductive to call it "the network TV answer to Homeland," given its bent toward episodic storytelling and its emphasis on plot over theme. It's also the perfect complement to The Blacklist, NBC's breakout action drama, which is equally characterized by its vapidity and occasionally directed by Affairs creator Joe Carnahan.
Heigl is as much the bedrock of Affairs as is James Spader of The Blacklist, so as tiresome as the conversation about Heigl's likability has become, the show relies on her ability to make Charlie relatable, or at least authoritative. Unfortunately, she nails the former quality to a far greater degree than the latter. Viewers with detailed knowledge of Heigl's reputation for sowing off-camera discord might be caught off-guard by how much she pops on-screen, a potent reminder of why she was once on the fast track to becoming America's sweetheart. But it isn't clear from the pilot if she can muster the specific strain of screen presence required to play a character with a security clearance as high as Charlie's.
Meanwhile, Woodard emanates the gravitas Heigl lacks without speaking a word—a good thing, considering she doesn't get many of them to speak. The pilot spends so much time developing Charlie that President Payton exists on the perimeter, a problem Affairs' producers must plan to fix if they thought the character was worth recruiting an actress of Woodard's caliber. There will also presumably be more of Charlie's CIA co-workers (Adam Kaufman, Sheila Vand, Tommy Savas, and Chris McKenna), who are hastily introduced, then placed in cold storage.
Affairs' tight focus on Heigl is characteristic of a comeback vehicle, but the show itself isn't the career game-changer Heigl has been searching for. With C-level material, it's hard to take the attention off her scarlet B.