If you're in the public eye in any way, there's intense pressure to retain your youth. Our culture endlessly panders to a young demographic, and those who wish to remain relevant in the mainstream business of show must work to keep a sense of youthful vigor, swept along helplessly in the Dorian Grey-like undertow of our demands, while the actual visage of our decaying, late-capitalist society ages, rotting and putrescent, in a metaphysical attic. This is as true for our fast-food behemoths as it is for anyone, and so, periodically, the purveyors of meat-adjacent foodstuffs (perhaps food-adjacent meatstuffs is a better description of their products) must bathe like Countess Bathory in the blood of younger marketers and newer brands, absorbing the life force of fresher, less outdated corporate identities.

So it goes with Taco Bell, America's foremost provider of anthropomorphized chihuahuas and late-night regret. The fast-food chain is now 54 years old, and, apparently in the midst of a mid-life crisis, is panicking about its aging body. Therefore, the company is rolling out four new store designs beginning in Southern California, then adding more throughout the year and into 2017. Buzzfeed News reports the move is an attempt to be "more locally focused," according to Deborah Brand, Taco Bell's vice president for development and design. New franchisees will be allowed to choose which of the four looks they want to adapt. "People appreciate variety," says Brand, unless that variety includes the option to eat quality Mexican food, which likely explains why their target market is people willing to eat at Taco Bell.
But enough backstory: Let's take a look at some of these hip new styles, shall we? After all, nothing says "locally-focused" like getting to choose one of four pre-fab franchise restaurant layouts. Finally, America can take its place alongside the world's fanciest Taco Bells! First up is the cutting-edge architectural style the company is calling "California Sol," perhaps in reference to the fact that it lacks a soul.
This definitely conveys the look and feel of a restaurant that wants to also feel like a real estate waiting room in New Mexico, possibly adjoining a wading pool. Très chic, très hip, très sexy!
G/O Media may get a commission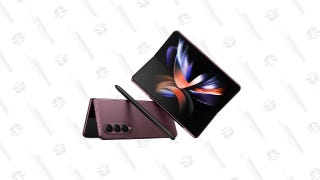 Save Up to $300
Galaxy Z Fold4
Next up in option number two, which they call "Urban Edgy," and which prominently features lots of brick.
Whoa, where are Hannah and Marnie?
Next up, we have the "Rugged Explorer" choice, which trumpets more galvanized steel and concrete, and which apparently has also murdered a rainbow in the attic, which is now bleeding down the walls, alerting people to its dying presence.
We like this one, because it communicates a sense of elegance and old-world sturdiness, while still being a place people will throw up Quesaritos at 2 a.m.
Last up, there's the Taco Bell "Heritage" look, meant to evoke the company's roots, which is a white guy in San Bernadino who watched actual Mexican people prepare food and thought, "I could do that, only with less authenticity." In this case, that magical heritage is conveyed largely via arches and tile.
Regardless, Taco Bell will continue to be the restaurant of choice for stoned college kids and people on road trips trying to decide between it and McDonald's. Of course, those of us in Chicago will continue to cut out the middleman by just getting drunk at Taco Bell prior to our Chalupa binge-eating,