Last week, Tavis Smiley joined the ignominious corps of media men booted from high-profile positions amidst charges of sexual misconduct, a group that also includes Matt Lauer, Garrison Keillor, and Smiley's former PBS colleague Charlie Rose. But Smiley isn't like those other men—or at least that's what he claimed while attempting to plead his case on Good Morning America earlier today.
As reported in Variety, Smiley's interview with GMA's Paula Faris sees Smiley attempting to push back against the accusations by saying that, yes, he had engaged in sexual relationships with multiple subordinates over the years. But they were consensual, he said, adding that the employee handbook at his company didn't specifically forbid interoffice affairs (because, in his words,"I don't know where your heart's going to lead you"), and thus none of this counts as sexual misconduct.
"I want to make sure we don't lose all sense of nuance and proportionality in this conversation because if we do, people end up being guilty simply by accusation," he said, in a similar approach to the one Matt Damon took running his mouth about Harvey Weinstein last week. "I'm not an angry black man and this notion of a hostile environment just doesn't fit," he added, referring to allegations that he was verbally abusive to his staff. He "never groped" and "never coerced" his colleagues at any of his various media jobs, he claimed, adding, "I'm human. I'm not perfect but this doesn't rise to the level" of sexual misconduct. "PBS made a huge mistake here and they need to fix it," he said. Basically, it sounds like he considered himself untouchable, and is very annoyed to be facing consequences for his actions.
PBS declined to name Smiley's accusers when it suspended him, saying in a statement that it had received "multiple, credible allegations of conduct that is inconsistent with the values and standards of PBS" and had made its decision following a third-party investigation that included interviews with both Smiley and his accusers. Variety's report on that initial suspension included an anonymous source who said exactly what Smiley confirmed on TV today, namely that Smiley had engaged in sexual relationships with multiple people who worked for him. However, that report also contained this additional, telling detail: "Some witnesses interviewed expressed concern that their employment status was linked to the status of a sexual relationship with Smiley."

Immediately after his suspension last week, Smiley made a statement on Facebook, in which he said he had never "groped, coerced, or exposed [himself] inappropriately" to a colleague in his career. The question he continues to dance around, however, is if he abused the power dynamics at his company to get his employees to have sex with him. According to Smiley, that doesn't count as coercion. But, given that they filed complaints that led to his suspension, it's safe to say that his former employees—and network—feel differently.
G/O Media may get a commission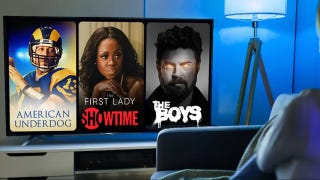 UNDER $1
99¢ Prime Video Channels
In fact, we don't need to speculate on his former network's stance, as PBS put out a statement condemning Smiley soon after the interview. "Tavis Smiley needs to get his story straight," it begins, citing Smiley's difficulty in remembering exactly how many employees he had slept with over the years. "Mr. Smiley even told viewers, 'I don't know where your heart's going to lead you.' PBS is certain that it should not lead to multiple sexual relationships between the owner of a company and subordinates over many years, particularly where employment decisions may be linked to sex."