With on-demand and digital options threatening to make physical discs obsolete and the extremely impressive Blu-Ray format currently doing little but reissuing favorites from studios' increasingly picked-over vaults, the golden age of DVDs might be over. But we still easily found 10 items that make the format seem far from dead.
1. The Films Of Budd Boetticher (Columbia)
Practically since the invention of the DVD, fans of classic westerns have been clamoring for the release of the seven films director Budd Boetticher made with star Randolph Scott between 1956 and 1960. In 2006, Paramount released a nice edition of the first film in the series, 7 Men From Now, and this year Columbia followed suit with the five in their vaults: Buchanan Rides Alone, Comanche Station, Decision At Sundown, and the two masterpieces Ride Lonesome and The Tall T. The set adds a superb feature-length documentary about Boetticher, plus appreciations and commentary tracks by the likes of Clint Eastwood and Martin Scorsese. But what makes The Films Of Budd Boetticher essential is the high replay value of the movies themselves—each a concisely told story about men living with their mistakes and being forced by the changing times to make even more.
2. Murnau, Borzage And Fox (Fox)
G/O Media may get a commission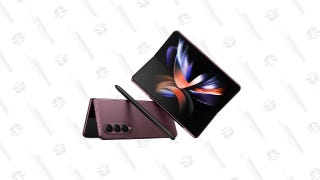 Save Up to $300
Galaxy Z Fold4
Last year, Fox released a box set containing 24 of the films John Ford made for the studio from the early '20s to the early '50s. This year, Fox dedicated a box to lesser-known auteur Frank Borzage, a stellar storyteller fascinated by faces and redemption; and Fox sweetened the deal by adding Sunrise and City Girl, two movies that German master F.W. Murnau made for Fox before he died in a car crash at age 42. William Fox himself invited Murnau to Hollywood and asked him to mentor his stable of directors (including Borzage), which makes Murnau, Borzage And Fox a notable piece of film scholarship, detailing through archival material and excellent movies exactly how Murnau's vision of a more mature cinema impacted the waning years of the silent era.
3. Dr. Horrible's Sing-a-long Blog (Mutant Enemy)
Joss Whedon has always done some of the best commentary tracks in the business; his energetic sessions on the Buffy The Vampire Slayer and Firefly discs are packed not only with funny anecdotes and production details, but with broader insights into his vision for the shows themselves. Even by his standards, though, Whedon has outdone himself with "Commentary: The Musical," a mostly all-singing accompaniment to his brilliant 42-minute, strike-inspired DIY musical Dr. Horrible's Sing-a-long Blog. Whedon, his cast (Nathan Fillion, Neal Patrick Harris, and Felicia Day), and other key collaborators belt out an infectious meta-commentary that's nearly as catchy as the songs that make it into the feature itself. Also a must: A series of amateur audition tapes for "The Evil League Of Evil," featuring such diabolical would-be villains as "Tur-Mohel," who plans to circumcise the Washington Monument.
4. The Godfather Collection (Blu-Ray) (Paramount)
A couple of years from now, we might not even be referencing DVDs when we write about home entertainment, given the ever-increasing ease of other options. If anything seems likely to keep the little discs alive, it's Blu-Ray, the high-def format that found its killer app when it presented the meticulously restored versions of Francis Ford Coppola's Godfather movies in versions that looked as beautifully chiaroscuro as the days they first hit theaters, film grain and all. (The movies aren't too bad, either.)
5. Spaced: The Complete Series (BBC Warner)
The number of truly great why-isn't-this-on-DVD? items has shrunk over the years, but the release of the British TV series Spaced proved there were still some treasures to be unearthed. Created by writer/actors Simon Pegg and Jessica Stevenson and directed with movie ambition on a TV budget by Edgar Wright, Spaced captured the usually aimless lives of a pair of twentysomething Londoners trying to find if love and ambition can fit into the parts of their lives not crowded with pop culture references. It's a canny blend of frenetic humor and unmistakable poignancy, given a well-deserved belated U.S. showcase by DVD (and outfitted with cool features to boot).
6. Mishima (Criterion)
In tormented bisexual superstar novelist/poet/actor/director/militia-leader Yukio Mishima, Paul Schrader found his ultimate obsessive, a perennial Nobel Prize contender obsessed with the seldom-explored intersection of beauty and death. Mishima's life and death were the ultimate manifestations of his singular, wildly contradictory aesthetic. There were no boundaries between Mishima's life and work, and the controversial writer's ritualistic public suicide was designed as his final, ultimate masterpiece. Accordingly, Shrader's hypnotic 1985 biopic Mishima: A Life In Four Chapters combines heartbreakingly gorgeous adaptations of several Mishima short stories with scenes from his life to create a devastating portrait of a man who lived to die and died to attain artistic immortality.
7. Eclipse Series 9: The Delirious Fictions Of William Klein (Criterion)
Taken separately, The Model Couple, Mr. Freedom and Who Are You, Polly Maggoo?—the three freewheeling features by modernist painter/designer/photographer/journalist William Klein contained in Eclipse's budget-priced box set—don't really satisfy either as cinema or as notes from the underground. But combined, these pop-art assaults on media fatuousness, excessive consumerism, and governmental abuse of power make for a fascinating, fitfully thrilling journey through the radical politics and aesthetics of the late '60s and early '70s. Even today, Klein's puckish provocations represent image-making at its most sublime.
8. The Smothers Brothers Comedy Hour: The Best Of Season Three (Time-Life)
Though it only contains 11 episodes from The Smothers Brothers' controversial final season on CBS, this set puts the Smothers' battles with network censors in context, revealing the show as a mostly benign variety hour that strived to make dissent as much a part of prime-time entertainment as sketch comedy and musical numbers. The tone of the special features—which includes a passel of recent interviews and a hilarious 2000 US Comedy Arts Festival panel—is a little too self-congratulatory, but then, all concerned do have reason to be proud. Forty years ago, they produced a funny, inventive program that let millions of disaffected young people know they had champions inside the showbiz establishment.
9. The Thief Of Bagdad (Criterion)
There's no shortage of visual splendors on display in Alexander Korda's lavish 1940 fantasy The Thief Of Bagdad: A mechanical flying horse, a magic carpet, a genie in a bottle, and a giant spider, just to name a few. At the time, the special effects were astonishing, but effects make a poor barometer for a fantasy film, since advancements in technology are doomed to leave them behind. Beyond the spectacle, what endures about Korda's production is its childlike energy and wonder, reflected in the face of crafty young thief Sabu. The Thief Of Bagdad was the standard-bearer for a generation, confirmed by the tag-team commentary by Martin Scorsese and Francis Ford Coppola, and a wealth of other DVD features detailing the elephantine scale of Korda's vision.
10. A Colbert Christmas (Comedy Central)
Why shell out hard-earned dollars for a copy of something that was aired free on television and will probably be re-run on Comedy Central until Bill O'Reilly is roasting on an open fire somewhere deep in the bowels of hell? That's a question no self-respecting member of the Colbert Nation would ask themselves this grimmest of holiday seasons in regards to A Colbert Christmas, Colbert's tuneful, deliciously ironic homage/send-up of the corny Yuletide specials of yesteryear. It's advanced irony you can sing and dance to and the video advent calendar special bonus feature is surprisingly nifty as well.