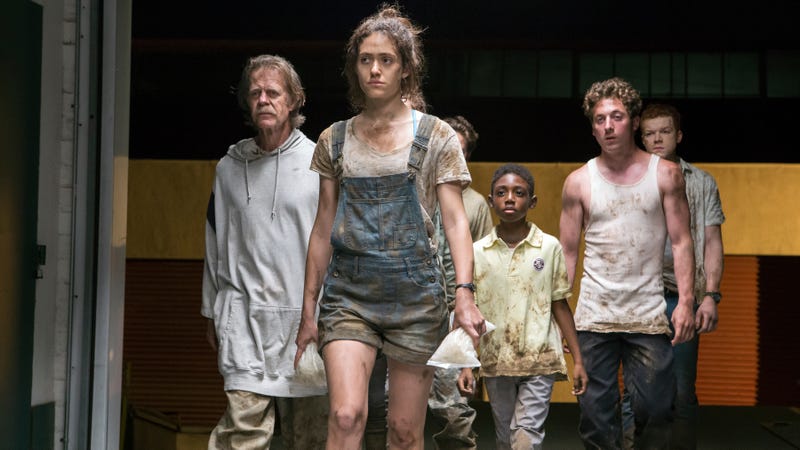 TV Reviews
All of our TV reviews in one convenient place.
"Gallaghers are generally not normal humans."
This is how television works, really: the characters on television shows can never be exactly "normal." They need to be a little exaggerated, and more importantly a little bit "special" so that their stories connect with audiences. In the world of Shameless, the Gallaghers operate under a different set of rules than normal humans, judged by standards set by the comedic soap opera Chicago they inhabit. But at the same time, the world needs to be real enough that there are clear consequences, and where characters who lose their way are held accountable for those actions.
Thus far, Shameless' eighth season has been approaching this question of accountability from a range of perspectives, and the result has been a striking level of maturity from the show and its characters. For the first time, every Gallagher but Liam is old enough to understand the situation they've found themselves in with Monica's meth head boyfriend reemerging looking for his meth, and Frank is even clear-headed enough to feel the emotional weight of the occasion. And so while they each made various mistakes, and Debbie really is a horrible person, the Gallaghers unite together with a realization that their futures depend on their ability to rise to this and other occasions like it.
This is most clear with Lip, who spends the episode tending to Professor Youens after a drunken ride through a Latina woman's living room. There is nothing particularly subtle about the story: I like Brad, Lip's sponsor, but there's a didactic function to the way he psychoanalyzes Lip and explains the themes of the storyline. However, I like those themes, as there's a lot to say in exploring how Lip's self-obsession needs to be channeled into helping others like him. The fact that it's a surrogate father figure is fitting given that Frank's lack of attention to his children is the source of their self-obsession: the "every Gallagher for themselves" ethos emerges from Frank's inattention, and with Lip it came with that wonderful combination of crippling self-doubt and narcissism that we've come to know and love. It's the most mature Lip has ever appeared, pushing him away from pining over Sierra toward understanding the debt he owes Youens as the man who was everything Frank wasn't, more worried about Lip following in his own footsteps than cleaning up his own life. Jeremy Allen White does some nice work in the storyline, and seeing him bring rehab to Youens is a nice coda to a relationship that the show lost sight of a bit in the midst of self-destructing Lip's life.

I also like the contrast between how Lip and Fiona's paths have been influenced by the way Frank messed with them as children. As the oldest child, Fiona was the one who became the opposite of selfish: she was the one who took on the responsibility of raising her siblings at the expense of her own life. That came with tension, and occasional moments where she abandoned that responsibility to the detriment of her and the family, but it also left her with this pent up desire to be on her own and make something of herself. While it's Frank who is literally trying to relive his glory years, Fiona is trying to reclaim her time in a different way, steadily legitimizing herself and disassociating from her siblings' world. She has become the gentrifier, fighting against Melanie—the girlfriend from upstairs—over who will be moving into the building, and what kind of rent they will be paying.
But when the meth storyline rears its head, and her siblings come to her looking for the two bags of meth she buried with Monica, Fiona goes through her own transformation. It begins with smugness, coming close to singing the "I Was Right" song as she rails into them about how they never should have messed with the meth in the first place. But after they dig up Monica's grave, and confront Eric as a group, Fiona has her own change of heart. Whether it was Frank sticking up for his children for the first time in recent memory, or the shared experience of wafting in her mother's rotting corpse alongside her siblings, Fiona returns to the apartment building and realizes that being her own person doesn't mean giving up her roots. She can still be "south side" with Melanie while being on the other side of an eviction or, put in simpler terms: she can still be a Gallagher while living a life that the Gallaghers grew up struggling to believe was their future.
What's important about Lip and Fiona's story is that their lessons have depth, and carry with them a real sense of self-reflection. The same cannot be said for Debbie, whose relationship with Neal ends with a whimper as her nurse friend makes him feel wanted and gives him the confidence to kick Debbie to the curb for using him for his money. It's a comeuppance for Debbie, but not one that seems to resonate on any meaningful level. The same goes for Carl, who loses his babe magnet hot tub but doesn't seem to really take anything from it. It reinforces the hierarchy that remains on the show: while Fiona and Lip's—and to a lesser extent Ian's—stories carry the emotional weight, Debbie and Carl are still basically kids, and despite Franny there's no clear sense either of them are on the verge of mature perspective. Whether this will change as the season goes on remains to be seen, but the fact that Debbie and Franny are now on the streets is not something the episode really wants to deal with.
And that's the thing about Shameless: sometimes, it's very clear when there's a story they just don't want to tell. The way they've handled Svetlana's storyline is a good example: rather than writing out the character, who disappeared for the back half of last season, the show has circled back to the status quo, minus the romantic relationship. Vee uses their marriage as a bargaining chip to get her out of ICE's detention center, Svetlana gets a third of the bar, and they go back to being business partners, without any sense that this will have lasting ramifications. It's cleaning up the story so that they can explore something different: yet another isolated Kev and Vee story, as Kev's obsession with his genetics leads him to discover he's from a historically inbred community in Kentucky, and he's able to reconnect with his birth parents. Am I overly excited about what seems like a pretty basic "What if we met Kev's parents?" post-it-note turned into a storyline? Not particularly, and it kind of bugs me that the show cleared the slate so easily for these three given the bad blood between them.
I think that's why the most interesting story for me right now is Frank's transformation into Francis. There is nothing clean about the storyline: he's back in the family fold, and part of the workforce, but there's a sense that it could all shift in the blink of an eye and fall down the same path as so many Frank storylines before it. But making him a part of the family gives the show lots of options to explore his relationships with each of his children, and to think about his relationship to his past in more detail. He's pushing against the expectation of being a Gallagher, living a normal life in a world where normal has proven to be unsustainable, and the longer he keeps it up the more the show can rely on that to push the other Gallaghers to think about their own "normal." That's something that makes the show better, and can help it push further in what is now officially a ninth season coming next year.
Stray observations
"I no longer resonated with the hard K"—this is easily the most I've liked Frank…ever? Right down to his charitable donations of exactly $7.

Kevin does sort of look like a Bart, honestly.

"I'll Venmo you by Monday"—Bahir really got the base-level hipster millennial dialogue pass, huh?

Ian is still grieving over Monica, but there's not a lot of story there, and his continued pursuit of Trevor strikes me as particularly inert. There's not a lot of chemistry happening there, and Trevor seems pretty insistent, so what I am rooting for here? For Ian to wear Trevor down? Dude should move on.

As far as I can tell, the show made up the Huntsville Subgroup, but I presume it's based on some actual scenario? Anyone have any ideas?

I don't love Kev's storyline, exactly, but his insistence on teaching women how to do breast exams was great, particularly Vee's resigned "he won't stop until he shows you, it's not a sex thing" from the kitchen.

Question of the week: Now that we know there's a ninth season, here's the question—do you think the show could lose one of the Gallaghers and continue? I say this not because there's any signs that anyone wants to exit, but rather because the path to maturity would eventually bring some of them out of this particular orbit, and I do wonder if Showtime wants this to run ten seasons if the writers would want to find moments of closure to open up new story paths or space for the younger characters.