"One way or another, this is going to end."

The undeniably hilarious and (once more) jaw-droppingly audacious "Chidi Sees The Time-Knife" underscores the conundrum The Good Place viewers (not to mention reviewers) find themselves in every week. At least when it comes to speculating on where The Good Place is headed. (Possibly the Good Place.) There's really no debate at this point about how goddamned funny everyone connected with this series is—tonight there are [checking] at least four laugh-out-loud moments bursting through the show's signature happy hum of warmly human character comedy.
But when it comes to ferreting out the grand plan—of The Good Place and the moral universe of the Good Place—there's an element of instability involved. If we're content trusting the writers' track record in always being at least a step ahead of what we think they're going to do, comedically and narratively, then evaluating any quibbles with the series' direction is a dawdle. But, that's not what we're here to do. (Certainly not what any reviewer at a reputable publication like The A.V. Club is going to get paid to do, at any rate.) Lurch too far the other way, however, and we're in conspiracy theorist territory, where this bottomlessly funny and deeply humanistic comedy is reduced to nothing but a brightly colored puzzle.

There are questionable points raised by Michael, Judge Gen, Shawn, Chidi, and even one Jason Mendoza in "Chidi Sees The Time-Knife" that, on their surface, feel incomplete. Whether they are actually or not is something we'll have to discover, since, indeed, The Good Place has justified viewers' faith in its ingenuity and storytelling instincts from the very start. Still, your boy likes to get paid, so here goes.

G/O Media may get a commission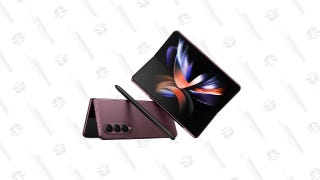 Save Up to $300
Galaxy Z Fold4
Michael, having discarded his previous point-fixing scandal theory in favor of the conviction that the complexities of modern life preclude any human decision—no matter how mundane or well-intentioned—from being truly good, at least in a point-worthy sense. He points here to the purchase of a lowly tomato, which he demonstrates via his holographic chart, winds up docking the tomato-enthusiast points due to factors as wide-ranging as the carbon footprint of the tomato's production, to the conditions of tomato-pickers, to the use of toxic pesticides. Making his pitch in the blandly comforting surroundings of Gen's own holographic illusion that the terrifyingly perilous Interdimensional Hole Of Pancakes is a homely old IHOP, Michael builds up a head of righteous steam, proclaiming, "Humans think that they're making one choice but they're making dozens of choices they don't even know they're making." Case closed.
Only Gen (thank the Good Place for Maya Rudolph) isn't having it. "Do the research," the immortal jurist snaps in rebuttal, before calling Michael's big "life is complicated" defense of his human friends, "a divorced woman's throw-pillow." Michael, momentarily stymied that his slam-dunk theory has been blocked so easily, attempts to make Gen happy with some desperation flossing, to no avail. But the heroes' doom is thwarted, momentarily and implausibly, by Jason, who cuts off Chidi's attempted Sartre-based appeal ("Boring!") by relating the time he learned a hard lesson about how life actually is complicated when he went to scold always tardy Dance Dance Resolution member Big Noodle, only to find out that the unfortunate guy's Willy Wonka-esque grandparents situation is what was making him late all the time. Point Mendoza.

Still, Gen has to be convinced to go down to Earth for the first time to test out the validity of the whole "life is complicated" idea. Which she does, returning in seconds from a whirlwind tour of places as far-flung as Vietnam, Hawaii, Tanzania, Paraguay, even Michigan, rattled by a human race she'd only known second-hand. For all its slyly heady philosophical underpinnings, The Good Place is just as much a performers show, and Rudolph is remarkably good here, her pie-eyed exhaustion at having braved a Black Friday sale carrying the deeper existential sidecar that life on Earth is both "hot and crowded, but somehow also somehow cold and lonely." (Innocently doing an internet search for "big juicy tomatoes" will really take the wind out of an eternal truth-seeker's sails.)

As a character, Gen is as close to a reasonable guardian of the universe as we've seen so far. (A lot more so than the unquestioningly hidebound bean-counters in points accounting.) But she's hardly a pushover, and, still smarting over Michael's lengthening litany of offenses against universal order (she cuts off Michael's promise to be good by pointing out that he's still carrying the purloined Book Of Dougs), she summarily summons Shawn from the Bad Place to brainstorm a solution, once and for all. (Shawn, miffed that his torture session of relating the Entourage movie's plot to Shakespeare was interrupted, marks the blessed return of Marc Evan Jackson, another performer whose every comic instinct on The Good Place is otherworldly in its acid perfection.) With Eleanor stressing the moral "booby traps" littering modern human existence ("There's this chicken sandwich that, if you eat it, it means you hate gay people! And it's delicious!"), Gen at least remains open to the possibility that Michael's latest theory is right.
And here's the thing—if it's right, it's all wrong for The Good Place, where not only are pat solutions moral booby traps themselves, but where this particular theory is deeply flawed. Sure, life is complicated since the world became industrialized, globalized, and capital-ized, but those are just the evolution and expansion of the more fundamental interrelatedness of all human society. If Chidi's (and the show's) repeated citing of the ideas in Tim Scanlon's What We Owe To Each Other hold fast, as they appear to in the series' comic cosmology, then the principle of mutual moral responsibility existed long before 1497, the last year, according Michael's discovery, that any single human was found worthy of going to the Good Place. People ate tomatoes prior to then, and if there wasn't global warming or industrial toxicity to contend with, there was certainly economic injustice, worker exploitation, and plenty of other associated sins that could be heaped upon the unsuspecting tomato-eater. Michael's theory is a dead end, just as his point-hacking idea turned out to be, which is what makes the next of The Good Place's vertigo-inducing plot twists so intriguing. Or troubling. Depending on how you look at it.

Gen decides that the case hinges on whether—freed up from the daily distractions and complications of life on Earth—the improvement shown by Eleanor, Chidi, Jason, and Tahani are evidence of Michael's rightness, or just, as Shawn sneers, a statistical fluke. So Gen works up a test. Chidi, invoking Simone's name for the first time since he broke up with everyone's favorite scientist, proposes a second experiment to see if they can, in effect, replicate their findings. And so four new humans will be shunted into another Michael and Janet-designed neighborhood.
It's another massive swerve, and it's just as delightfully shocking as, say, tearing down the old neighborhood entirely, or finding out Michael's original plan, or any number of the other deceptively elegant leaps in storytelling creator Michael Schur and company have pulled off. And it's an indication that the show appears to be willing to devote a major bloc of storytelling to testing a theory that, for the show to maintain its philosophical and dramatic batting average, has to fail. Gen posits that a full year is time enough to test things out, and, regardless of how long that turns out to be in the series' broadcast timeline, it's a hell of a lot of investment in something unless that thing is intended to pan out. Still, I'm erring on the side of trust here—The Good Place has earned it up 'til this point.

Naturally, merely rebooting the show's central setting and premise is too easy a trick for The Good Place, so the episode (credited to Joe Mande and Christopher Encell) has to up the stakes a few more notches, courtesy of Shawn . . . and Derek! Jason Mantzoukas (impeccably cast guest star number three of the night) returns alongside Maribeth Monroe (number four) as Mindy St. Clair. Looking for a neutral place to host the new test neighborhood leads Gen to press Mindy's Medium Place backyard into service, which means . . . Derek! Or, rather, Derek, as Derek has undergone some changes. His hair is more or less combed, he's sporting a tux, he recites a snatch of Poe to the surprised Janet, and he's drinking a "classy martini." Sure, he blows bubbles into it with his lips (and later emerges with refreshers consisting of a glass full of olives and a single, unpeeled lemon), but it's a definite improvement in functionality. He reveals to Janet and Jason that Mindy's found a way to reboot him (she's done it, mostly for laughs, 500,000 times), and that he comes back a little more evolved each time. He's not a hundred percent or anything, but, as he confides, he's at least got a nearly functional penis at this point in place of his wind chimes, so there's that.

The conflict here is that Jason and Janet have finally decided to give the whole "Jacksonville dirtbag human and inhuman artificial consciousness" thing another chance. And, as delighted as I was to have some Derek back in my life, the setup of a farcical love-triangle jealousy plotline among these three doesn't quite click, especially since Janet seems not at all interested in her former "son/rebound booty call," and the Derek-Jason rivalry isn't inherently interesting, as fun as both Mantzoukas and Manny Jacinto are, always. Plus, the reason why Derek sticks around comes out of nowhere. Janet's tasked with laboriously "birthing" the fake humans who'll populate this new neighborhood (she's gotten a lot better since Derek), but it turns out that Derek now has the same ability to create others, too. I'm not used to hand-waving many of the wacky but improbably grounded plot developments The Good Place routinely tosses at me, but here I'm left just assuming that Derek picked up Janet powers during his many reboots. It's the sort of plot contrivance that the show is usually better at selling.
The other complicating factor in Michael's plan is more successful, in that it's a real, fiendishly clever kick in the nuts by master Bad Place nut-kicker Shawn. Calling to taunt Michael in the moments before the first of the new human residents wakes up in Michael's outer office, Shawn tells Michael how much he's looking forward to torturing the original quartet. Michael pooh-poohs Shawn's patently unoriginal torture techniques (the penis flattener, the bees with teeth), while inadvertently giving Shawn the idea for penis-bees. And that's when Shawn drops the hammer—when the humans get to the bad place, they'll be tortured for all eternity . . . by Michael. Or, rather, Vicky in a Michael skin-suit, but, Shawn gloats, after a handy memory-wipe of anything Michael might tell them prior to arrival, it won't make a difference. Chidi, Eleanor, Tahani, and Jason will look into the face of their trusted friend every day for all of time as he inflicts untold torments—possibly incorporating penis-bees—with Vicky's best gloating Michael impression staring them in the face.

It's some cold shit, and Michael can't take it. With the handy, tension-building countdown clock on the wall ticking away, Michael collapses in front of the dumbfounded, well-wishing Eleanor, murmuring in the eternal demon's version of a panic attack that it's all too scary. And it is. For all those aforementioned quibbles, The Good Place knows how to stick the landing.

Stray observations
With so much plot whizzing around this episode, the humans are left to mainly be completely hilarious. William Jackson Harper's terror-grinning Chidi has the worst time of things, and is therefore gifted with the most opportunities to haul in huge laughs. And the worst thing of all is his inadvertent glimpse of something Michael offhandedly refers to as the time-knife, defined by the traumatized, just-returned-from-the-void Chidi as "a trillion different realities folding onto each other like thin sheets of metal forming a single blade." He does manage to recover admirably, considering he just witnessed something that sounds like one of Grant Morrison's most fertile cosmic nightmares.

Tahani has it easy, comparatively, merely being saddled for most of the episode with a dangerous shoulder-slug creature Michael refers to as "a neednoggle."

Eleanor, immediately upon Jason mentioning Big Noodle to Gen, "Well, we gave it our best shot guys. Nice knowing you."

Gen, marveling at another unforeseen complication of her time masquerading as a human: "I guess I'm black, and they do not like black ladies down there."

Michael dispiritedly notes that, in addition to that, there are Nazis again, somehow.

Shawn, piling on, cites slavery and Limp Bizkit. "The prosecution rests."

As part of the rules for the new humans, Gen specifies that the Bad Place's choices have to be of approximately the same level of badness as the first four, precluding, as she says, "serial killers, dictators, and anyone who has managed a boy band."

As they'll be living in the new neighborhood to observe their replacements, Eleanor has Janet recreate her old, clown-bedeviled house, since, as she says sweetly, it's where she and Chidi fell in love. Planning their free time, Chidi looks forward to lots of sex, while Eleanor is excited about philosophy. "Horndog." "Nerd." Adorable, these two.

We get the barest glimpse of the first of the new humans at episode's end, a journalist "of some kind" named John Wheaton, played by UCB vet Brandon Scott Jones.

And, as ever, check out The A.V. Club's annotated list of all the references, Easter eggs, and other assorted in-jokes from "Chidi Sees The Time-Knife" here.