Here's what's up in the world of TV for Tuesday, February 12. All times are Eastern.
TOP PICK
Justified (FX, 10 p.m.): The State of the Union address is crowding most ongoing series off the grid ("Obama…" a million Melissa-Leo-Louie GIFs mutter under her breath), but Raylan Givens isn't the type to bend to authority. So while other shows are putting up reruns or straight up taking the week off, Justified proceeds as usual—or at least as usual as it can when its protagonist stumbles upon a severed foot. By wordplay metrics, the state of the show and tonight's episode, titled "Foot Chase," are stronger than ever. In his response to the address, Noel Murray will make his case for the continuing merits of last season's "piggy bank."
---
REGULAR COVERAGE
The Joe Schmo Show (Spike, 10 p.m.): After finding themselves in a pickle last week, the producers throw Chase a curveball via some pretend psychic activity. The Amazing Kreskin has been deployed to Scott Von Doviak's house to convince Scott that there will be years of new Joe Schmo Shows to review.
G/O Media may get a commission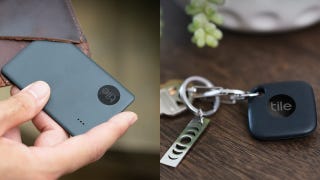 Up to 35% off
Tile Item Trackers
Cougar Town (TBS, 10 p.m.): Though roller hockey is traditionally a non-contact sport, tonight it puts Grayson out of commission. Ryan McGee hopes for an appearance by former Roller Hockey International star Tony Szabo. (The wheels on his skates were aligned like "V"s!)
---
WHAT ELSE IS ON
Frontline (PBS, 8 p.m.): In the event that the president just turns this State of the Union into a 90-minute public shaming of Congress for its handling of the so-called fiscal cliff crisis, Frontline provides a primer on the financial clusterfuck the United States narrowly avoided last month.
The 137th Westminster Kennel Club Dog Show (USA, 8 p.m.): While the president's giving his speech, will Bo Obama represent the White House at the nation's premier dog show? And will he deliver any prepared rebarks while there?
State Of The Union Address (Multiple networks, 9 p.m.): The night's main event, which is sure to keep your social-media feeds full of informed, erudite, and civil discourse for hours and hours. (So how is this different from a normal Tuesday night?)
Dance Moms (Lifetime, 9 p.m.): And if Rand Paul's rejoinder to the state of the union doesn't contain enough misplaced rage and incomprehensible raving, here's an extended episode of cable's ragin-est reality series.
Citizen Kane (TCM, 8 p.m.): Is it too late to outfit the House of Representatives chambers with the president's own version of the giant "KANE" poster Charles Foster Kane uses during his run for New York governor. That oughta build a bunch of steam under Ted Nugent's cowboy hat.
Young Guns (CMT, 9 p.m.): "Actually, I've been talking about restricting access to Young Guns," the president will not clarify in tonight's address, because that would be stupid. Still, this double feature of the Brat Pack's foray into the Wild West implies you can take CMT's Young Guns films when you pry them from the network's cold, dead hands.
College Basketball: Michigan at Michigan State (ESPN, 9 p.m.): Further proof that the release of a new My Bloody Valentine record may have initiated a worldwide time rift taking us back to the 1990s: This cross-state rivalry actually means something for the first time since the reign of U of M's Fab Five.
---
IN CASE YOU MISSED IT
Bones: After eight seasons, Bones finally introduces Brennan's mother, via hallucination. She may be played by Brooke Langton, but in a continued effort to bridge the New Girl and Bones universes, Eric Thurm will continue imagining the elder Mrs. Brennan as Jamie Lee Curtis.