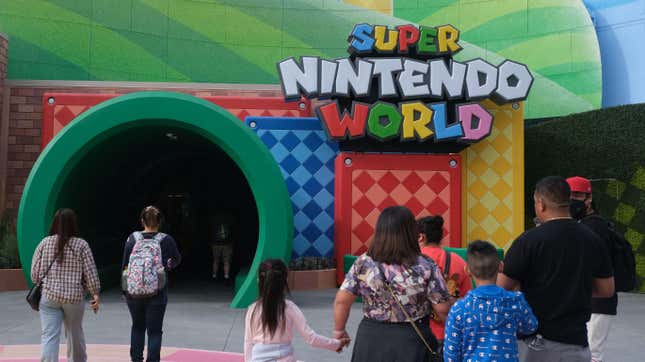 It's a classic theological question: Could Bowser (the Koopa King) create a theme park ride so restrictive that even he couldn't ride it?
Chris Pratt thinks you'll really like his Mario voice
Said question is front and center for plenty of Nintendo fans this week, with new reports that the upcoming Mario Kart ride, Bowser's Challenge—set to be the main draw (and only actual ride) at Universal Studio's new Super Nintendo World—will only accommodate riders with a 40-inch waistline or smaller. This is per our colleagues over at Kotaku, who report on a number of people raising issues online this week about Universal's decision to impose the size limits.
An import from the Japanese version of Super Mario Land, Bowser's Challenge is what's known as "dark ride," i.e., one of those space-efficient, thrill-deficient arrangements where you're strapped into a car and then swerved on a track in front of a bunch of 3D screens and actual live elements. (In this case, lifted from Nintendo's beloved Mario Kart franchise.) As such, it's not entirely clear why such tight size restrictions are being imposed; certainly, it seems like some alternative solution could be used. (Disney, for instance, tends to use benches and lap-bars for this sort of thing, which accommodates a much wider variety of body types.)
The 40-inch waistline requirement is fairly standard at Universal Studios, where it's also applied to dark rides like Harry Potter And The Forbidden Journey and Revenge Of The Mummy: The Ride. From personal experience, this 6', 4", 290-pound writer will note that there is some wiggle room on those requirements when you're actually at the park—but also that the process of forcing yourself into those seats (or using the tester seat provided, as with Mario Kart) can be both uncomfortable and embarrassing. More to the point, it all feels profoundly unnecessary: There's no reason for Universal not to update its sizing on rides to allow a more diverse group of riders to enjoy the Super Nintendo Land fun, especially as the opening of the new area has drawn renewed interest and attention to the park.