Ensuring that no one—except, possibly, The Rock—will ever call you a candy ass again, Jalopnik reports that Vin Diesel's bright purple Pontiac GTO from the latest xXx movie is currently available for rent. A day with Vin's baby will set you back $999, courtesy of Turo, and comes complete with the knowledge that your butt and Vin Diesel's have occupied the same space at vastly different points in time.
The Turo ad for the car reads more like an ad for the new movie, touting various features—like a flamethrower, an arsenal of weapons, and "rocket-launching headlights"—that presumably won't be available for the consumer renter to play around with. That being said, the car does come with a 335 horsepower, 400 cubic inch V8 engine, and so many apparently useless gauges on the dashboard that you'll feel like you're in a muscle car version of the DeLorean from Back To The Future. (A recreation of which is also available from Turo, for those whose cosplay tastes run to lab coats and cowboy duds instead of fabulous yellow fur coats.)
xXx: Return Of Xander Cage headlight-rockets its way into theaters on January 20.
[Note: Jalopnik, like The A.V. Club, is owned by Univision Communications.]
G/O Media may get a commission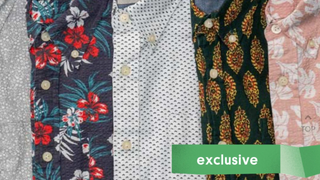 Grab three styles!
JACHS NY Summer Pack