Permanent Records is an ongoing closer look at the records that matter most.
As incredible as it seems with so many now available, Jimi Hendrix released only one official live album during his lifetime. Band Of Gypsys was born out of a compromise. It wasn't a record that consummate studio rat Hendrix ever intended on creating. But when faced with the proposition, he took on the project and attempted to break from his past and create something entirely different. The album was the stopgap that presaged many different musical movements that would prosper in the immediate aftermath of his death. It also offers a unique glimpse into one of the roads Hendrix himself might have taken eventually.
In the summer of 1965, the guitarist was still scrounging out an existence in the musical circuit around New York City under a number of different aliases, like Maurice James or Jimmy James. He hung his hat in Harlem, but booked whatever gigs and session work he could find. He'd already done his time backing the likes of the Isley Brothers, Wilson Pickett, and Little Richard, but he wanted to be a star in his own right.
Curtis Knight invited Hendrix to join his band The Squires. When The Squires went into the studio to lay down a track called "How Would You Feel," Ed Chalpin, who headed second-tier label PPX Productions, oversaw the session, and came away very impressed by the band's guitar player.
After the session, Chalpin invited Hendrix to a coffee shop down the street and slid a recording and producing contract in front of him. By any standard, the terms of the deal were onerous. For all of his future efforts, Hendrix received a single dollar advance up front with the promise of a 1 percent return on royalties. In exchange for such a pittance of compensation, he was required to produce a minimum of three sessions a year, every year for three years. All work he did in that span would remain exclusive to PPX, and the company would have exclusive rights to assign all masters produced by him. With little other prospects on the horizon, Hendrix signed the dotted line.
Hendrix recorded for Chalpin and PPX for the next eight months, lending his guitar to 33 different tracks, mostly for Curtis Knight, but also, weirdly enough, for Hollywood B-movie queen Jayne Mansfield on a song called "Suey." In May 1966, Hendrix was playing a gig at the Cheetah Club in New York where he was noticed by Keith Richards' girlfriend, Linda Keith, who brought him to the attention of Chas Chandler, bassist for The Animals. Chandler became instantly enamored with Hendrix's raw talent and outsize stage presence and offered to take him under his wing, bring him to London, and make him a star. The only person who remembered that Hendrix was already otherwise committed was Chalpin, who sued Hendrix to stop him from releasing any new material outside of the PPX imprint.
Hendrix ignored Chalpin's legal attacks and recorded and released the albums Are You Experienced?, Axis: Bold As Love, and Electric Ladyland in the meantime. The aggrieved label head then put out two Curtis Knight albums that loudly featured Hendrix on guitar under the Capitol Records umbrella. The two sides finally settled the matter in the winter of 1969, with Chalpin receiving a cut of the royalties from the guitarist's three "official" albums plus every dime from the next Hendrix release. In the face of this new arrangement, rather than waste any valuable studio time just to fatten Chalpin's wallet, Hendrix, along with his manager Michael Jeffery, agreed that the best thing to do would be to release a live record.
G/O Media may get a commission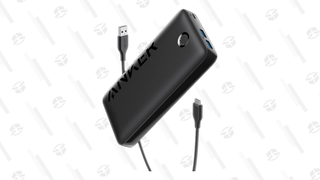 20% Off
Anker 335 Power Bank
At that point, Hendrix was a man without a band. His Experience bassist Noel Redding had quit months before. Hendix had just played Woodstock with unwieldy backing outfit Gypsy Sun And Rainbows to mixed results. He then decided to keep things simple and recruited his old Army buddy Billy Cox to play bass and former Electric Flag percussionist Buddy Miles to play drums. For the first time in his career as a solo artist, Hendrix would front an all-black outfit. "He wanted a black band and a black drummer," Miles said in the Hendrix biography Room Full Of Mirrors. "He wanted to get together with the roots, going back to what he really loved, which was basically soul, R&B, and blues."
Hendrix manager Jeffrey then called up promoter Bill Graham and booked slots for two shows a night on December 31 and January 1 at New York City's Fillmore East in New York City for the band's debut. The new trio spent a week rehearsing material from Hendrix's back catalog while running through a few new songs that would end up on the proposed live record.
Graham had pulled out all the stops for the band's first night, outfitting his ushers in special uniforms and placing a toy tambourine on every one of the venue's 2,639 seats. Striding to the microphone after the Voices Of East Harlem had departed the stage, the promoter introduced Hendrix, Cox, and Miles as "some very old friends with a brand new name" to a rousing response from the crowd.
The band performed well that first evening, but perhaps due to the fact that it leaned heavily on newer, unheard material, some in the crowd lost interest and walked out. The next day, The New York Times derided the performances as "mediocre." "We didn't really think we'd have enough time to get the songs down," Cox told Rolling Stone in 1987.
Things did not start out so well during the group's next night, either. After they came off the stage from their first set, Hendrix asked Graham what he thought of the show and the promoter told the guitarist that he thought he could do better. Graham told Rolling Stone, "I said, 'You're Jimi Hendrix, and anything you do is taken as gospel because of who you are. The first show, you humped the guitar, you played it with your teeth, you stuck it behind your back. You just forgot to play.'"
Hendrix apparently took those words to heart, because the next and final performance found the group playing at an incredible level. "Aside from Otis Redding, there will never be anything like that second show," Graham proclaimed in his official biography. "The man took maybe three steps one way or the other during the whole set. He just played. And he just sang. He moved his body but it was always in time to the music. He was Fred Astaire. Not Harpo Marx. There was grace but no bullshit." Most of what would comprise Band Of Gypsys came from that final gig.
Playing with Miles in particular opened Hendrix up to a whole new array of sonic possibilities. Hendrix leaned on his drummer to fill in many of the blanks with his own vocal contributions. The effect, especially on the album's opening track, "Who Knows," and "Message To Love" makes for an almost Sly Stone-esque feel, with the two men's voices intertwining, adding a level of dimension and complexity. The drummer's songs "Changes" and "We Gotta Live" helped pad out the album, allowing Hendrix to keep songs like "Ezy Rider" and "Earth Blues" in the vault for further refinement down the road in the studio.
But for all of Miles' contributions, "Machine Gun" remains the standout of Band Of Gypsys. Introduced by Hendrix as a paean to "all the soldiers that are fighting in Chicago, in Milwaukee, in New York… and oh yes, all the soldiers fighting in Vietnam," it's an over-12-minute funk-inflected odyssey of chunky guitar riffs and fluid solo work. His Stratocaster, broadcasting the oscillating sounds pouring in from his Univibe effects unit, slinks and slithers over the steady, plodding groove that Hendrix verbally punctuates with vivid, nasty details about the high-velocity death machine. This was the future Hendrix, the one that the world was deprived of: equal parts metaphysical and political, sonically diverse and increasingly funky.
The Band Of Gypsys clearly had potential, but the trio played only one more disastrous gig together a few weeks later at Madison Square Garden and folded before its one record even hit the shelves. Some, like Hendrix engineer Eddie Kramer, contest that the guitarist simply desired to move on to new sounds, while Miles argued that it was a more of a matter of business. "What lead to the breakup was specifically [manager] Michael Jeffery, who didn't like the idea of an all black band and wanted to make the Experience," he wrote years later in a Facebook post. "What a lot of people don't know is that Billy Cox was fired too and only rejoined after another immediate falling out between Michael Jeffery and Noel Redding."
Even though he would be the greatest financial beneficiary of the new record, for his part Chalpin was not pleased about it at all. "It was a breach of contract," he later argued in Room Full Of Mirrors. "If you read the settlement agreement, PPX was supposed to receive a Jimi Hendrix Experience album and I was supposed to be the producer." Despite his vehement protestations, the matter was effectively settled when Capitol Records got ahold of the tapes and found them to be worthy of release.
With the Band Of Gypsys behind him, Hendrix invited Mitch Mitchell back into the fold. Along with Billy Cox, the New Experience embarked on an extensive world tour that culminated at Germany's Isle Of Fehmarn on September 6, 1970. Less than two weeks later, the guitarist died from asphyxiation in a London flat.
When Band Of Gypsys debuted on March 25, 1970, it sold well, but received a tepid response from critics who concluded that it was a product subservient to Hendrix's earlier work with the Experience. Time has altered that opinion. It's now considered a unique glimpse into a different side of an artist who died too soon to explore some of the predilections he displayed on that record. In 1999, the follow-up album Live At The Fillmore East was released, comprising nearly two hours of extra material from those four legendary shows.
For decades, Hendrix fans have speculated about what direction he might have taken his sound had he lived. They continue to pore over hundreds of recordings, both officially released and otherwise, to single out different song snippets and singular moments as proof positive of whatever pet theory they hold. But it's a pointless exercise for such a mercurial artist as Hendrix. Band Of Gypsys shows that he was game to try anything at least once.