Here's what's up in the world of TV for Wednesday, January 18. All times are Eastern.
Top picks
Fresh Off The Boat (ABC, 8 p.m.): That's right—it's a special day and time for Fresh Off The Boat. And the Huangs are ready to start the New Year (well, the Chinese New Year) with a "Clean Slate." "On the eve of Chinese New Year, Jessica pushes the entire family to settle all debts, disputes and grudges to ensure good fortune for the coming year. Unsure if she can contain her temper for the remainder of the day, Jessica enlists Emery to makes sure she keeps her cool." Will Jessica keep her cool? Follow-up question: Does anyone really want Jessica to keep her cool? Maybe the special day and time will answer these questions.
Blindspot (NBC, 8 p.m.): "When an unusual tattoo leads back to Roman, the team must decide whether to send him into the field… or to go undercover with a dangerous biker gang." Um, we're pretty sure the answer is obvious. Biker gang! Biker gang! Biker gang! If Blindspot ever considers going the spin-off route, Amnesiac Roman in a biker gang is a no-brainer.
People's Choice Awards 2017 (CBS, 9 p.m.): Oh great, the people have voted again. And this time around, Joel McHale is hosting their awards show. So these are your options for the Big Three: the Chinese New Year, a biker gang, or community voting. We won't chant "biker gang!" again. We'll let you people choose that for yourself.
G/O Media may get a commission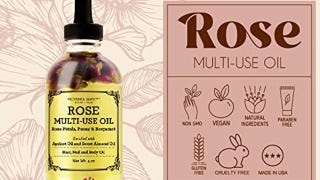 Provence Beauty Rose Multi-Use Oil
Premieres and finales
Undercover Boss (CBS, 8 p.m.): Undercover Boss' eighth-season winter finale goes into the seedy underbelly of The Coffee Bean & Tea Leaf with John Fuller, the company's new president and CEO, in the role of undercover bossery. Consider this a sequel, if you will—an Undercover Boss: Electric Boogaloo—as "Fuller previously went undercover in season two when he was the CEO of Johnny Rockets."
The Fairly OddParents (Nicktoons, 9 p.m.): In this all-new, half-hour episode of The Fairly Oddparents, in a brand new time slot, "Chloe meets Poof for the first time when he comes home from school on Spring Break. Cosmo and Wanda win a free French Dinner, so Chloe gets to babysit Poof and his friends. Everything goes well until Vicky shows up." Of course it does. Classic Vicky. (Your friendly neighborhood What's On Tonight contributor's knowledge of this show only comes from what she learned from her younger siblings… way over a decade ago.)
Blood And Fury: America's Civil War (AHC, 10 p.m.): "The Battle Of Petersburg" is the subject of this historical series' first-season finale. "April 1865: Two officers from Vermont lead a daring raid on Petersburg, Virginia." How will it all end? Well, don't check Wikipedia for that answer—watch tonight's episode of Blood And Fury.
Six (History Channel, 10 p.m.): No, History Channel hasn't gotten into the Blossom spin-off business; Six is an original drama series about Navy SEAL Team Six. "The eight episode first season of Six follows members of Navy SEAL Team Six, modern American warriors, whose covert mission to eliminate a Taliban leader in Afghanistan goes awry when they uncover a U.S. citizen working with terrorists. Inspired by real missions, the series authentically captures the inside world of America's elite Special Operations unit - what these SEALs do, their personal lives, combat and the life-and-death decisions they make to protect and serve their country."

Girlfriends' Guide To Divorce (Bravo, 10 p.m.): Kind of our own finale: We will no longer be doing weekly coverage of Girlfriends' Guide for the duration, but Gwen Ihnat promises to come back and wrap up these eight episodes after the season-three finale.
Regular coverage
Frequency (The CW, 9 p.m.)
Star (Fox, 9 p.m.)
Vikings (History Channel, 9 p.m.)
Workaholics (Comedy Central, 10 p.m.)
It's Always Sunny In Philadelphia (FXX, 10 p.m.):
Man Seeking Woman (FXX, 10:30 p.m.)
Streaming pick
Moonlight (Amazon Video/iTunes/Vudu): No, not the Golden Globe winner for Best Drama Motion Picture. The one-season CBS series from 2007 to 2008, starring Alex O'Loughlin, Sophia Myles, Jason Dohring, and Shannyn Sossamon. Why? Because the show is a noted People's Choice Awards winner, having taken home the prize for Favorite New TV Drama in 2008. It's about a vampire detective, and he's totally not like Angel.