Dallas debuts tonight on TNT at 9 p.m. Eastern.
Even among friends of mine who watch a lot of TV (and I know a lot of people who watch a lot of TV), Dallas might be the least re-discovered "important" show ever. Widely credited with pioneering the primetime soap opera, an institution that begat Falcon Crest, Dynasty, Twin Peaks, Desperate Housewives, and, yes, higher-brow fare like The Sopranos and Mad Men, Dallas was one of the most popular shows of its time, but it was never respected as "great" TV. Self-consciously arty programs like Hill Street Blues and St. Elsewhere were conceived, at least partly, as a reaction against shows where good-looking rich people bedded other good-looking rich people and drank a bottle's worth of whiskey tumblers in one sitting. Never mind that Dallas introduced one of TV's greatest antiheroes, the infectiously evil oil baron J.R. Ewing, and its soap-opera structure would later be co-opted by future geniuses like David Chase and Matthew Weiner (when it was re-christened "novelistic" by those who have never stared lustily at Victoria Principal).
Let me make a quick concession: The original Dallas really wasn't a great show, and it hasn't aged out of its greed-is-good 1980s-ness all that well. But it had a great concept, and a truly monumental lead performance by Larry Hagman as J.R. Four years ago, when I was in the middle of a big Dallas kick (I made it to the middle of season four, which means I left nine seasons and some change on the counter before checking out), I wrote a piece for The A.V. Club where I fantasized about a gritty reboot that would put the Ewing family in modern-day Texas. I saw potential there for a great parable touching on the Bush family, Enron, and the housing crisis, with sons Bobby and J.R. using their money and youthful ambition to get their hands dirty in the corrupt worlds of politics and finance, all in an effort to please the seemingly good-natured yet stealthily cold-blooded patriarch, Jock.
I still think that could be a really great show, but the new version of Dallas premiering tonight on TNT is a whole other 10-gallon hat. In all honesty, it's probably a lot more palatable than the radical makeover I had in mind. When people think Dallas, they think double-crosses and clandestine sexual encounters. And the first two episodes offer plenty of that. (I shit you not, the pilot ends with a double double-cross on the 50-yard line of Cowboys Stadium, because Jerry Jones knows his audience inside and out.) The newDallas is basically what the old Dallas would have been if it debuted on basic cable sometime in the last 10 years. The cast is blandly attractive and vaguely recognizable—stars like Jesse Metcalfe (who plays Bobby Ewing's adopted son, Christopher) and Jordana Brewster (who's Elena, Christopher's ex-fiancée and J.R.'s son John Ross' current flame) have long résumés dotted by watchable but undistinguished TV shows and films.            
G/O Media may get a commission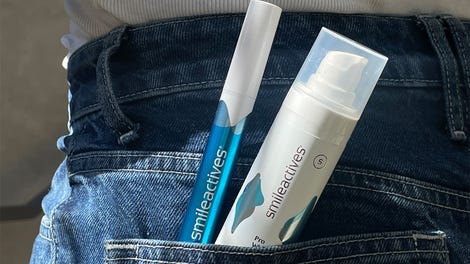 58% off
Whitening Powerhouse Pen & Gel Duo
The younger stars in the cast do fine, I guess. But if Dallas were called Oil Baron Junction and aired Wednesday nights on The CW, we probably wouldn't be talking about it right now. What makes this Dallas even slightly intriguing (for fans anyway) is seeing original stars Hagman, Patrick Duffy, and Linda Gray return in prominent supporting roles. (Eagle-eyed Dallas nuts will also spot quick cameos by Charlene "Lucy Ewing" Tilton and Steve "Ray Krebbs" Kanaly, though there's been no sign yet of that damned meddling Cliff Barnes.)
Duffy is probably better known to a younger generation of viewers for starring in the terrible TGIF sitcom Step By Step in the '90s. But he's always been a likeable, all-around-decent presence, even when forced to play off Staci Keanan and "The Codeman." The role of Bobby Ewing is still the ideal showcase for Duffy's ability to radiate decency without seeming like too much of a cheeseball. He's still a nice guy 20 years after the original Dallas ended, though his mettle is tested by the wily and conniving John Ross (Josh Henderson, who's the poor man's Josh Holloway), who wants to drill for oil on the Southfork ranch and start his own fortune so he can finally step out of J.R.'s shadow.
As any Dallas fan will tell you, Bobby's mama Miss Ellie forbade any drilling on the family ranch, no matter how hard J.R. pushed her to allow it. John Ross is also at odds with Christopher, who's turned his back on oil in order to make his fortune with alternative energy. (Sample dialogue that I swear I am not making up: "Oil's in your blood, when did you turn your back on it?" "When I got away from everything that was toxic in these parts.")
The battle between Bobby (who isn't in good health, because of course he's not) and John Ross forms the basis of the first two episodes, setting off a chain-reaction of schemes and counter-schemes and counter-counter schemes that I won't share, not for spoilers but because it would seriously take all day. Let's just say that at least two of the romantic relationships among the principals aren't all that they seem. At least three of the characters appear to be straight-up grifters. There might also be a phantom sending out anonymous emails that cancel wedding plans at the last minute. Shit is fucked, in other words.
All of this is passably entertaining in the "I've got a night to kill in my hotel room" kind of way that all TNT dramas are engineered. Dallas lacks the gravity of The Closer, but in no way is it sillier than Franklin & Bash. But there are moments when Dallas briefly turns from being merely acceptable to flat-out awesome, and it's whenever Hagman appears on screen. Okay, maybe not every time Hagman appears. We first see him in a rest home, where he sits in a semi-catatonic state because he's clinically depressed or something. It's deeply disheartening to see him like this, as Bobby visits and lays on the usual nice-guy Bobby act that's Oliver Hardy to J.R.'s Stan Laurel, and not see him crack a wicked smile and cackle into his cocktail over his hayseed of a brother.
Perhaps this is what we want from J.R. now. The morally dubious men we watch on television are supposed to be tortured in their golden years. The audience demands it, because it allows us to enjoy bad men do bad things and still have the moral upper hand in the end. But then, at the pilot's 29-minute mark, something amazing happens: J.R. learns of John Ross' plan to steal Southfork from under Bobby, and a familiar spark return to his eyes. He asks for a bowl of red Jell-O for sustenance. Then he drops some serious J.R. knowledge: "Court's for amateurs and the weak-at-heart." Like that, holy shit, J.R. is back, baby!
Hagman is obviously older now, and his voice is slightly ragged from age. But J.R. is still the most vital character in the Dallas universe, and Hagman obviously relishes stepping back into his oily skin. (His old-man bushy eyebrows are positively devilish.) With all due respect to James Gandolfini, Jon Hamm, Bryan Cranston, and Michael Chiklis, nobody brings as much joy to being a complete bastard as Hagman does to his portrayal of J.R. Hagman plays him as an smart, bratty, overgrown child who gets off on violating the rules set forth by the adult world. Even as a senior citizen, J.R. is Ferris Bueller, thumbing his nose at the tyranny of our social mores and ethics, stopping just short of winking at the camera as he rips off yet another sucker. Only now he's doing it while pretending to use a walker.
I have no idea yet how good this Dallas is going to be. My gut says, "not very." But if tuning in means that I'll get a good five to 10 minutes of J.R. face time, and be able to soak up pearls of wizened southern smack-talk like, "Never pass up a good opportunity to shut up," I guess I'll hang in for a while.