Safe Haven may not have blown up the box office, but it did boast one of the more ridiculous plot twists of recent memory. When the movie came out, Huffington Post writer Mike Ryan used his entire review of the film to discuss the ludicrous ending. Spoiler: The plot of Safe Haven is a bit convoluted, but pretty much just your run-of-the-mill Nicholas Sparks romance…until the end, when one of the main characters turns out to be a ghost. So, Ryan included this in his article:
Let's put it this way, here are the only twists that I could come up with that were more insane than the one in Safe Haven.

· When it was revealed that Ben Affleck's character in Argo was a ghost.

· When it turned out that Bob Sugar was a ghost in Jerry Maguire.

· When I discovered that all of the penguins were ghosts in March of the Penguins.
Aside from those totally true examples, Safe Haven has the most absurd ending to a movie that I can remember.
It may seem obvious that these are meant as jokes, but HP reader Alex Picchietti didn't feel that way when he read the article (four months after it was posted), and took to Twitter to give Ryan a piece of his mind—specifically, the piece dedicated to policing spoiler alerts. 140 characters could not contain his outrage, and Picchietti posted a total of 19 tweets that chronicled his anger, confusion, realization, and ultimate apology ("Maaaaaaaaaaaaaaaa bad"). Sadly, he has since deleted his account. Thankfully Andy Levy was generous enough to screen cap the exchange. See it all unfold below.
G/O Media may get a commission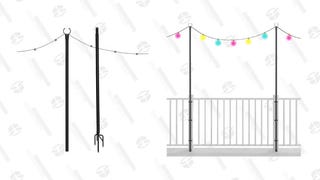 Up To 49% Off
Holiday Styling String Light Poles
via Uproxx