There was a new trailer released today for the upcoming sequel/"alternative reality"-set continuation of the Halloween franchise. It was a solid preview for the movie—but also, it was a treasure trove for sharp-eyed fans keeping a close watch for any callbacks to the prior films.
Folks have been calling attention to some of the more noteworthy Easter eggs in this trailer on social media (director David Gordon Green has been open about including homages to previous films), so we figured we'd go ahead and assemble as many references as we could in this one place, mostly so that you can either a) quickly and easily absorb this list, then casually rattle these off to your friends over drinks tonight like a real Mr. or Ms. Smart Pants; or b) lambast us repeatedly for failing to notice that one bent nail in the doorframe is just like the bent screw in the doorframe in that one part of Halloween 5: The Revenge Of Michael Myers. Either way, you get to feel pretty smart. Here we go:
Look at the little trick-or-treating bastards below. They're wearing Silver Shamrock Novelties' pumpkin and skull masks, a.k.a. two of the costumes created by the evil toy company in Halloween III: Season Of The Witch that turned the head of anyone wearing it during a certain commercial into a seething ball of insects. Gross, but also an excellent reference.
The woman Michael kills at the end of the first sequence is wearing curlers and a pink bathrobe—the identical look of one Mrs. Elrod, a Haddonfield resident who appears in Halloween II and who used to babysit young Michael when he was a boy.
Similarly, after dispatching new Mrs. Elrod, Michael picks up a knife from her kitchen counter—exactly what he did in Halloween II.
At the very start, Michael bumps into a couple young trick-or-treaters. This echoes a similar shot in the first Halloween, in which the bullies of little Tommy Doyle bump into Michael.
In that same moment, which gives us our first brief glimpse of the mask, we see the hole in it—made by the injury caused when Laurie stabbed Michael in the living room during the original movie.
The iconic theme music is a given, but more subtle is the inclusion of the less-known "Shape Stalks" theme from Halloween.
Similarly, the shot of Michael grabbing her at the end is evocative of the original's climax—but instead of a closet, he's busting through a door's glass frames, and the lighting seems much the same.
There are a number of shots that aren't direct Easter eggs per se, but that nonetheless hearken back to moments from earlier films, especially the first: There's the brief shot of laundry on the clotheslines; Michael standing in the background, head obscured by a tree; Laurie instead of Dr. Loomis looking over a crime scene; and so on. As far as later films, Halloween: H20 has a gas-station bathroom scene, which gets a much darker nod here.
G/O Media may get a commission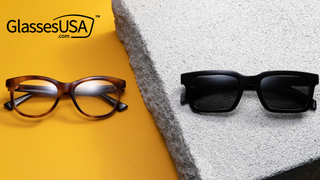 60% off frames
GlassesUSA.com Back to School Sales
There are almost certainly more, but to be honest, we've watched this thing about 15 times now, and Laura M. Browning, A.V. Club Executive Editor, is starting to cast exasperated eyes in my direction. Feel free to sound off in the comments with anything I may have missed.